Every eCommerce store owner wants to simplify their shipping process. This necessary step is often the most time-consuming if you don't have the right set of tools, or at least someone to help you out.
Investing in a label printer can be a great solution to some of your issues, so we're here with a list of the best shipping-label printer options available. Each candidate is formidable in its own right, and all of them will save you time you can then spend stocking your inventory with new products or doing something completely unrelated to your business! Let's get to choosing:
Why Every Growing eCommerce Business Needs a Shipping Label Printer
DIY-ing your labels is a troublesome task: Printing them on your laser printer, attaching them with a glue stick, or even handwriting the customer's details on your labels justifiably seems to need optimization.
What's more, this nuisance will grow into a significant problem once your business grows. Your homemade label will leave an amateurish impression, so it's just not considered best practice in the eCommerce world. Also, printing labels this way will hinder your shipping targets: Think of the time you'll have to spend cutting, filling out, and attaching labels printed on a regular printer for just 20 parcels!
Entrepreneurs typically have three choices in this scenario: Hire someone to help them out, outsource the label printing, or purchase a label printer. Most of the time, the business's budget cannot afford the outsourcing costs, especially since it usually has to make room for customer relationship software or inventory management first. Hiring someone to help with the manual work is also fairly expensive in the long run.
However, purchasing a good shipping label printer is typically a one-time and reasonable investment that will undoubtedly pay off. With it, you'll be able to print numerous labels in no time, which you can then peel and stick on your packaging without having to fill them in or worry whether the post-service would be able to read your handwriting.
Methodology for Evaluating the Best Label Printers in 2022
So, how did we come up with these printers, and what makes them the best? After all, there are so many devices, all with different options. How do you discern which of the many shipping label printers on the market would be perfect for your business? Let's break down the answer:
Printer Size and Type
Small-scale devices are perfect for budding eCommerce businesses, but you can also get an industrial model, mostly used in big-name stores. Our guide is focused on the former, suitable even for those running their company from their home.
We've also narrowed the list down to include only the thermal shipping label printer type. With them, you don't have to think about purchasing and replacing ink, as they rely on either direct thermal or thermal transfer printing. The downside of using heat-sensitive media to make their prints is that the text won't be as long-lasting, but that's usually a non-issue for label printing.
Hassle-Free Setup and Ease of Use
There is no point in spending a lot of money on something that will only add technical difficulty, instead of saving you time and sparing your nerves.
When it comes to setup, plug-and-play label printers for shipping are your best friends. With this solution, all you have to do is plug the printer into your device and an outlet, and it will automatically start the installation process for its proprietary software. Other solutions might require downloading and installing the same program from the internet or a physical drive.
In other cases, you might face compatibility issues with updates or operating systems. You want to look for a shipping labels printer that will be able to integrate with your existing devices without glitching or going on a full-on strike whenever you need to start printing your labels. If you've ever owned any printers - even top-notch small-business printers - you know how stubborn they can get. In short, make sure your potential shipping-label maker will work with your existing setup before making any decisions.
Label Types and Printing Speed
Different couriers will require separate shipping label sizes. You are probably well aware of the size difference for address labels, UPS, or Amazon FBA. Narrowing things down to a single size upfront, however, can be tricky.
After all, hopefully, your business will grow further, and you might need different label sizes in the future. Having the option to switch printing sizes instead of buying another size-specific label printing machine will save you a lot of headaches if your self-made eCommerce website grows.
High printing speeds can be useful, but they're rarely crucial for the average small business. Instead, going with the fastest printer on the market might even be counterproductive: Thermal printers need to reach a particular heat to print - and they can achieve the optimal temperature within a specific timeframe.
In other words, faster printing speeds might mean lower print quality. With good printers, you can adjust the speed if you're dissatisfied with the quality you're getting.
Pricing
The final thing to consider when buying a label printer for shipping labels is, of course, the pricing. While you should look at the features first, and the price second, getting something with excellent value for the money is always advisable. Even though this device might be lower on the priority list than good dropshipping software, for example, it's a one-time investment that will almost certainly pay off.
The Best Shipping Label Printer Choices for Small Businesses in 2022
Rollo Thermal Label Printer

DYMO LabelWriter 4XL

Arkscan 2054A

ZEBRA GK420d

JADENS 268BT
Reviews
Rollo Thermal Label Printer Review
⦿

Good quality and printing speed

⦿

Affordable

⦿

Works on most label brands
Printing Options
This is a solid choice whose superb printing speed doesn't come at the expense of quality. With it, you can expect to print one label per second, saving you hours in shipping preparations.
It supports label width up to 4.1", so it's an excellent solution for 4" x 6" shipping labels, for example, but also warehouse labels, barcodes, ID labels, etc. Rollo's thermal label printer has built-in automatic label identification and will optimize its properties for you.
Compatibility and Ease of Use
This Rollo printer is compatible with macOS and Windows, and connects to your preferred device via USB port. Setting this printer up is pretty run-of-the-mill, and it can print from any document-processing app: PDF labels created in Word or those made in your browser are all the same to this device.
If you experience any setbacks with the Rollo thermal printer, or just need some setup aid, Rollo offers exceptional customer support via email or chat. The agents can help you have your printer up and running in no time.
Additional Features
This printer can print on any label brand you choose (including UPS and Uline), and it accepts both rolls and flat labels.
Who Is It Right for?
This Rollo printer is an excellent solution for any business on a tight budget. Its price is affordable, you won't have to purchase ink or labels, and it's pretty durable: The performance stays the same whether you're printing 5 or 5,000 labels a day. All in all, Rollo is an excellent investment that will help you speed up shipping, leaving you more time to focus on capitalizing on the current eCommerce business trends and growing your shop.
DYMO LabelWriter 4XL Review
⦿

Excellent print quality

⦿

Print directly from Amazon, Etsy, or eBay

⦿

Proprietary eco-friendly label
Printing Options
This DYMO shipping label printer offers to print a variety of labels, up to 4" wide. With it, you can rely on over 60 templates for printing ​​shipping, warehouse, barcode and ID, and bulk mailing labels, and many others. The printing speed is also impressive - more than 50 labels per minute, while retaining excellent quality.
Compatibility and Ease of Use
DYMO will work with Windows and macOS devices - all you need to do is connect your DYMO label maker to the same Wi-Fi network. There are plenty of YouTube videos on how to overcome hiccups, too, since it's a top-rated label printing solution.
Additional Features
Unlike the previous printer, which will work on almost anything, this label printer for shipping is a bit picky. The team behind it says it will work the best on its proprietary, eco-friendly labels. Unfortunately, it seems like DYMO has issues with other labels, even though it's supposed to be compatible with them.
On the plus side, it can print labels directly from the marketplace of your choice, whether it's Amazon, eBay, or Etsy. This will save you hours of double-checking whether your orders and labels match, and significantly speed up the shipping process.
Who Is It Right for?
DYMO is an excellent cheap shipping label printer for smaller eCommerce stores. The Wi-Fi connection makes it a good solution if you share responsibilities with more people, and is easy to set up and use. If you are looking for a reliable solution that will be able to keep up with the growing number of orders, DYMO is an excellent choice.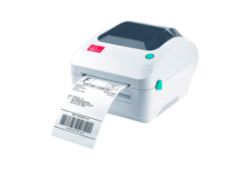 Arkscan 2054A Review
⦿

Super durable

⦿

Works with all kinds of labels

⦿

Vast sizing options
Printing Options
If you need to print shipping, product, or barcode labels, or any other black and white label up to 4.25" in width, Arkscan is your guy.
This thermal label printer uses load-inside rolls of up to 90" in length and will print up to 60 labels in a minute, with superb end-result quality.
Compatibility and Ease of Use
This printer will work seamlessly with any Windows, macOS, ChromeOS, and Linux device. If the next version of this printer got a wireless connection option, that would probably make it the best thermal label printer for shipping labels.
You no longer need to worry about purchasing a particular brand of labels, either. As long as the shipping label rolls are between 0.75" and 4.25" in width and 0.4" and 90" in length, this printer will greet them with open arms. There are proprietary Arkscan labels, but this small thing will play nicely with all types of labels, making it an excellent USPS label printer.
Additional Features
The main selling point for this printer is its excellent durability. If you treat it right, it can last for decades, paying for itself many times over. Arkscan also offers superior customer support, with reviews praising the representatives' quick and valuable answers. Considering how frustrating printers can be in their stubborn phases, it is always a huge bonus to have a team ready to help.
Who Is It Right for?
This shipping label printer machine is an excellent choice for businesses of all sizes. It offers durability and versatility for a very affordable price. It might be the most cost-effective solution on our list.
ZEBRA GK420d Review
⦿

Renowned and trusted brand

⦿

Great durability

⦿

Excellent speed and print quality
Printing Options
ZEBRA's GK420d is an excellent label maker for shipping. It quickly produces high-quality mailing, address, barcode, and file-folder labels. The rolls you can use with this printer have a 1" core and a maximum width of 4.25".
This print will pop out approximately ten prints per minute, which is kind of slow compared to the other candidates on this list. However, the printer is Energy Star approved, so it will save you money on power bills without compromising print quality.
Compatibility and Ease of Use
This label printer is practically a plug-and-print solution: All you need to do is plug it in your preferred device via USB, follow the installer wizard, and start printing once it completes.
Unfortunately, this simplicity is reserved for Windows users only, so if you love your Mac, you might want to consider other printers on this "best thermal shipping label printer" list.
Additional Features
This printer simply does what it says it will and does it well, for a long time. There is no significant maintenance involved, and since it works with all kinds of rolls, it allows for a "set it and forget it" mentality about label printing.
ZEBRA's excellent customer support team will be accommodating if you experience any difficulties with this printer.
Who Is It Right for?
This ZEBRA printer is closer to an industrial device than a printer for home use and small businesses. Still, its durability and reliability would make it the right choice as the best shipping label printer for a small business.
JADENS 268BT Review
⦿

Bluetooth connectivity

⦿

Above-average speed

⦿

Compatible with many devices
Printing Options
The JADENS printer can produce high-quality, water-resistant prints of many different sizes - from 1.57" to 4.1". Its versatility means you'll be able to print barcodes and shipping labels for many popular eCommerce platforms like Etsy, Amazon, or eBay.
It's also swift - it can print at 150 mm/s, which is around 72 labels per minute. Best of all, you won't have to do any manual calibration, as this printer does that for you.
Compatibility and Ease of Use
This is easily the best label printer for small-business owners who want something versatile. JADENS 268BT works in both wired and wireless mode, making it compatible with many devices. There's not a lot of setup required, and you'll be good to go in a matter of minutes.
The wireless Bluetooth connection works with PCs and all mobile devices, but not with macOS at the moment. Still, this means you'll be able to send printing tasks to it via your phone, as orders arrive.
Additional Features
As mentioned above, wireless printing is one of the main features of this device. It's all done via the app that also lets you prepare labels for printing and do slight editing along the way.
You also get one year of warranty with your label maker and full support via phone, email, and the app.
Who Is It Right for?
Obviously, you'll want to purchase this printer if you need a lot of labels printed out fast. It is, after all, a commercial-grade product, with numerous business owners praising it for its low cost and broad compatibility.
OFFNOVA Label Printer Review
⦿

Incredible value

⦿

Fastest printing

⦿

Very easy to use
Printing Options
OFFNOVA is another great little printer with versatile printing capabilities. It can print on labels from 1.57" to 4.1" in width, but that's not its main selling point. The biggest reason you should be considering this device is if you want the best label printer for a speedy workflow: It puts out labels at 200 mm/s - that's 80 labels per minute!
Compatibility and Ease of Use
This is a strictly USB-connected device, so it can only work with desktops and laptops. Luckily, it's not OS-specific, meaning you can use it on Windows and macOS. It comes bundled with a USB stick with all the necessary drivers and video tutorials, making setup a breeze.
Although it doesn't have automatic label size detection, you can easily flip the lid and adjust the guides to fit any kind of label in the slot.
Additional Features
While this is the best label printer for shipping labels, at least price-wise, it doesn't pack a lot of features. It's compatible with most label rolls, including colorful thermal direct labels that OFFNOVA sells alongside this device. But, considering it's under $70 when discounted, this is more than we expected already.
Who Is It Right for?
People just starting their Etsy stores should consider purchasing this printer if they're shipping lots of packages. Low entry price and incredible speed are a great combo, and the OFFNOVA Label Printer will, therefore, be an invaluable tool for your business.
Brother QL-1110NWB Review
⦿

Wi-Fi connected printer

⦿

Good automation options

⦿

Has proprietary labels and other supplies
Printing Options
Brother's QL-1110NWB model is a superb thermal printer for shipping labels of up to 4" in width. While it's primarily aimed at printing mailing labels for packages, you can also use it to print name badges.
This printer can produce, on average, one label per second, with consistent quality.
Compatibility and Ease of Use
This printer for shipping labels can connect to your devices via Wi-Fi, Bluetooth, and USB. Most of its capabilities are available with both macOS and Windows devices, but some of them only work on Windows:
For example, if you are using a Windows operating system, you get the option of "Plug and label." This will allow you to start printing without having to install any software on your device. Mac users, on the other hand, don't get the option to print a shipping label before installing Brother's software.
Additional Features
This printer stands out thanks to making label printing extremely convenient: Windows users will have the benefits of templates they can use, and the printer also comes with crop and select features for barcodes and UPCs. Furthermore, the printer also cuts the labels for you, so all you have to do is stick them on the package.
Who Is It Right for?
This Brother label maker printer is a great choice for larger teams, since it's wireless and portable. This tool also has several options that will undoubtedly speed up the process, such as its automatic crop and cutter function.
Unfortunately, it is also one of the most expensive printers on our list, and it also requires proprietary labels to work. However, if your business doesn't require label variety, this Wi-Fi thermal label printer will be well worth the investment.
FAQ
Is it cheaper to use a shipping label printer?
This depends on the number of labels you create daily. If you are only sending one or two packages, printing them on a regular home printer might be the cheapest option. However, when printing labels manually becomes too time-consuming, getting a shipping label printer will certainly be worth it.
Does USPS have a label printer?
Yes, you can print your labels at the USPS for free, thanks to the merger of their Label Broker program with Click-N-Ship. Through this option, you can create your shipping labels at home, and then print them for free in the nearest USPS.
What printer should I buy for shipping labels?
There is no one best shipping label printer: For example, the ZEBRA GK420d is perfect for printing many different-sized labels. Rollo's Thermal Label Printer is an excellent choice for those on a budget, and the DYMO LabelWriter 4XL will speed up the printing process by allowing you to print directly from Amazon, Etsy, or eBay. Lastly, Brother QL-1110NWB is an excellent choice for those looking for a Wi-Fi connective printer.
Related Product Categories