We've done the homework for you and compiled a list of our favorite free accounting software in 2022. If you're interested in how we choose our picks, you can find out more about our review methodology by clicking on the link below. There is also a section where you can directly compare features between all of the software on our list. First, let's take a brief look at the key features and perks of each one.
Related Product Categories
Our Methodology
Accounting is by its very nature a field concerned with finding ways to improve your finance management and save money. One of the best ways to do that is to reduce operational costs. Using free bookkeeping software for small business is one of the easiest ways to reduce the number of Benjamins unwillingly departing the safety and comfort of your pocket.

Traditionally, "free" software used to be a synonym for unoptimized, feature-poor solutions that were mostly used as a last resort, no matter what the industry. This all changed in the late 1990s with the advent of Linux and open-source projects. Having software tested and improved on a daily basis by hundreds of thousands of programmers and enthusiasts instead of 15 or so staff meant that bugs could be squashed earlier, new features rolled out more regularly, and feedback responded to in record time.

Some of the best free bookkeeping software on our list is open-source, but even those that aren't are well worth your time. Whether you're looking for free accounting software like QuickBooks , free accounting software for nonprofits, or even free church accounting software, the picks on our list have you covered. Before digging deeper into our individual reviews, let's take a look at how and why we picked these companies and which criteria we used.
Features
Finding fully featured free accounting software online is not an easy task. There are usually two types of offers: completely free software that relies on using third-party software for certain tasks or free versions of a software as starter editions with limited features. Tax and payroll support, inventory and order tracking, forecasting, and more-detailed reports are usually what's missing when it comes to free versions of accounting software. This category looks at what functionalities are included in the software without needing to pay a dime. That includes essential accounting features, invoicing, and simple reports.
Ease of Use
It goes without saying that all good software should be well-optimized, quick, and easy to use. This is especially important for accounting software free or otherwise, as its main purpose is to make accounting less of a chore. In this category, we rate the software on everything that's relevant to the user experience. This includes the ease of installing and using it, the user interface design, as well as the help and FAQ sections and how well they explain how to use the software.
Free Software Limitations
Some of the best things in life are free. However, lots of free things also come with a catch. Common limits imposed on free online accounting software include the number of bank and credit card accounts, users, or invoices that the free version of the software supports. In this category, we consider how limited the software's free functionality is.
Software Integration
A lot of free software relies on third-party apps for advanced features such as payroll, inventory tracking, and forecasting. Furthermore, many companies are already used to industry-leading accounting software such as QuickBooks and Nero, or spreadsheets and email solutions by Google and Microsoft. This category measures how well each program integrates with third-party software and whether you have to pay extra to make use of external software for certain tasks.
Mobile Access
Mobile phones have been an integral part of our personal and professional lives for well over a decade now. Being able to do your accounting on the go is a highly requested feature, so the best free accounting software has started supporting mobile platforms. This category examines whether the software has mobile app support and, if so, how good the mobile accounting experience is.
Customer Support
Accounting software should be easy to use even for people without formal accountant training. Having said that, bugs and software or compatibility issues can and do happen. You might not know how a certain feature works, or perhaps you want to find out more about a certain software solution before committing to it. This is where customer support comes in.
Here we evaluate the available support options (phone, email, live chat, FAQ) as well as the overall quality of the software's customer support platform.
List of the 5 Best Free Accounting Software Providers
Bonsai

Zoho Books

Sage Business Cloud

Wave

GnuCash
Free Accounting Software Reviews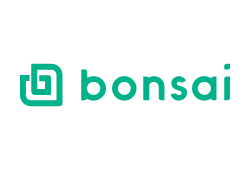 Bonsai Review
⦿

Includes client management system

⦿

Multiple integrations

⦿

Time tracker available
Bonsai is an all-in-one small business accounting software with a free trial. It tailors primarily to freelancers, but it can also cover the needs of small businesses. Founded in 2016 in San Francisco, California, it features a fully-automated bookkeeping system with international coverage, making it a good choice for those with a global clientele.
Overview
If you're a freelancer or run a small business, Bonsai is an ideal tool for helping you keep track of your business finances. It's both user-friendly and affordable.
To kick-start your Bonsai journey, all you need is to connect your bank account. The online accounting software uses the data from your transactions to create and update your financial reports automatically.
Bonsai offers a 14-days free trial, so you can explore its features and decide if it's the right fit for you before committing to a paid plan. Once you do, you can choose the Starter option, which costs $24 per month and provides you with all the basic accounting features such as invoicing and payments, time tracking and expense tracking.
If your business needs workflow automation and integrations with popular third-party apps, you should try the Professional and most popular plan. For $39 per month, it offers everything from the Starter plan along with a few other perks like a client portal.
Finally, if you run a small business or an agency with more tasks and you don't necessarily need free software for accounting, Bonsai's Business plan will give you all the features from the Professional plan, plus subcontractor management, unlimited subcontractors, unlimited project collaborators, and the option to connect multiple bank accounts. The price is $79 per month.
Keep in mind that if you choose to pay yearly, you'll get two months for free, plus a significant discount.
No matter which plans you choose, once you're all set, you'll find a range of features to help you with your finances. With its smart invoicing option, you'll be able to set your mind at ease while the platform creates your invoices.
Even though Bonsai's accounting software for a small business isn't free after the trial period, you'll still find more features that you'd get with free platforms. The software lets you create and e-sign contracts by using templates that you can further customize and even standard NDAs. With a customizable lightweight form and proposal builder, you can automate your contract workflow.
You can also keep track of your taxes, profits, and expenses, whether you're paying with cash, check, or credit card. When it comes to time tracking, not only are you able to manage your hours with ease, but you'll also get a Bonsai Time Tracker & Invoices app for your iOS or Android device.
Most free accounting software doesn't offer CRM features, but with Bonsai, you'll get a client management system that will help you keep track of your clients, projects, and tasks. You can also use the platform to collaborate with other freelancers or agencies, as well as manage subcontractors.
On top of that, Bonsai lets you integrate with Zapier, Calendly, Slack, QuickBooks, Xero, Wave, and other popular apps. And if you need any help, the software has a great customer support team that will answer all your questions via email. There's also an extensive FAQ section on the website.
Final Thoughts
If you want to use small business accounting software for free, Bonsai isn't the right option. However, it is an excellent choice for any business that needs an affordable, easy-to-use accounting solution with a wide range of features.
With its smart invoicing option and customizable contract workflow, Bonsai can help you save time and money. The 14-day free trial is also a great way to try out the platform before committing to a paid plan.
Wave Review
⦿

Unlimited bank and user accounts

⦿

Separate invoicing and receipts apps

⦿

Free financial statements
Wave is a company focused on providing free small business accounting software and financial services. It was founded in 2009 in Toronto, Canada, and today the company manages more than $244 billion in income and expense transactions, which includes $16 billion in annual invoicing.
Overview
Wave is fantastic web-based accounting software that's free to download and use. What's more, there are no "premium" upgrade options. However, as we'll see, not every available feature is actually free.
Wave charges for accepting online payments and processing payroll. If you opt for the payroll option, you can do your taxes yourself or let the Wave app handle them for you. Unlike some other free bookkeeping programs, the fully automatic option is only available in select states and costs US$35 per month + $4 per employee. For the other states, or if you prefer to file your own taxes, the price is $20 per month + $4 per employee.
Without paying a dime, you get access to basic bookkeeping features, such as managing income and expenses, unlimited bank accounts, credit cards, users, and invoices. You can sync all your bank accounts and credit cards with Wave bookkeeping software, which speeds things up greatly when creating financial reports.
With Wave's free business accounting software, you can create invoices, accept online payments from customers, and generate reports for accounts receivable. There are also automated options, such as invoice status (sent, viewed, paid) and payment reminders, as well as the option to set up recurring billing for regular customers. The charges for credit card transactions are 2.9% + 30 c per transaction, or 1% for ACH transactions.
When it comes to keeping track of your own payments, however, things get a bit less rosy. You cannot keep track of unpaid bills, but you can record payments you've made through checks or credit cards by manually entering them into Wave.
As befits the best free bookkeeping software on the market, Wave software also allows you to create key financial statements such as profit and loss statements and balance sheets.
The user interface is well thought-out and intuitive, while also looking very professional. It's an easy to use program, and our only complaint here is the lack of a dedicated back button. Third-party software integration could also be a lot better, with native support for only PayPal, Etsy, Shoeboxed, and Zapier. Impressively, the latter allows integration with over 1,000 add-ons.
Unlike other free accounting software for home or business, most of which have one unified app, Wave has separate invoicing and receipts apps for iOS and Android, which both sync with your main Wave account seamlessly. However, people have complained about many bugs and expressed irritation at the lack of an all-in-one app, which is currently in the works.
When it comes to customer support, Wave has a comprehensive help center, but not much else to help you out. According to Wave reviews, support through email and the on-site form is slow, while phone support is only available for payroll and credit card processing, which means they are for paying customers only.
Final Thoughts
Wave is possibly the best free accounting software for small business in terms of the number of completely free features it offers. However, the poor customer support and mobile apps, as well as the lack of options for tracking accounts payable, hold it back from being a default recommendation for your accounting software of choice.
GnuCash Review
⦿

Excellent accounts payable functionality

⦿

Android app available

⦿

Great report features
GnuCash is a personal and small business accounting program that features a double-entry bookkeeping system. It was first released in 1998 as part of the GNU Project and was initially designed for Unix platforms, with the Windows version coming later.
Overview
GnuCash is open-source accounting software that's truly free. There are no premium options or charges, but this program is also missing some of the more-advanced features present in other software. As with other open-source software, its development is mostly funded through donations.
GnuCash gives you access to the main accounting features you'd expect from any desktop bookkeeping software: tracking accounts payable and accounts receivable. When managing unpaid customer balances, you can create invoices and track due dates, run reports, and input customer payments. Compared to some other accounting software with free download options such as Wave, GnuCash has a more robust accounts payable system. In addition to tracking your unpaid bills, you can also pay them directly from the app, which updates your balances automatically.
You can generate balance sheets, income, and cash flow statements using the existing editable templates, or you can create new templates from scratch.
However, unlike Wave, GnuCash is very limited when it comes to user and bank accounts. It only supports one user at a time and you cannot add bank or credit cards accounts directly.
You can import transactions manually from QIF, OFX, or HBCI files, but the process is manual, slow, and clunky.
Speaking of clunky, GnuCash won't win any best free money management software awards when it comes to design and user-friendliness. Sporting a very retro and basic look while requiring familiarity with double-entry bookkeeping systems, it's definitely not a user-friendly option for people without a background in accounting. Luckily, there is ample documentation available. Being an open-source accounting app, it's customizable if you know a bit of programming, so it's a very versatile tool for people who are well-versed in accounting and know some C.
When it comes to mobile apps, GnuCash is also bit a hit-and-miss. Currently, it only supports Android, and while you can import your data manually, there is no automatic syncing option between the app and the desktop software. Third-party software integration is also very limited, but you can import Intuit Quicken QIF files.
Free nonprofit accounting software often has less dedicated customer support than its paid counterparts. GnuCash reviews are generally favorable when it comes to customer support, but being an open-source app, things work a little differently than with most of its competitors. There is extensive documentation on the wiki and you can also get help through mailing lists. Your best bet for quick help, though, is finding someone on IRC chat.
Final Thoughts
GnuCash is great personal and small business software for all your accounting needs. It provides robust accounts payable and receivable systems, as well as excellent report features comparable with the best free small business accounting software around. The main downsides are the dated user interface, Android-only app, limited user accounts, and inability to link bank and credit card accounts.
ZipBooks Review
⦿

Excellent integration with payment software

⦿

Profit, loss, and balance sheet reports available

⦿

Third-party software supported
ZipBooks is free bookkeeping software made by the company of the same name based in American Fork, Utah. The app has been around since 2015, with the first stable release coming in 2017.
Overview
ZipBooks is a little different than the apps we've reviewed so far, in that its free Starter plan is one of four available online accounts management options. There are also the $15/month Smarter plan, the $35/month Sophisticated plan, and – if money is truly no object – the all-inclusive $125/month ZipBooks Services plan. As this is an article about free accounting solutions, our review will focus on the Starter plan.
The Starter pack provides basic accounting features such as accounts receivable and payable processing and financial statement generation. The company's small business accounting software has free unlimited invoicing, but only one user and bank/credit card account per account. Aside from access to unlimited bank and user accounts, time-tracking is another useful tool that you get access to only by upgrading to the Smarter plan.
When it comes to accounts receivable, you can accept online payments, send invoices to your customers, and run aging reports. The accounts payable tracking process is entirely manual. You manually enter your paid bills and payment methods. When comparing Zipbooks vs Wave, Zipbooks still wins here, but GnuCash has a much better accounts payable system.
ZipBooks a handy free small business accounting software to download, but unless you pay for a dedicated accountant in one of the more expensive payment plans, there is no option for creating cash flow statements. All the other standard options – such as profit, loss, and balance sheet reports – are present, though.
The software also has a very well-designed user interface and feels snappy and responsive to use. Third-party software support includes Square, PayPal, Stripe, WePay, and Slack. There is an ancient and poorly supported Android app floating around, but you'd be well advised to stick to their iOS app or simply access the mobile-friendly online platform if you have an Android phone.
As with other bookkeeping software with free plans, there are some limitations when it comes to customer support. For all plans but the most expensive Services plan, the options are limited to email and in-software chat, as well as the robust help center. The Services plan adds dedicated phone support, and we've even found reports of the company's staff making personal calls to users with particularly troublesome problems, which is a great touch.
Final thoughts
Overall, ZipBooks bookkeeping software is great for all your basic accounting needs. With excellent payments receivable and reporting options, as well as a brilliantly snappy interface, the app is a joy to use. Free account limitations (one user and one credit card/bank account) are a bit of a downer, as is the lack of cash flow reporting and proper Android support.
Akaunting Review
⦿

Custom add-on store

⦿

Support for third-party add-ons

⦿

Profit and loss statements
Akaunting is open-source, cloud-based, free accounting software for Mac, PC, and mobile platforms. It was built with modularity and ease of use in mind and was first launched in 2017. It has since grown to a mid-sized platform that's available in 38 languages, with over 100,000 downloads and 30,000 cloud users.
Overview
Akaunting offers cloud-based and download versions of its software, depending on whether you want to use the company's free hosting services or host it on your own server. The software provides completely free single-entry accounting functions, although you can also opt for a paid double-entry module if you need it. Speaking of modules, the idea is that the base online and offline accounting software is free to download and has support for third-party add-ons. Some of these are free, while others – like the $69 double-entry add-on – come at a cost.
Akaunting's accounts receivable offer lets you accept payments and issue invoices, but instead of aging reports, tracking unpaid invoices takes place through the dashboard. They can be sorted by their due date or payment status, or integrated with and processed through PayPal or Stripe. Accounts payable features are also supported, and you can enter bills with their due dates into the bills dashboard, then sort them in the same way as the accounts receivable bills.
As is the case with other free accounting software for small business owners, you can use Akaunting to create customizable income, expense and tax summaries. You can also generate profit and loss statements. All of the reports can be sorted into several categories, such as customer, vendor, and year. There is no support for cash flow statements or custom reports, but you can purchase the double-entry add-on for $69 a year in order to create a balance sheet.
The free version of these accounting tools features unlimited users and invoices, but you cannot connect your bank and credit card accounts. You instead need to purchase the OFX add-on for $19. This add-on will allow you to import open financial exchange files in order to put your credit card and bank account data into Akaunting.
Akaunting's cloud accounting software is free to use on all platforms, but there are no dedicated apps for mobile devices. Instead, the interface automatically adjusts to your platform. The UI is very well designed and features a colorful dashboard, from which you can access all of your income and expenses. Instead of being on Apple's and Google's app stores, Akaunting has its own store, where you can download free add-ons or purchase paid ones.
When it comes to customer support, very little is available for free. You can consult the user manual and documentation or head to the forums to elicit some help there. If you purchase one of the app add-ons, you can also place support tickets to get help. Phone support is limited to paid tiers, starting at a one-off fee of $99. Compared to other accounting software for small business that's also free, Akaunting is lacking in this department.
Final Thoughts
Overall, Akaunting is a good tool for online accounts management. It provides the basic features you'd expect from an accounting app, such as accounts receivable and payable, as well as excellent reporting options. You also get a very pleasant user interface that works well on all devices, as well as unlimited users and invoices, even in the free version. Finally, the program integrates with popular payment apps such as PayPal and Stripe, and it also offers a wealth of add-ons on its own app store. Nevertheless, Akaunting is missing many essential features, such as balance sheet and financial flow statement reports, as well as a double-entry accounting system.
CloudBooks Review
Software Integration
GOOD BUT ONLY IN PAID PLANS
⦿

Handy tax-calculating and time-tracking features

⦿

Time-tracking tool

⦿

Tax calculator
CloudBooks is free accounting software made by the company of the same name, which was founded in St. Petersburg, Florida. The software was first launched in 2013 and has since gathered a customer base of more than two million small business owners, freelancers, and entrepreneurs.
Overview
CloudBooks is another program on our list to feature both free and paid options. In addition to the free plan that we'll be focusing on, you can opt for the Team and Agency plans, at $10 and $20 respectively. There is a free 30-day trial available for all plans. The free accounting app has a limit of one client and five invoices (unlimited in the paid plans), but also features unlimited staff logins and bank/credit card account support. Other notable omissions that are present in the paid plans include phone support, live chat, and payroll processing through PayPal and 2Checkout.
The software provides standard accounts receivable functionality. You can set up and track recurring invoices, accept payments, and make accounts receivable aging reports. However, payroll processing through third-party apps is limited to one of the paid plans, which starts at $10. When it comes to accounts payable, you can record and monitor all your expenses, set up separate expense categories, and even attach pictures of your receipts to provide proof of your payments.
Good small business bookkeeping software needs to have a robust reporting system, and Cloudbooks doesn't disappoint in this regard. It can generate accounting, client, invoice, and time-tracking reports. Speaking of time-tracking, this program's very handy set of time-tracking tools is completely free to use as part of the project-management feature. Another useful tool is the tax calculator.
The user interface is simple yet effective, featuring a navigation pane on the left-hand side that you can use to access your dashboard, invoices, payments, and reports. There is no dedicated mobile app, but the software is optimized for mobile devices.
When it comes to customer support, the situation is similar to other free accounting programs on our list. The free plan gets you support via email only. By moving up to the Team and Agency paid plans, you also get access to live chat and phone support. People are generally very pleased with the quality of customer support, citing knowledgeable team members who are fairly quick to respond to customer queries.
Final Thoughts
CloudBooks is a great tool for freelancers and small businesses looking to do accounting on a budget. The free version is well-equipped with all the accounts and reporting functionalities you may need, as well as helpful timekeeping and tax-calculating software. Considering the low price of the paid plans, it's possibly the best free accounting software for startups. Starting at only $10 per month, you can also get access to unlimited user accounts and invoices, which are otherwise the biggest limitation of the free version, which allows only one user and five invoices per month. The other downsides to the free version are the lack of phone and live chat support, as well as the integration with popular payroll apps.
Zoho Books
⦿

Document management

⦿

Automated workflows

⦿

Several payment gateways
Zoho Books is an extremely popular cloud-based accounting solution. While it's not exactly free accounting software, it's one of the most affordable options available. What Zoho brings to the table is full accounts payable and accounts receivable capabilities, a beautiful and intuitive interface, as well as a variety of useful tools and integrations.
Overview
Zoho is one of the few accounting software solutions on our list that isn't actually free. Its affordable pricing structure and number of outstanding features included in its packages are only some of the reasons we included this gem in our review. You can try out Zoho's services for free via its 14-day trial, after which you'll need to subscribe if you wish to continue using its services.
There are three different subscription plans available with Zoho: Basic, Standard, and Professional. The Basic plan will set you back $9 per organization per month. It allows two users (one user + accountant), lets you make transactions for up to 50 contacts, and helps you create five automated workflows.
This plan also includes unlimited invoices, recurring transactions, projects and timesheets, budgeting, and Zoho Sign integration. The number of contacts, invoices, and users available with the basic plan makes this solution outshine competitors' free online accounting software for small businesses. It even outperforms some paid plans as well.
The Standard plan costs $19/organization/month and boosts the number of contacts to 500, users to three, and workflows to 10. Additionally, it adds bills, reporting tags, vendor credits, purchase approval, and Twilio integration. The priciest plan available is the Professional plan, which makes a $29 dent per organization every month. This allows the creation of transactions for an unlimited number of contacts and increases the number of users to 10. Furthermore, on top of everything included in previous plans, it also comes with purchase and sales orders, inventory management, and a custom domain for your organization.
So, which features does Zoho have that justify its place on our top free accounting software list? As we've mentioned, Zoho offers full functionalities for both accounts payable and accounts receivable. Turning estimates or sales orders into invoices can be done in only a few clicks. Sending invoices is equally easy, with an option to send automatic payment reminders for customers.
With Zoho Books you can set up a variety of payment options for customers: cash, check, or online. You can also create professional quotes for customers and use the client portal, where they can have a clear view of all their invoices and transactions.
The feature that truly separates Zoho from the competition, though, is its Automated Workflows. These are automatic actions, similar to scripts, that you can set up to occur after specific triggers. These include recurring payments, notifications, and reminders after specific chargers and so forth.
Another extremely useful tool is the ability to scan bills and receipts. The software automatically reads the documents for required information and fills in the transaction forms by itself. On top of all this, Zoho lets you create projects and timesheets, advanced reporting, tax liability tracking, and has an integrated payroll feature for Texas and California only. Besides all these features and integrations, Zoho offers the most customer support options among the providers we've reviewed so far. While most business accounting software that is free offers only email support, Zoho support agents can be reached via email, live chat, and phone.
Final Thoughts
Zoho Books is definitely one of the best cloud-based accounting software solutions for small businesses. Its neat interface, huge number of integrations, and plethora of useful tools make it an invaluable solution that's sure to save you huge amounts of time in your day-to-day. While not free, Zoho's affordable pricing won't place a significant strain on your budget, and it's definitely worth considering subscribing to instead of choosing accounting free online software.
Sage Business Cloud Review
⦿

Automation

⦿

Estimates and quotes

⦿

30+ currencies supported with pricier plan
Sage Group is one of the longest-standing companies on the market. Founded in the UK during the '80s, it quickly spread to the US market as well. One of the many services it now offers is Sage Business Cloud (formerly Sage One), its cloud-based accounting service. This is the second provider on our list that isn't actually a piece of free accounting software. However, the recent updates to its interface, numerous new features, automation, and cheap marketing make it a worthy addition to the list.
Overview
Sage offers two accounting packages: Sage Business Cloud Accounting and Sage 50cloud Accounting. The first is the regular cloud-based accounting package, while 50cloud offers integrated software and cloud-based accounting services. Here, we'll focus on the former, as it's cheaper and has everything a small business owner might need.
Sage offers a 30-day free trial period during which you can test the service out, with full features available. After the trial period ends, you can choose from two subscription plans, both of which bring many features rarely found among even the best free business accounting software. Sage's accounting software is billed monthly, meaning you can choose to stop using its services at any time.
The first plan, Accounting Start, costs $10 a month. This plan is for entry-level accounting. It covers one user, supports the creation of invoices and expense tracking, and allows automatic importing of business transactions through the bank. Furthermore, it comes with a contact management integration and sales tax calculations. This plan is ideal for anyone looking for basic accounting capabilities. If you require more robust features, you should subscribe to its pricier plan.
The second plan, simply called Accounting, costs $25/month. While far from being free, it has all the capabilities you might want – most of which you'll be hard-pressed to find among the best free online accounting software options. The Accounting plan includes accounts payable capabilities, advanced reporting, cash flow statements, and purchase invoices, and it allows you to generate quotes and estimates. And it comes with an unlimited number of users – an invaluable addition.
Sage used to possess a pretty uncomely interface. It was confusing and hard to navigate. But recently it has reworked its user interface, creating a modern-looking, intuitive interface that's a pleasure to use. One significant downside is that Sage only offers cash-based accounting with its basic plan. For paid software, we see more providers offer full accounting packages with all of their plans, and that's what we'd like to see here as well.
Smaller businesses can perhaps completely rely on the Account Start plan, but the full might of this software can be found in the pricier Accounting plan. Features that differentiate this plan from free online personal accounting software include advanced reporting capabilities, inventory, analysis types for categorizing data, support for 30+ currencies, and the ability to create both estimates and quotes.
Sage's customer service has a stellar reputation. Its support officers are helpful, respectful, and quick to respond. However, it has recently shut down its phone support, which is somewhat understandable due to the coronavirus pandemic. Now, the main way to contact support staff is through in-software live chat. You can also consult its comprehensive help center and knowledge base, reach out via social media, or consult the company's lively community forums.
Final Thoughts
Is Sage worth taking over free accounting software providers out there? We definitely believe it is. The number of features included far outshines free options available. However, we did find the basic plan insufficient for advanced accounting needs. If you're ready to put money down for accounting software, we recommend going with the pricier plan.
Read Full Review
FAQ
Is there any free accounting software?
Yes, of course. Some programs like GnuCash and Wave offer only the one free plan, while others have free alternatives to their more feature-rich paid plans. Check out our reviews for more information.
What is the best free accounting software?
In our opinion, Wave is the best free accounting software to download in 2022. Of course, there are a lot of factors to consider, such as the size of your company, whether you need double-entry accounting, what sort of customer support you're expecting, and what accounting features you need to have. Either way, you won't go wrong with any of the options on our list; GnuCash and ZipBooks all provide a fairly comparable service.
Wave accounting software is completely free to use for all basic accounting features. However, accepting online payments and processing payroll are considered extra features that have to be enabled and paid for separately.
Does Google have accounting software?
No, but there are a lot of small business and personal accounting software for free on the Google App Store. If you're looking for something lightweight and easy to integrate with Google Apps, check out Rhino Accounting.
Is there a free version of Quickbooks?
QuickBooks does not have a free version. It does, however, offer a 30-day free trial and various discounts throughout the year. With this discount, the Simple Start plan is only $7.50 a month, which isn't free, but is more affordable than most other paid options on the market. Alternatively, you can take a look at our list of free accounting software and pick your favorite.
Which is the easiest accounting software?
Sage. A lot of the software on our list is very easy and intuitive to use, but our vote goes to Sage for its mix of a streamlined, well-organized interface and excellent automation features.