To choose the best business plan software for your needs, you must consider several factors. Not all products and businesses are created equal, and some need more detailed financial projections than others.
Thankfully, there are various software solutions on the market you can choose from to assist you with your business planning. But where should you start?
To help you with that, we have researched and compiled a list of the top-rated programs that can make it easier to get your business off the ground and ensure its long-term success.
LivePlan
•

Unlimited plans

•

35-day money-back guarantee

•

Insightful tutorials
PlanGuru
•

30-day free trial

•

Unlimited plans

•

Valuation tool
Enloop
•

7-day free trial

•

Several free business plans

•

Competitive prices
Bizplan
•

Unlimited plans

•

Business process monitoring

•

Revenue projection tool
IdeaBuddy
•

15-day free trial

•

Business guide

•

Flexible pricing options
Top Business Plan Software - Our Picks
1. LivePlan Review
Pricing:
Standard plan: $15/$20 per month, Business plan: $30/$40 per month
Number of plans:
Unlimited
Free trial:
Yes (35-day money-back guarantee)
LivePlan offers high functionality at an affordable price. It boasts an intuitive, user-friendly interface with plenty of useful features, making it easy for users to write detailed business plans. So, if you're looking for sophisticated, modern business plan software, LivePlan should be among your shortlisted options.
Features
You'll find there are many things you can use Liveplan software for. Some business plan features it offers are:
Over 500 sample

plans.

Easy export to Word, Excel, and PowerPoint.

One

-page pitch builder, which creates an infographic version of your

business plan.

Automatic financials - the program creates

charts

, tables, and

reports

for you.

Financial

performance tracking

, which also helps you plan a budget and offers seamless integration with financial tools.

Step-by-step

guidance

: You receive instructions with prompts, definitions, and tutorials as soon as you log in.
The premium package adds performance indicators, a milestone planner, benchmark data for metrics comparisons, and more.
Who Is It For?
LivePlan is among the finest business plan software solutions for businesses and entrepreneurs who need:
An affordable

business planning

tool

with a variety of useful

features.

To create many

reports

, as the

software

lets you create as many as you wish or need.

Help with creating a report, since the

platform

has a comprehensive step-by-step guide and tutorials.

To

access

their

plans

for extended periods, as the program saves

data

for

more

than a year, even after cancellation.
On the other hand, LivePlan itself is an advanced tool, so there is a learning curve for beginners.
Price
LivePlan has two plans catering to startups, small and large businesses, and long-time investors. The subscription can be paid either monthly or annually.
If you choose the former option, the Standard package will cost you $20 a month, while the monthly price of the Premium plan is $40.
If you opt for the annual subscription, you'll only have to pay $15 per month for the Standard and $30 per month on the Premium plan. This generous discount makes LivePlan arguably the best business plan software for individuals and businesses willing to commit to a subscription for a longer period.
| Key Features | |
| --- | --- |
| Pricing | EXCELLENT |
| Plans | EXCELLENT |
| Free trial | |
| Tutorials | EXCELLENT |
+ Show more
2. PlanGuru Review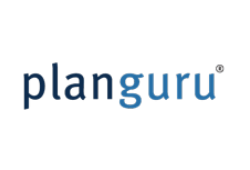 Pricing:
Plan Guru App: $99 per month or $899 per year, Plan Guru Desktop: $99 per month or $899 per year
Number of plans:
Unlimited
Free trial:
Yes (30 days)
PlanGuru is a good choice if you want robust software that offers a variety of features. The most notable one is the valuation tool, which is only available on the desktop version of the software at the time of writing.
In short, PlanGuru is a business planning software solution committed to helping businesses with their financial planning, providing the tools they need to create reports, budgets, forecasts, and more.
Features
PlanGuru offers two types of plans: Advisor and Business/Non-profit. These are largely the same, with a few slight differences, and the company lets you choose between a cloud-based app and a desktop application.
Whichever option you choose, you gain access to an unlimited number of scenarios per company and can import up to five years of actual results. Furthermore, each plan entitles you to a pre-built three-way forecasting structure and lets you benefit from over 20 standard forecasting methods.
That said, PlanGuru is more of a financial planning tool than business plan writing software.
The desktop application has some additional features. For example, the valuation tool is currently available on the desktop version only. Also, some other features that are only available on the desktop version are the payroll utility, the breakeven tool, and an unlimited number of consolidated projections.
Who Is It For?
PlanGuru would make an excellent business plan tool for those who:
Appreciate a comprehensive resources library.

Wish to compare their finances to the performance of a given industry.

Are used to importing files using

QuickBooks

Online, Xero, Excel, or

QuickBooks

Desktop.

Need

business

valuation calculations (PlanGuru is one of the

best business planning software

solutions with this feature).
On the other hand, you may wish to look elsewhere if you:
Need a

tool

focusing on basic

business plan

writing.

Have a limited budget. PlanGuru is expensive, especially if you need to include additional users.
Price
Pricing is on the high side with PlanGuru. A subscription will set you back $99 per month or $899 per year, and on top of that, adding additional users costs an extra $29 per month or $299 per year. So, ensure you can get the most out of this software to make writing your business plan worth the time, effort, and cost.
| Key Features | |
| --- | --- |
| Pricing | POOR |
| Plans | GOOD |
| Free trial | GOOD |
| Tutorials | EXCELLENT |
+ Show more
3. Enloop Review
Pricing:
Detailed plan: $11/$19.95 per month, Performance plan: $24/$39.95 per month
If you're looking for simple software to create a business plan, Enloop is an excellent option. Dedicated to business plan creation, it offers features such as automated text writing, financial forecast comparisons, and auto-generated financial reports.
Features
Enloop is one of the best business plan software options available on the market if accessibility and ease of use are your priority. It features a simple interface and it's suitable for users who don't need more than a few business plans, although more plans can be unlocked for an additional monthly cost.
Both of Enloop's pricing plans share most of the program's feature set, such as automated text writing, colored charts, real-time performance score, data and text synchronization, and country currency formatting with over a hundred currency symbols and formats.
The main differences between the two plans come down to the number of team members who can be included in the project, and the number of financial ratios that the app can analyze.
Who Is It For?
You should consider Enloop if you only need up to three business plans, which is the account limit. However, you might want to keep it shortlisted even if you need more, since it's possible to unlock additional business plans for an extra $9.95 per month.
Furthermore, you'd likely find this business plan creator software appealing if you intend to have multiple people working on a business plan. The Detailed plan allows two shared users, while the Performance package allows five.
You'll also find Enloop helpful if you:
Have a limited

budget.

Value

text

, tables, and image formatting.

Wish to have access to helpful written and

video tutorials

.
On the flip side, Enloop might not be a good fit if you need:
QuickBooks

or Xero integration

options.

More than five co-workers working on your

business plan.

Responsive customer support, as it can only be reached via a contact form.
Price
Enloop offers both monthly and annual subscription options, and the latter allows you to save about 50% if you wish to commit for the long term.
So, if you opt for the Enloop business plan software, the price is as follows:
$19.95 per month for the Detailed

plan

$39.95 per month for the Premium package
If you choose the annual subscription, the prices are:
$11 per month for the Detailed package

$24 per month for the Premium

plan
| Key Features | |
| --- | --- |
| Pricing | GOOD |
| Plans | GOOD |
| Free trial | GOOD |
| Tutorials | GOOD |
+ Show more
4. Bizplan Review
Pricing:
Monthly plan: $29 per month, Annual plan: $20.75 per month, Lifetime plan: $349
Number of plans:
Unlimited
Bizplan is yet another tool popular among many businesses due to a variety of benefits it offers. You can include as many collaborators as you wish and create an unlimited number of business plans, have access to a range of useful tools, and use the company's extensive educational resources, and more.
Features
Bizplan is among the top business plan software options with a number of helpful features that young businesses can benefit from. For example, you can:
Set your business

goals

and monitor the

progress

from a single dashboard.

Ask for

advice

or detailed

guidance

from acclaimed mentors your dedicated advisor connects you to.

Access

courses that can help you scale your

business

, including customer acquisition and

business planning.
Moreover, Bizplan boasts an extensive library of interviews and guides you can use, and you can join the Startup Therapy Podcast for insights on how to deal with issues that every new business experiences.
Among other features, this business planning software also has:
Revenue-projection

tool

Equity fundraising

platform

Automatic financial

projections

Easy-to-use

templates

for

reports

generation

Extensive library of educational content

Unlimited

business plans

, tables, and sections

Exemplary customer support you can contact via email, live chat, and phone
Who Is It For?
Bizplan is one of the business plan software providers that grants users access to all of its features with a single plan, with no limitations on the number of plans or collaborators. It caters to startups and seasoned business people, offering ample resources, business plan creation opportunities, and convenient monitoring.
One of the few downsides of this software is the lack of a free trial, which means you'll have to subscribe if you wish to try the program out.
Price
There are three subscription options with Bizplan:
Monthly, which costs $29 per month

Annual, which costs $20.75 per month ($249 per year)

Lifetime, which costs $349 for lifetime

access
Given that no other provider among our shortlisted options offers a lifetime plan, it's safe to say that Bizplan is the best business plan software for users who wish to commit to a high flat cost rather than worry about subscription costs in the long-term.
| Key Features | |
| --- | --- |
| Pricing | EXCELLENT |
| Plans | EXCELLENT |
| Free trial | POOR |
| Tutorials | EXCELLENT |
+ Show more
5. IdeaBuddy Review
Pricing:
Dreamer plan: starting from $6 per month, Founder plan: starting from $9 per month, Enterprise plan: custom pricing
Number of plans:
Unspecified
Free trial:
Yes (15 days)
IdeaBuddy is a handy tool that can help you with many things, including testing your business ideas, financial planning, and more. It is particularly useful if you have a business idea but aren't sure how to implement it. The software can accommodate a variety of people and companies, including entrepreneurs, managers, startups, and business schools.
Features
IdeaBuddy is an excellent small business planning software that has five main features:
Idea

plan

Idea validation

Business

guide

Financial

plan

Business plan
The idea plan feature allows you to map and structure your idea easily and efficiently on a single page without much effort. The process is simple, resembling a website building tool, and it provides you with an overview of the business model upon completion.
As its name suggests, the idea validation feature provides insights into how likely your idea is to become a thriving business.
The business guide gives you valuable insights into how to start your business. It can help you assess how big your target market is, perform competition analysis, allow you to better understand who your prospective customers are, and evaluate the idea's overall market potential.
The financial plan helps you evaluate your income on monthly, quarterly, and annual bases, complete with long-term cash flow projections and detailed financial reports.
Finally, the business plan feature helps you create a shareable plan that you can edit and export to Word or PDF.
Who Is It For?
IdeaBuddy is business plan maker software especially suitable for individuals and startups that need guidance when it comes to implementing their business ideas. It is also useful for people with limited budgets. Furthermore, nonprofits and schools benefit from IdeaBuddy's 30% off policy.
On the other hand, you might not find the platform to your liking if you:
Wish to test

all

the

features

before committing, since the free

trial

has a very limited feature set.

Need responsive customer support assistance, since you can contact them only via a contact form.
Price
IdeaBuddy has flexible pricing options, making it one of the best business plan software solutions if money is an issue. You can see some of them in the tables below:
DREAMER PLAN
| | | | |
| --- | --- | --- | --- |
| Number of ideas and collaborators | Monthly | Annual (price per month) | Lifetime |
| 1 | $12 | $6 | $119 |
| 3 | $19 | $9 | $169 |
| 10 | $29 | $14 | $239 |
FOUNDER PLAN
| | | | |
| --- | --- | --- | --- |
| Number of ideas and collaborators | Monthly | Annual (price per month) | Lifetime |
| 1 | $19 | $9 | $169 |
| 3 | $29 | $14 | $239 |
| 10 | $39 | $19 | $349 |
As for the cost and details of the Enterprise plan, you need to contact IdeaBuddy directly via the contact form.
| Key Features | |
| --- | --- |
| Pricing: | EXCELLENT |
| Plans | EXCELLENT |
| Free trial: | POOR |
| Tutorials: | GOOD |
+ Show more
Related Product Categories
Choosing Business Plan Software: Things To Consider
Deciding on the best business plan software for your needs can seem daunting - there are so many options available, and it can be difficult to know where to start. However, in our business plan software reviews, we pointed out a few key factors you should keep in mind to narrow down your options.
Pricing
Both free and paid options are available, so you'll need to decide what's right for you. We did not mention any free business planning software in this review, but if you're on a limited budget and are looking for free software, pay attention to the number of features it allows you to use and how many collaborators you can have onboard.
Features
When using software to devise a business plan, the features offered by the tool are a top priority. Not all of them will be relevant for every business, so it's important to take into account which features are more important for the type of business you're running.
Number of Co-Workers
Another important thing to consider is the number of collaborators that you will need to include in the making of your business plan. You won't need software with unlimited collaborators if you only need to share your project with a few people, but at the same time, the software has to support the number of coworkers you need working with you.
Educational Resources and Tutorials
Next, consider whether you'll need access to educational resources. Some software options come with templates and tutorials that can help you get started, as well as help you optimize your business plan for the long term.
Free Trial
When it comes to business planning software, user experience is extremely important. The user interface should be intuitive and easy to use, as the last thing you need when devising a business plan is to deal with a clunky interface. That said, you should always thoroughly test out a platform before committing to it for the long term.
Integrations
Last but not least, check out how many integration options your shortlisted platform has and what those are. Programs such as QuickBooks, Xero, and Microsoft Excel are all highly useful and commonly used tools, so having them integrated with your business planning software can make your life easier.
Top 5 Picks: Business Plan Software
LivePlan

PlanGurur

Enloop

Bizplan

IdeaBuddy
Business Plan Software Pros and Cons
Now, let's review some key advantages and potential disadvantages of these programs.
Benefits
They are

cost

-effective and efficient, providing excellent long-term value.

Business planning tools

help you set reasonable

goals

and track your

progress

.

They allow you to work on the business plan with multiple people and easily share

data

with mentors and

investors

.

Many have

video tutorials

, extensive knowledge libraries, and even forums, while others have help centers with short but useful guides, at the very least.
Drawbacks
Specific platforms have limited free-

trial

options

. So, check what

features

your favorite

business plan program

offers as part of a free

trial

.

Some

software

doesn't provide live chat, phone, or quick-support

options

. So, getting in contact with customer service representatives may be a problem if you need urgent assistance.
Conclusion
Although business planning software offers a wide selection of useful features, choosing the one that's ideal for your needs comes down to evaluating several factors.
Everyone's requirements are different, so take your time choosing the right software for you. Once you've made your decision, all you need to do is put the program to work, define your business plan and operating budget, and get you'll be able to get the project off the ground in no time!
FAQ
What is the best free business plan software?
Various business plan template software solutions offer a free basic version or a free trial. However, free business planning software usually lacks essential features that a growing business might need.
Which business plan software is the best?
It depends on your professional needs. For example, those who need a valuation tool would find PlanGuru the most convenient, while others might prefer LivePlan if they're prioritizing flexibility and value.
What is the best business plan software for startups?
LivePlan, Bizplan, and IdeaBuddy are among the finest business planning software for startups. LivePlan provides high functionality for the price, Bizplan has extensive educational resources, while IdeaBuddy guides startups through different planning and implementation stages.