Software dashboards let you put all of your company's key performance indicators on a single page. Payroll expense, inventory levels, defect rates, marketing costs, advertising ROI...all expressed in charts, graphs, and tables on a single screen. Dashboard software gives you an overview of how well you're doing - and the ability to drill down to diagnose trouble spots.
Related Product Categories
Managing and Measuring: Dashboard Software for Tracking KPIs
The reports land on your desk every month. Payroll. Inventory. Production yields. Shipping costs. Accounts payable. Receivables aging.
Or maybe they show up in your email inbox. Spreadsheets. Monthly reports. PDFs. Memos.
You know what you need. Out of all those pages you want eight or 10 numbers. Business intelligence. Key performance indicators. The numbers that tell you how your company, department, or project is doing. The numbers that tell you everything's fine or point you toward a problem.
That's what dashboard software is for. It's like a frame that holds data from your payroll department, from manufacturing, from accounting and marketing and quality assurance - all gathered on a single page so you can see your key performance indicators at a glance. Not monthly, but right now.
Modern dashboard software goes even further. Some programs let you drill down into problem areas until you've found the cause of unexpected figures. Others roll up department-level dashboards into an overall management report. Widget packs let you display data as easy-to-read charts and graphs in dozens of flavors. Features for sharing and annotating performance snapshots have become common.
They say you can't manage what you don't measure. Dashboard software puts the measurements front and center.
The rest is up to you.
Methodology: How We Rate Dashboard Software
A dashboard is a valuable business tool that gives the user a visual representation of key performance indicators KPI and other metrics. Most dashboards let you drill down into data and perform interactive ad hoc analysis.
Dashboard software can tell you how much you spend on recruitment per quarter or per employee. It can help you track production quality by reporting product returns. You can track performance with dashboard software among departments, and you can send the results to department heads so they know how well their teams are performing.
The dashboard shows you key metrics at a glance without requiring you to log in to the payroll system, the accounting app, a CRM program, and other data sources. Plus, the dashboard lets you display every bit of data in an effective way: as numbers, charts, or graphs.
Here are the key features of dashboard software applications.
Price
Price is always important. There are a lot of reliable free KPI dashboard software solutions and there are a number of inexpensive ones. Then there are the enterprise-class dashboards, which can seem quite expensive.

Most of the providers on our list offer multiple pricing plans based on parameters like the number of dashboards or the number of users.

Price can also vary based on the type of deployment - the costs for an in-house solution could higher, since they include software installation and maintenance. In our dashboard reporting software reviews we've noted that some of the companies don't disclose prices. You must contact the company to learn what they'll charge you.
Type of Deployment
The second factor to consider before purchasing software is how you want to deploy it. Today, most of the providers offer website dashboard software solutions based on a software-as-a-service model. However, some companies provide both cloud-based and in-house options. To choose the right solution for your company, it is necessary to know the benefits of both systems.
Cloud-based solutions are accessed via the internet. The software resides on the vendor's servers, so you are not obliged to install hardware or software on your own systems. The benefits that come with this architecture are numerous. For example, they tend to be more scalable. A cloud deployment means you can access your device from anywhere in the world.
There is something to be said for in-house systems too. Yes, web based dashboard software doesn't require an IT team to install and manage the system, but on-premises installation gives you more control. Your data will be the IT team's top priority, and the system may be more customizable.
Features
The best dashboards give users access relevant data results presented in easy-to-understand formats - often with tables, charts, and graphs. They also let users share results team members and external users as appropriate. These platforms are equipped with lots of tools and features for faster and more reliable data analysis and presentation.
Data analysis tools
A business dashboard looks like a screen full of graphs, charts, and lines on a display. These widgets represent complex corporate performance metrics - some direct from data sources and some calculated through complex analysis. Behind the vivid colors and layouts you'll find a powerful tool for collecting, measuring, and deriving results from your data. The system you pick needs to be powerful enough to assemble all your data in one place and provide KPI analytics.
Corporate data is typically spread over multiple silos: SQL Server databases, the CRM data store, customer databases, accounting files, human resources spreadsheets, and more. To track KPIs, you need a system that can bring all that data into one place and combine it.
KPI and other metrics
Key performance indicator - KPI - is the set of data points you need to know to ascertain how well your company is doing. Your KPI might be based on production rates, sell-through rates, inventory on hand, payroll costs, schedule variances, and other measures. Every dashboard application should be able to access this data and combine it with other data to present calculated KPIs.
KPI tracking is not the only thing that you can do with dashboards. You can analyze any data set you want - hourly rates, product returns, quarterly profits, and more.
Interface
The next metric: the dashboard interface. Dashboard displays all relevant metrics and performance indicators for your business. All of this must be easily navigable with clear options for adding, editing, and deleting data from the dashboard. All of the platforms on our list use a drag-and-drop visual system for gathering data and specifying how it should be presented.
Desktop dashboard software generally includes smart widgets for connecting to data sources, performing calculations, and presenting the results visually. Widgets can include graphs of various kinds, charts, lines, and other visual representations.
Predefined dashboards
Most products include sample dashboards that you can customize to meet the needs of your business. We have reviewed systems that are loaded with all kinds of dashboards - for finance, executive management, human resources, sales, and many other teams and purposes.
Of course, each dashboard can be customized with colors, fonts, and styles. The most important thing is data visualization. We focused on dashboard metrics software that is equipped with the following tools:
- Widgets are used for managing and inserting KPIs and key metrics into dashboards. The number of widgets that the client can use sometimes depends on pricing plans. Some packages allow an unlimited number of widgets for each dashboard.
- Pie charts present percentages within a data set.
- Tables are rows and columns of data - a traditional, highly effective way of presenting financial results and advanced analyses.
- Lines highlight changes in time for key metrics tracked by virtual dashboard software.
Graphs typically illustrate some relationship between data points during a specific period.
- Real-time tracking and visualizing data allow users to track analytics in real-time and see changes to metrics.
Branding
Some computer dashboard software providers let you use templates, colors, fonts, and style to create dashboards that match a brand's look and feel. We looked at platforms that allow users to customize existing dashboards or create new ones from scratch.
Integration tools
It is critical that whatever dashboard software you choose be able to integrate seamlessly into your existing software ecosystem. That means connecting to and extracting data from the applications and systems you use to run your business.
The purpose of dashboards is to deliver dashboard data reports fast to individuals, departments, and teams - and to send analytical reports to external audiences like clients or investors. Some of the best providers have the ability to share reports on the company's website or through social media channels.
Mobile app
Mobile apps let decision makers monitor and respond to changes in key performance data no matter where they are. Companies owners, entrepreneurs, executives - they all want to stay up-to-date with the latest news on a company's performance. That's why we searched for vendors that provide dashboard software that's accessible from mobile devices. Dashboard apps let mobile users view or analyze data, and send reports to other users with just a few clicks.
Customer support
Customer support is crucial. Everyone wants solutions that are easy to set up and manage. Most of the platforms we reviewed don't require IT professionals or advanced training for installation and setup. You don't need to be tech-savvy to understand them once they are set up, but from time to time you might need help.
Many of the companies that provide dashboard services sell additional apps for running your company. Clients sometimes need information on how to integrate services into their own business solutions and streamline workflow. As you can see from our dashboard software reviews, we give high marks to vendors that offer 24/7 customer support and that are available via phone, chatbot, and email.
Additional features
Some packages offer useful extra features. One or more of them may prove to be crucial in your purchasing decision.
- White labeling is the ability to add a user's brand to reports, removing the dashboard provider's brand.
- Data security is crucial for clients who work with sensitive content and need extra protection for their analytical reports.
- Backup features let you save and store data reports.
- Workflow features let you integrate into existing business processes so management can streamline work and get insights into the performance of each department.
- Targeting is the ability of your company dashboard software to measure performance that is relevant to specific products, regions, or customers.
- Access control allows you to restrict access to dashboard displays and analytic tools. Each dashboard display can be shared with selected co-workers and external users, but you can control access to data analytics. For example, you can decide who can view or download particular reports. Also, you can disable access to data reports for specific people.
- Annotations are a great feature for making a dynamic dashboard even more useful. A user can post comments and notes so colleagues can see them.
- Notifications and alerts can be set to notify users when particular data approaches defined ranges. All changes related to KPIs and other metrics will be noted and you will get a message or email.
- Ad hoc queries and reports happen when you're allowed to perform data analysis on the fly.
The Best Dashboard Software Solutions for 2022
Tableau

Plecto

Klipfolio

iDashboards

Dasheroo

Siense

Domo

Zoho Analytics

Birst

Dundas BI
Dashboard Software Reviews
Tableau
⦿

Comprehensive downloading options

⦿

Posting comments on dashboard

⦿

Edit completed data visualizations
With more than 80,000 users at companies large and small, Tableau is among the world's best-known BI dashboard software packages. Managers use Tableau to analyze KPIs and create easy-to-read analytical summaries and reports. The software lets users connect data from diverse applications and databases, combining them to create valuable performance insights in reusable dashboards and ad hoc reports. Tableau offers separate products for prepping, discovering, analyzing, and presenting data – and it helps with organizing workflow too. Tableau reporting tools deliver meaningful business intelligence to individuals and teams throughout the organization.
Ease of use
Tableau offers two architectural options for software dashboards. The dashboard software Tableau publishes can be hosted in the cloud – a money-saving approach that lets you avoid the time and expense of installation and configuration. Or you can host the software locally.
A drag-and-drop system is used for adding data sources to individual dashboards.
Tableau solutions are available on iOS and Android too.
Pricing
Although Tableau is plenty powerful for enterprise-level data presentation and analysis, it is also useful as personal dashboard software. The company's pricing plans are based on the type of deployment, the number of users, and the feature set.
The minimum deployment is for a single Creator – $840 per year. It includes Tableau Desktop, Tableau Prep Builder, and a Creator license for Tableau Server.
Explorer-class users can access dashboards and customize them. Explorer licenses cost $420 per year with a minimum of five users ($2,100).
Viewer-class users can access dashboards created by others. Viewer licenses sell for $144 per user per year, with a minimum of 100 users ($14,400 per year). Deployments hosted on Tableau's servers cost slightly more.
A typical deployment might include licenses for two Creators, 10 Explorers, and up to 100 users – $20,280 per year.
Features
The most important of Tableau's products are Tableau Desktop, Tableau Server, and Tableau Online. Tableau Desktop is the main software for representing your company's KPIs and data analysis. The KPI dashboard has lots of features, but it is also easy to navigate. The data is easy to read and understand.
Tableau Server is essential too. It's a browser-based analytics engine that lets users find and manage all kinds of data faster.
Bottom line
Tableau KPI solutions are extremely scalable, so it is a perfect choice for both individuals and companies. Managers in education, healthcare, real estate, banking, and other industries benefit from this software.
Plecto
⦿

Mix and match data

⦿

Personal support

⦿

Slideshow manager
Founded in 2012, Plecto publishes KPI software that is used by more than 70,000 people around the world. In the beginning, Plecto was used only for KPI analytics, but today this is a robust, flexible dashboard that integrates easily with almost all business systems, helping users get insights into specific business metrics.
Ease of use
Plecto is implemented according to SaaS architecture, with the software hosted on the cloud. This is great for users on the go, as they can use a mobile dashboard app to access and explore business intelligence on phones and tablets. There's an app for smart TVs too.
Plecto's BI dashboard lets users easily collect and collate data from practically any source. The only exception is important SQL data, a capability that is reserved for the Large pricing plan.
Pricing
Plecto offers free dashboard software services during a 14-day trial period. At the end of two weeks you can sign up for the Medium plan – $17 per employee per month. It supports an unlimited number of dashboards, mobile and desktop software, and all dashboard features. The Large pricing plan costs $35 per employee per month. It has all the same features as the Medium plan, plus branding, a dedicated customer success manager, and many others. If that's not enough, there's always the comprehensive Enterprise KPI tracking plan. Plecto's sales staff would be happy to generate a quote for you.
Features
First and foremost, Plecto is business intelligence dashboard software. It lets you create dashboards for tracking and visualizing your company's performances. The platform lets users mix and match data to create detailed dashboard visualizations.
Plecto is loaded with dashboard widgets – pie graphs, line graphs, bar charts, and so on – that users can choose when building dashboards. You can also employ custom color schemes, fonts, and layouts so your data dashboard software matches and promotes your company's brand.
In addition to dashboard monitoring, Plecto offers support for analyzing and streamlining workflows.
Bottom line
The software is really good for both startups and large enterprises because it is highly scalable. Plecto's responsive customer support team is standing by to help you set up and manage your data visualization dashboards, making this software a great solution for less experienced users.
Klipfolio
⦿

Advanced customization options

⦿

Third-party integration

⦿

White labeling
Klipfolio is powerful business dashboard software that allows users to combine and analyze data from different sources. More than 11,000 companies rely on Klipfolio solutions, which makes it one of the industry's leaders.
Ease of use
Klipfolio is a cloud-based solution that integrates easily with more than 300 widely used business applications, including Google Analytics, Salesforce, Dropbox, and Quickbooks. If the data source you need isn't supported, you can use the Klipfolio API to create a bespoke connection and import data directly.
With Klipfolio's dashboard business intelligence software, you can easily collect your business's KPIs on a single screen. The software includes a mobile monitoring app too, so you can track your company's performance from your phone.
Pricing
Klipfolio offers a full menu of pricing plans for small businesses, agencies, and enterprises. Each of the Klipfolio pricing plans can be charged monthly or annually. Charges vary according to the number of users, number of dashboards, and feature set.
The Grow plan ($142 per month) will be the sweet spot for many customers. It supports an unlimited number of users, 15 dashboards, more than 300 data integrations, branding, and many other features.
You can try this dashboard software free for up to 14 days. During this trial period you will have access to all Klipfolio features and tools.
Features
Klipfolio provides a robust set of tools for centralizing and analyzing data from across your company. The dashboard is easy to navigate and it performs fast data visualization. If you want to see sales of your company's product for the last month or you want to see how many products are returned, Klipfolio will help you access the data and represent it visually. You can easily build informative and colorful charts and graphs. You can use the software to monitor key performance indicators or you can be creative and use it to track any other data insights related to your company.
One of the most useful features of this business dashboard software is the option of tracking specific metrics over time. With this feature, you can speed up the process of analyzing data and focus on how to improve it. Additionally, all your data insights are in one place, so you don't need to look at different reports.
Klipfolio has many tools that can help you customize the dashboards you create, including personal dashboards.
The best for
Klipfolio is one of the best platforms that enable data visualization in real-time. The dashboard displays the results through graphs and charts making them understandable for all users.
iDashboards
⦿

Alerts and notifications to track your KPIs in real-time

⦿

In-depth insight into your metrics

⦿

Fast connection with databases
iDashboards is one of the best dashboard software providers. The company's powerful tools support the fast integration of all types of data files. The simple setup process makes this provider the best choice for users who want to get quick insights into key metrics.
Ease of use
iDashboards is a cloud-based business intelligence system that helps users access, analyze, and visualize key metrics. Installing the BI dashboard is straightforward, so you don't need to be tech-savvy. A drag-and-drop system enables fast and smooth integration of disparate data sets.
Since the software is cloud-based, you don't need to worry about the installation process and you don't need to engage the IT team to take care of the system. Just log in and start working.
Pricing
iDashboards doesn't disclose license prices. The only way to learn what this product will cost you is to participate in a consultation with an iDashboards sales professional, who will sketch out the relevant modules and prices.
iDashboards lets you try its dashboard software for free. The trial period is an opportunity to see if the software fits your needs.
Features
iDashboards has an attractive user interface that includes lots of tools for creating dashboards – useful gadgets and widgets and features for analyzing, visualizing, and sharing key metrics.
The dashboard allows you to import data from sources like SQL databases, Excel worksheets, Google Docs, and Salesforce.
This might be one of the most powerful dashboard display software solutions, since the system is loaded with more than 255 charts, graphs, and other visual features that can help you to get a clear picture of your KPIs. As soon as you connect your data you will get meaningful insights that you can share with team members.
You can easily share iDashboards reports across teams and departments. You can make custom reports for each team and use different features to visually represent figures on the dashboard using various chart types.
Bottom line
iDashboards is an excellent data dashboard for large companies and enterprises. The dashboard is extremely powerful and it scales gracefully up to enterprise-class data sets that access data from a large number of files.
Dasheroo
⦿

Functional free version

⦿

Mashup feature

⦿

Multiple dashboards for each team
Dasheroo publishes cloud-based software with free KPI dashboard solutions. You can get started with this innovative software for free, then upgrade to a paid plan when you find that you need more capacity or features. Dasheroo has more than 35,000 users in 170 countries.
Ease of use
Dasheroo web dashboard software works for individuals, small companies, and enterprise-class corporations. Setup is a breeze, as the software runs on Dasheroo's servers. Just fill out a few fields and get to work – no installation is required. You can start building a useful KPI dashboard in minutes.
Dasheroo is easy to use, but it is no toy. The software integrates seamlessly with a wide range of business applications, largely through Zapier, which makes it easy to add CRM data from Zoho, for example, and sales figures from Salesforce to your dashboard.
Applications for iOS and Android make it easy to view and analyze data on the go.
Pricing
It's easy to get started with Dasheroo's free dashboard tools. Just visit the company's website, sign in, and you'll have access to dashboard features and tools.
When you outgrow the free plan you can consider the company's paid plans. There are three of them, each based on the number of dashboards you can create, the number of widgets you can use, the number of file sources you can mix, and other useful features. The pricing plans are Tall ($9/month), Grande ($19/month), and Venti ($39/month).
Features
Dasheroo's developers created cheap but powerful dashboard software that can help users get freshly updated performance metrics at any time. There are a variety of widgets, or insights, that control data presentation on your dashboard. Each pricing plan supports a specific number of insights. The most comprehensive package supports 100 insights.
One of Dasheroo's best features is the Data Insights Mashup. It allows you to take two apps and "mash them up" in a line graph. It's a quick, easy, intuitive way to see the correlations between different metrics.
At each price level you'll find that Dasheroo offers many dashboard templates, report layouts, and sharing tools.
In addition to being one of the best KPI dashboards on the market, Dasheroo is a top-notch team collaboration tool. You can create multiple dashboards for each team. For example, you can create an executive dashboard or a social media dashboard, each displaying just those metrics that are relevant and valuable for each team. This is a great way to improve productivity and empower your teams.
Bottom line
Dasheroo is one of the best platforms for businesses that are looking for free but proven software providers. It also has reasonable pricing packages that include useful tools for gathering, analyzing, and visualizing data, which makes it a great solution for startups and small businesses.
Sisense
⦿

Share reports with the internal and external users

⦿

Open-source platform

⦿

Ad hoc reports
Like all dashboard software, Sisense lets you visualize and analyze data from disparate sources. What's unique about this app is that it lets you sort through terabytes of data. This highly scalable solution works great for small companies and scales up to meet the needs of the largest enterprises. The company counts NASA, eBay, Fujitsu, Celestia, and Philips among its customers.
Ease of use
Sisense offers Linux dashboard software solutions to fit any company or organization's needs. In addition to the default cloud-based architecture you can deploy the software locally or choose a hybrid model. There are cost, complexity, and security trade-offs for each option. No matter which you choose, you'll be able to combine multiple data sources and get an in-depth analysis of key performance metrics
Pricing
Sisense pricing plans are not disclosed on the company's website. You must interact with the company's sales consultants to learn what the company will charge for the configuration they recommend for your firm's unique needs. The price can vary based on the features you contract for and the deployment architecture you choose. Cloud-based solutions are generally less expensive, even if the vendor charges a bit more. You need to figure IT support into the cost if you're deploying locally. For example, if you need dashboard software for Windows, an installation process is required and it might require extra fees.
Features
Sisense is equipped with a simple drag-and-drop system that lets you build dashboards for any industry: marketing, healthcare, human resources, customer service, finance, or whatever.
Each dashboard can display data from different sources.
Once you get the data you need, you can start creating widgets. Like all comprehensive dashboard reporting software packages, Sisense lets you filter data. For example, you can track your company's production over a series of months, or you can narrow a sales analysis to a single region.
Once your dashboard is complete, you can create a report for sharing both inside and outside your company. That's why Sisense is both a dashboard builder and a report builder.
Bottom line
Sisense belongs on a list of the best analytics dashboard software systems because it can extract, rearrange, and analyze data from a variety of sources. It lets users investigate KPIs and other metrics and project future performance. It's a great choice for all types of organizations and industries.
Domo
⦿

Powerful tools for analyzing data

⦿

Fast delivery of data analytics

⦿

Real-time tracking KPIs
A cloud-based system for analyzing and reporting business intelligence, Domo is a fully mobile solution that connects all your applications, data, and employees to help you increase productivity. More than 1,800 clients, including enterprises and big corporations, rely on Domo's data dashboard software services – companies in fields as diverse as finance, marketing, education, and healthcare.
This is a comprehensive business intelligence system that brings all of your company's data into one place to be scrutinized, verified, analyzed, compared, and shared.
Ease of Use
This cloud-based system is sufficiently scalable to meet the needs of companies of all sizes. What makes Domo so powerful? The dashboard's frameworks, which support connection with hundreds of apps. This is the mechanism for combining all of your company's performance indicators on a single easy-to-read screen.
Domo's dashboarding tools are easy to use, so you don't need to learn Python or SQL to use them.
Pricing
Domo doesn't disclose its pricing plans until you've had a conference with the company's sales consultants. The company does provide information about the services it offers, however, including information on how you can implement custom dashboards, which integrations are allowed, and lots of examples.
Features
This corporate dashboard software features ETL so you can easily extract, transform, and load key information from a wide range of corporate data sets. Not only that you can use data from Google Analytics and Excel sheets, but you can also tap social media channels with no effort. The results you get will be detailed and reliable, imported from different data sources. This will give you a clear picture of your company's KPIs, ROI, and other metrics.
Domo data analytics dashboard software lets you create and deliver reports both within and outside your company. You can create visually attractive data results using a selection of charts and graphs, then send reports in a minute to your co-workers. You can even add annotations and comments to the charts. And of course you can limit access to all or a portion of the data as appropriate. Users can access data on PCs and mobile devices alike.
Bottom line
Domo is one of the best systems on the market, especially when you're looking to access large data sets and deliver analytical reports to others. Whether you are looking for dashboard software for Mac or Windows, Domo fits the bill.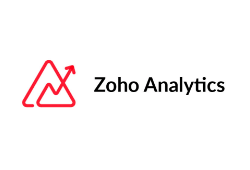 Zoho Analytics
⦿

Create in-depth reports

⦿

Tracking your KPI changes every hour

⦿

Publish the results on your webpage
Zoho Analytics helps users create customized dashboards and share them smoothly with others. It is part of the Zoho family of software solutions for business. You can use Zoho's marketing dashboard software and connect it easily with other members of the family, applications like Zoho CRM, Zoho Finance, and Zoho Recruit.
Zoho's cloud-based analytics application is very popular among marketers, who use it to accelerate business growth and provide fast communication among employees. Some of the companies using Zoho Analytics are famous brands like Suzuki, Ikea, Philips, Toshiba, and HP.
Ease of use
Zoho analytics dashboard software is available for all types of mobile and desktop devices. The software can be deployed locally or on the cloud. The easy-to-use interface allows users to create dashboards instantly and share reports with team members. The application is also used to improve communication among team members and help them make better business decisions.
Pricing
Zoho reports pricing options clearly on its website. First, there are options for individual users, team members, and companies. The Personal plan is free, for example, and it is available only in an on-premise configuration. Other plans are available in both on-premise and cloud-based configurations. You can also pay monthly or annual – which is great, because it lets you see how Zoho's dashboard solutions fit your business without making a long-term commitment.
All the plans are based on the number of users, number of rows or tables, and addo-on features like data backup, notification, and branding.
Contracts start at 25 euros per month for the Basic plan. The most popular plan is Premium, which costs 125 euros per month and supports 15 users, 5 million rows (or 5GB storage), and advanced features for creating reports.
Features
Zoho interactive dashboards allow users to track KPIs and other metrics in real-time. The platform is loaded with excellent charts and graphs, some of the best dashboard widgets on the market.
Dashboards are shareable too, so each team member can get insights into the company's performance at a glance. There are also options to control who can view, annotate, or download reports.
Zoho dashboard reporting tools enable users to track hourly changes to their KPIs. Full reports and short overviews can be spread over social media channels, embedded on your website, or sent to external users – stakeholders, newspapers, or agencies your company collaborates with.
Bottom line
The robust Zoho Analytics platform can make your business workflow operate faster and more efficiently. Zoho has it all: comprehensive data analysis, stunning dashboards, and fast reports.
Infor Birst
⦿

Fast customer support

⦿

Excellent statistical tools

⦿

Trend analysis lets you predict the future of your business
Widely used among enterprises and large companies to measure KPIs, Birst is one of the most popular BI dashboard tools on the market. The platform's power, security, and customer support make this product irresistible to business buyers.
Ease of use
Birst software dashboard solutions are available on the cloud and on-premise. The deployment architecture is completely up to you. If you have trouble deciding which solution is best for your company, you'll find Birst's customer support staff full of reliable advice and information.
Like any other enterprise-class business intelligence applications, Birst offers scalable solutions. Thousands of files from different sources can be easily organized and connected to give you deep, reliable, timely insight into your company's operations.
Looking for info on the go? You can dive deep into your company's KPIs any time via Birst's mobile app for iOS.
Pricing
Birst's website is informative but you won't learn anything about prices there. You'll have to discuss your needs with a sales consultant before the company will generate a quote.
Features
Enterprise dashboard software must have the capacity to handle a lot of data and the power to analyze it efficiently. Birst excels on both counts. It is able to collect and analyze a huge amount of data, and its analytic power is impressive. The program supports integration with many disparate data sources and applications.
Although its interface might seem unappealing at first, it does a good job of presenting data accurately and clearly. You can customize dashboards as you please and adjust the visual appearance for each team. Birst includes lots of templates and tools for creating custom reports.
Birst is one of the best business dashboard software applications for building predictions based on historical analysis. It provides not only comprehensive read-outs of key performance indicators, but also statistical data from different periods. Birst identifies trends and uses powerful analytic techniques to make predictions.
Bottom line
Birst is a leading provider of comprehensive services for data mining, analysis, and visualization. The dashboard builder is easy to use and it comes with robust tools for statistical analysis. The forecasting feature alone puts this package head and shoulders above the rest of the pack. It's a great solution for helping business leaders make better decisions.
Dundas BI
⦿

Highly customizable dashboards

⦿

Rich set of templates, charts, maps, and scorecards

⦿

Ad hoc reports
Dundas BI is a solid platform for measuring and reporting on KPIs. It's part of an overall suite of tools – the Dundas Data Visualization platform. This data analytics dashboard software lets users create and customize dashboards and dashboard reports that can be accessed from any device. This platform helps users make better and faster business decisions.
Ease of use
Dundas BI is a cloud-based solution, which means that it is easy to manage, install, and maintain. And it is less expensive to maintain and secure than software that is installed on your own servers.
Collecting data from different sources, Dundas BI gives users powerful tools for conducting in-depth analysis. The platform's drag-and-drop interface makes it easy to navigate through data, choose the elements you want to analyze, and convert the results into stunning charts and graphs.
The platform integrates with most mainstream business systems. And if you are looking for small business dashboard software, Dundas BI might be a perfect fit. I connects with all the major Microsoft business applications, including Microsoft Dynamics CRM, Microsoft SQL Server, Windows Azure, and Excel.
Pricing
For a price, you've got to contact customer service and schedule a time to talk with sales consultants. The company has several pricing models depending on the features you choose and the number of users you support.
Features
Dundas BI business dashboards are equipped with tools and features that can help users understand KPIs and other metrics. There are lots of layouts, styles, and visualization options so you can create different types of dashboards. You can customize your dashboard by adding charts, lines, scorecards, and maps.
Once you collect data sources and start your analysis, you can use different filters to explore data and examine particular results and measures. `
You can also send queries with this dashboard, generating ad hoc reports in real-time.
Bottom line
Dundas BI is one of the best web dashboards for monitoring business metrics, creating customized reports, and sharing data with other users. You can integrate the software smoothly with a wide range of platforms and applications.
FAQ
What is the best dashboard software?
This is not easy to say. There are lots of great software solutions for monitoring and visualizing KPIs and other data, and their number has grown rapidly in recent years.

Many vendors offer complete data services - collecting, organizing, analyzing, and visualizing results via customized dashboards. Some companies include customizable reports and predictive analytics. To make the right decision, start by considering why you need these tools and how many data sources your company relies on. Consider free business intelligence dashboard software providers first - you may find one that meets your needs.
Business dashboards visualize and track relevant business metrics like KPIs. These platforms allow executives and other decision-makers to monitor performance and to drill down to identify the source of problems.
Dashboards are easy to use even if you don't have experience in data analysis. They make the process of managing data simple, providing results that are understandable for all users.
Most of the companies that provide dashboard solutions are cloud-based services that let users access the software via the internet. Users collect data from different sources in one place and use software tools to analyze them. Modern platforms allow users to mix data sources on a single comprehensive screen. Reporting dashboards are equipped with widgets that you can use to visualize key numbers and relationships. Most come with tools for sharing these reports among colleagues and third parties.
What are dashboards used for?
Dashboards are widely used among businesses and organizations for measuring and tracking KPIs, key metrics, financial data, and other important data about business performance.
These tools help users in many ways. They collect crucial business data in one place, no matter where it came from. They illustrate trends and figures with visual widgets. They let you drill down to analyze trouble spots and the relationships among data points. And they let you share the data with department managers, investors, and others.
A dashboard builder can be highly customizable - you can add widgets, charts, and pie graphs, tailoring them for each department.
These tools help executives and decision-makers stay up-to-data with KPIs and other relevant business data.
What are the benefits of a dashboard?
There are certainly lots of advantages that business intelligence dashboards provide for your company. In addition to collecting valuable data in one place, they can provide other benefits. Here are some of the most important:

Save time: Data dashboards are a great way to analyze crucial data quickly and efficiently. You don't have to locate spreadsheets and find the relevant cells. You don't have to ask for a report from HR or the production floor. All the numbers you need to make a decision are right there on your desktop. Dashboards are refreshed with current data every time you load them.

Complete insight into your business performance: If you want to know how your business is doing, a dashboard is just what you need. For example, you can view how much money is spent on the latest marketing campaign. You can see the sales volume of your products. You can put the two next to each other and see how marketing campaigns affect sales. These metrics are displayed on the dashboard automatically. You can share them to inform coworkers about their performance, too.

Increase productivity: Live dashboard software is can help your teams increase productivity. They provide real-time results so employees can get insight into their work and react immediately.

Boost business results: Powerful dashboard systems let you track and measure KPIs constantly, reacting promptly to problems. You'll have better information for making better decisions - which can lead to better financial performance.
A key performance indicator is a trackable value that measures how well a person, department, or company is doing. For an assembly line worker, assemblies per week would be a KPI. An executive in human resources might have several KPIs: employee acquisition costs, attrition rates, moving costs, and average longevity, perhaps. KPIs illustrate effectiveness during a specific period. An executive who monitors the KPIs of every department can tell just how the overall business is doing and which departments need attention.

KPI dashboard software displays these numbers with graphs or charts so complicated statistics are easily seen and understood. These software solutions track changes in KPIs and inform users about them in a timely manner. Some use trend analysis to make predictions. These tools make it easier to identify the changes and improvements necessary to achieve business goals.
What is a dashboard report?
A dashboard report is a visual representation of the organization's KPIs and key metrics. Unlike traditional text reports, dashboard reports use visual elements to represent complex statistical data. Dashboard reports can be customized for each team separately so employees can focus on data related to their jobs.
Modern dashboards provide ad hoc reports too. These reports are created on the fly based on queries. The dashboard software extracts the necessary information from corporate data sources and performs the analysis to respond to the query.