Do you ever feel like you're spinning your wheels when it comes to content marketing? You have a million things you want to say, but you just don't know how to get started?
If you're like most business owners, you don't have time to sit down and write a blog post every day. But that doesn't mean you have to go without fresh content. A tool called content generator can help you put out new content every day and you won't even break a sweat. There are plenty of great tools out there that can help you get the content you need - without sacrificing your precious time. Read on to find out which of these tools is best for you.
Related Product Categories
What Can Content Generator Software Do for You
There are all sorts of content-generating apps available on the market these days. So, what can they really do for you?
First and foremost, a website content generator will help you create unique and interesting content for your website or blog, thanks to powerful artificial intelligence and machine learning. This is vital if you want to improve your search engine ranking and attract visitors to your site.
Secondly, this kind of software can also save you a lot of time. Coming up with ideas for articles, headlines, and catchy ad creatives is too time-consuming. Especially if you need to create a lot of content in a short timespan. Most of these apps require just a few inputs before they can start generating text. In some cases, your productivity can increase tenfold.
Additionally, a blog content generator can be used for SEO and eCommerce purposes. Just as these apps can write blog posts, so can they optimize them for Google or create memorable catchphrases that you can use for banner and internet ads. Even if you need just a ton of product descriptions, you'll find good use of the tools we'll be discussing today. They might still be a new thing, but they're already versatile and powerful.
5 Best Content Generators for Every Business Need
Content at Scale

Jasper

Rytr

GrowthBar

Copysmith
Our Criteria for Evaluating Content Generator Tools
When it comes to judging the overall effectiveness of an AI-driven tool for generating content, there are a few key factors we take into account. These include the quality of the content that's produced, the time it saves for the user, and the improvement in your writing that you'll experience.
A piece of software is, after all, as good as its features. Here's how we approach evaluating and testing the software for content writing.
Quality of Content
The quality of the content is, of course, the most important factor. After all, what's the point of using a content generator tool if the content that it produces is of poor quality?
First and foremost, we evaluate the grammar and spelling of the produced content. It should be error-free and easy to read. Then, we look at the overall quality of the writing - whether it's engaging, uses a tone fit for the target readers, and has a natural-sounding voice. AI tools tend to repeat themselves or simply fail to "understand" how a human would write a particular piece of content, so we check for the general flow of the article.
Last but not least, this content should be unique. The worst thing that could happen is for an app to end up plagiarizing someone else's work. Not only is it considered stealing, but you'd just end up with a bunch of worthless text you cannot use on your website.
Time Saving
One of the main benefits of using a content generator is that it can save you a lot of time. With a good quality generator, all you need to do is input some basic information and let the software do the rest. In turn, this can free up hours of your time, which you can invest in operations that are your bread and butter.
For this, we check both the speed of content generation and how often we need to correct the AI to produce the exact content we need. The less of a hands-on approach we had to employ, the better.
Writing Skill Improvement
Another reason for using content generation software is that it can help you improve your writing skills. If you start relying on one regularly, you will quickly become familiar with the available types of content and how to write them effectively. This can only serve to improve your writing skills over time.
Therefore, the tool must have a certain level of diversity when it comes to forms of content and, if possible, include integration with some of the widely used grammar-checking software solutions. Some people write for scientific blogs, for example, while others use these apps to speed up the copywriting process.
Ease of Use
When assessing content generators, ease of use is another important factor that you need to take into account. The software should also come with clear and concise instructions. Otherwise, you may find yourself struggling to get the most out of it.
Pricing
Ultimately, it all comes down to the price and value the tools provide. There is a wide range of these apps available on the market, and they all come with different price tags. Some are free to use, some have time-limited trials, while others have a monthly or yearly subscription fee. We look at all pricing tiers and will guide you through all the features so that you can get your money's worth.
Content Generator Reviews
Content at Scale Review
⦿

Provides a full package

⦿

Simple to use

⦿

Done-for-you service
When it comes to content generation, there's no tool quite like Content at Scale. It's an AI-powered blog post generator that does everything from content creation to SEO and distribution for you.
It's capable of creating articles containing 700 to 7000 words and excels at creating quality SEO-driven content. It should be noted that the Content at Scale AI writing tool is specialized for articles and shouldn't be used for creating ad copies or landing page content.
This content generator is designed for bloggers and small business owners who want to scale their blogs quickly without sacrificing quality. The best thing about Content at Scale is that it's a turnkey solution - you don't need any outside help to get started. Just enter your target keyword, hit the "Prepare" button, and the tool will be done in a couple of minutes.
When the article is finished, you'll probably spend another 15 minutes tweaking it to your specifications and running a built-in plagiarism check. The plagiarism check will provide percentage results, and in most circumstances, you'll have a score between zero and two. That said, you may need to perform some minor editing on certain occasions.
If you're looking for a full package solution that includes keyword research, editing, optimization, and blog publishing, you can opt for the Content at Scale done-for-you service. It will get you 20 blog posts each month, but it'll also cost you a hefty $2,000 per month.
Unlike most top content generators, Content at Scale doesn't rely only on GPT-3. It assembles the full article using a sophisticated combination of three AI engines, two natural language processing and semantic analysis algorithms. To top it off, it also methodically searches Google and all the top-ranked sites for your target keyword to get an understanding of what's already out there. It then takes all that information and creates a unique article from scratch.
When it comes to the price, at this moment, the only publicly stated price on the company's website is that it costs between $0.01 and $0.018 per word, which isn't a lot for a 1,000-word article. The tool is currently in beta, and if you want to get early access, you must apply for it and wait for a response.
Luckily, we already have access to their pricing page, and it looks like the Content at Scale blog post generator will have three plans: Starter, Scaling, and Agency. The Starter option costs $500 per month ($0.018 per word). It allows you to generate 20 blog posts per month, and it comes with Copyscape integration. The Scaling plan allows for 50 blog posts per month, and it comes with WordPress integration, but it costs $1,000 per month ($0.015 per word).
The last plan, Agency, gets you up to 100 posts each month, but it'll cost you $1,500 every month ($0.01 per word). It provides everything that the other two plans have, plus you get a white label on your subdomain and custom AI integration with your version of the app. This plan also has a $1,000 setup fee which is waived if you subscribe to it while the app is in beta.
That said, the plans are on the expensive end, but it's totally worth it when you consider everything that this service offers. You should keep in mind that the Content at Scale AI writing tool is currently in beta, which means that the pricing and some features may change before they are released.
Jasper Review
⦿

World-class AI writer

⦿

Large number of templates

⦿

Integrates with SEO and grammar checking tools
Probably the most well-known app in the world of AI-assisted writing. Jasper, formerly Jarvis, is a powerful tool that's able to generate articles, outlines, and even help with SEO. Mostly focused on long-form content, this tool can drastically cut down the time needed to write a blog post or even generate ideas for your next ad campaign.
To create an article, you can either start from scratch or pick one of the dozens of available templates. Even if you're having writer's block, Jasper can help you get some ideas by suggesting titles and intro paragraphs or simply outlining the article structure. All it takes is to tell Jasper what your article is about, set the tone, and add a couple of keywords to get its content idea generator going.
The tool is designed so you can "talk" to it, as in give it descriptive commands. For example, if you're writing a blog post about podcasts and the best sites to host them, you can type something like "explain what's needed to start a podcast," hit Enter and see the magic happen. Your commands can be more detailed, instructing Jasper to include subheadings, bullet points, and more.
Another way to write content is to fire up the Power Mode. Jasper currently has more than 50 tools and templates in this section, from paragraph generators to sentence expanders and captions for Instagram posts. You can choose how many pieces of content to generate at a time, set the tone, and then copy that content into your document. Some of these tools ask you about your target audience, too, so Jasper can adjust its tone. With all of these ways to customize content, it becomes obvious why it's such a popular content generator.
The content we managed to create using Jasper was quite good and free of grammatical errors, thanks to the leading grammar checking software that's built in. Jasper had, on occasion, tried to repeat previous statements and phrases, but luckily it can all be rephrased and re-formatted to create fresh paragraphs.
It's not the most affordable piece of software, though, as the entry price is $29 a month. At this tier, you can generate up to 20,000 words per month, but you don't get access to the full editor or all the commands. If you go with the Boss Mode plan, which starts at $59 a month, not only do you get a full set of AI copywriting features but also an increased word limit of 50,000 per month. There are also custom-tailored plans with a higher number of words-per-month credits, but these surpass $500 a month.
Considering that there's a five-day money-back guarantee, you can try Jasper and see whether it suits your business needs. It's a versatile piece of software that's rapidly developing and could bring a bunch of benefits to your company.
Rytr
⦿

Free version is a great starter

⦿

Versatile content creation

⦿

Fun and intuitive
The creators of Rytr promise you can speed up your writing process 10 times. While that's a bold statement, the tool has indeed become one of the top content generators despite being just one year old. It may still be in the developmental stages, but what it currently does is impressive, and even more importantly, it does so at a fraction of the cost of competitor products.
Writing an article through Rytr is a straightforward process. You just pick a language, the tone of voice, and the use case for the piece of content you'd like to have generated. You can also insert a keyword you'd like to have Rytr incorporate into the text it will generate, as well as select how many variants of the content to generate.
The text editor you'll then be working with is similar to other commonly used editors like Microsoft Word and Google Docs. It offers various formatting tools, such as inserting links, images, and quotes, but also highlighting, which is really handy if you're collaborating on a document. Rytr is, in fact, more feature-rich than Jasper.
As for the AI writing tool part, you need to select a piece of text to issue further commands. Once you have a piece of text selected, you'll get a small strip of commands that allow for rephrasing, content improvement, and expanding the phrase into a full-blown paragraph. You can also use Rytr to shorten a paragraph so it's more succinct, but also check for grammar errors in a piece of written text. The tool has recently been updated with the "continue ryting" (no, that's not a typo) feature that makes Rytr analyze a piece of text and try to continue your train of thought.
Rytr didn't have many integrations as of writing this review. The AI writer app has its grammar checker, works via OpenAI, and checks for plagiarism via Copyscape. It's clearly designed for bloggers and YouTubers, especially taking into account that its templates revolve around generating content for social media and blogs.That said, you can use it for SEO as it recently got support for the Semrush SEO tool and can offer keyword suggestions.
The biggest selling point of this tool, aside from the ease of use, is its pricing. Rytr can be used for free indefinitely, and you won't be locked out of any features with a free plan. The only limit is that you can generate up to 5,000 characters per month with the free AI content generator plan. If you end up liking the tool, the Saver plan is just $9 a month and increases the character limit to 50,000 while adding the ability to create custom templates.
Finally, the Unlimited plan is $29 a month. As the name implies, it has no limitations on how much text you can generate, making it ideal for marketers and writers who create a lot of content. The only downside is that Rytr's team doesn't offer any refunds once you make a purchase, pointing to the free trial as a way to test out the app before you upgrade to a paid plan.
Growthbar Review
⦿

Professional-grade article editor

⦿

All-in-one tool for SEO included

⦿

Lots of useful templates
GrowthBar is, first and foremost, an SEO content generator. Like the other tools we're looking at today, it has a powerful AI at its core, and its main feature is generating content for websites. However, the SEO features make it an interesting alternative to other popular tools for Google optimization.
We mentioned that GrowthBar is AI-powered. For that, the developers used the GPT-3 AI routine, currently one of the best choices for producing text that sounds natural and human-made. The tool supports many writing styles and has quick access to templates for all kinds of content, whether they're long-form blog posts or call to action copywriting. It's also a great tool to turn to when starting to write, as it can generate a title, an introductory paragraph, and an outline, all with just one click.
At first glance, the editor this article generator uses looks just like any other run-of-the-mill text editor. You get a set of standard features for formatting your text, nothing too fancy. But, the true power of this editor lies in its drag-and-drop features. In the sidebar, you can store AI-generated headlines and blocks of text, which you can instantly drop into the article like building blocks. Finally, after you're done editing, you can export your article to Google Docs.
Now, let's look at the SEO side of things. This section is split into three distinct tools - a site inspector, rank tracker, and keyword research tool. Using a combination of these, you'll be able to keep an eye on up to 10 of your websites, devise keyword strategies for them, and further develop within your niche while following all the latest trends.
This web content generator comes in three pricing tiers. The standard plan is $29 a month, and it's quite limited - you can generate up to 25 article outlines, 200 paragraphs, and run 300 keyword queries each month. The next tier is called Pro, and it starts at $79 per month. This plan raises the number of outlines to 100 and lets you generate 500 paragraphs, while the SEO tools allow up to 1,000 queries. Lastly, the Agency plan further increases all the mentioned limits, but it's rather steep, starting at $199 a month.
There is a five-day trial, so you can test all the features out. We consider this a good deal for small businesses that want an all-in-one solution that covers both content and search engine optimization.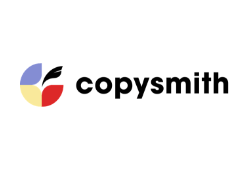 Copysmith Review
⦿

Unmatched for eCommerce use

⦿

Intuitive interface

⦿

Easy to connect to other apps
Creating an ad campaign can be more efficient with the help of Copysmith. It's regarded as the best content generator in the advertising sphere, and many ad agencies have created successful campaigns using this tool.
As is the case with all the tools we're looking at today, it all boils down to templates. Through them, you tell Copysmith what kind of content you'd like it to generate. The impressive array of templates includes Google and Facebook ads, ideas for carousel advertising, or taglines for TV commercials and billboard ads. These templates are also great for brainstorming and can help you nail down the perfect ad creative in just a few minutes.
But, this tool isn't just for creating catchy ads. It can also help you fill your online store with interesting item descriptions. Copysmith is able to create eCommerce content in the style of Amazon product descriptions, as well as YouTube reviews and listicles. Teamed up with good software for building landing pages, it will create eye-catching pages that create good conversion.
This online content generator isn't costly, either. The Starter plan is just $19 a month and lets you generate up to 33,000 words. It also includes all the integrations, like a grammar and plagiarism checker. Bigger businesses that work with a lot of text should opt for the Professional plan that increases the monthly word cap to 260,000 and costs $59 a month. Finally, you can request a custom quote, adding bespoke templates and unlimited credits to your account if you wish.
The downsides? Usage of the integrated plagiarism checker tool is limited. For example, the basic plan for this content idea generator comes with just 20 plagiarism checks per month, while the next pricing plan increases that limit to 100. In case you need to frequently check the generated content, you might need to pay a lump sum to unlock the app's full potential.
When it comes to integrations, Copysmith is an app designed to help with eCommerce and advertising, which is why it connects to quite a selection of popular tools. Pretty much everything that's commonly used in the business is supported, and the developers are constantly improving the app. Granted, it works only in English right now, but there are plans to expand support to more languages.
Anyword Review
⦿

Great for professional use

⦿

Easy to learn

⦿

Amazing free plan
Not many companies, especially app developers, can claim their tools are used by such media giants as NBC. Anyword is one of those companies. It's a content generator for SEO, blogs, and ad-centric content that sports some unique features. Best of all, its pricing model is so flexible that it doesn't matter if you're a blogger, an internet influencer, or a multimedia conglomerate, it will always fit your budget.
Anyword is a completely template-oriented tool, or rather project-oriented, as that's the wording used on the app. When you start a new project, you'll need to select from several categories - ads, landing pages, email, blogging, editorial, and SMS. Then, you'll be taken to the first part of the editor, where you'll provide some details, like industry and keywords, to let Anyword know more about what kind of style to use for your content.
One of the great features of this AI copywriting software is the scoring mechanism. It's a prediction of sorts as to how likely it is that the generated headline or paragraph will engage the audience for the selected topic. Hovering over that score will give you a more detailed breakdown about the demographics for your content. This is especially handy if you create lots of social media content and do frequent A/B testing.
Using Anyword's editor is effortless, as it will guide you step by step through the process of content creation. If you're writing long-form content, you'll be able to generate an outline and several intro paragraphs, while the tool will also suggest how to improve your article. Everything in the editor is block-based, so it's easy to reorganize the generated content. That said, other blog post generators do a better job at formatting content. Anyword is just for generating the article or the copy, but the real editing should be continued with your word processor of choice.
Copywriters will greatly appreciate this tool. Namely, ad creatives can be generated from existing web pages, and the tool offers several writing styles, including AIDA and PAS frameworks. Switching to the creative mode makes the AI write in a more casual voice, perfect for video descriptions and whimsical creatives.
Most of this can be used absolutely free. Anyword's content generator is free for small businesses that need to generate less than 1,000 words per month. The free plan includes the basic set of copywriting tools and the full-blown blogging tool, but it's limited to US English. Upgrading to the Basic plan at $16/month unlocks access to 25 languages for this AI and increases the content limit to 15,000 words per month. You can customize the pricing for this plan if you need even more "credits".
Since you won't get far with the free content generator, to unlock the full potential of Anyword, you'll need to subscribe at least to the Data-Driven plan. At $83 a month (discounted from $99/month if you pay annually) it's quite an investment, but one that will pay off once you start generating amazing ad campaigns and other creative posts.
Article Forge Review
⦿

Directly connects to WordPress websites

⦿

Bulk editor and uploader

⦿

Interlinking tool
The creators of Article Forge know one thing: When you're over your head in work, it's hard to put aside the time needed to post articles. That is why they created a blog post generator called Article Forge, a tool that's able to both generate and publish web content for you. With the ability to hook up to your WordPress site or basically to any other API-based platform, you'll be pushing new content in no time.
Article Forge makes it really easy to generate written content. You just need to fill out a form, telling the app your main and secondary keywords, the language you're writing in and give it a couple of pointers about formatting, and that's pretty much it. The tool also has a set of checkboxes through which you can add images and links while the app generates all that new content for you.
Even though the process of setting up is quick and easy, the article generation does take some time. Unlike other AI writing tools, Article Forge doesn't generate the article paragraph by paragraph. Instead, it fully analyzes the niche you want it to write about, and then presents you with a completed article. It works like this because it's mostly designed for bulk article generation and, through the same tool, you can generate up to five articles at once. It's a real timesaver if you need a bunch of articles written quickly.
For writing, the app uses an in-house AI, but still puts all content it generates through Copyscape's plagiarism checker. If you run a WordPress site, you can then upload all that AI-generated content directly to your website without having to manually copy and paste each piece of text into the WP editor. Granted, Article Forge has some limits, primarily concerning article length, as the longest article it can generate is around 750 words. This means you'll need to combine articles if you need bigger pieces of content for your website.
Just like many other content generation tools, Article Forge can help you with SEO. Each keyword you put in can be converted into a link, helping you create neat, fully interlinked articles. We do recommend checking all those links when you're uploading them to WordPress, but it's still a great time-saving feature to have.
Another thing we liked was the pricing structure of this app. The Basic plan costs just $13 a month and lets you generate up to 40,000 words with all the mentioned features included. If you need more leeway, the Standard plan bumps the word limit up to 250,000 and costs $27/month. Unlocking unlimited content generation isn't expensive, either, as it will set you back $57 a month. All of these prices are if you subscribe for a full year, though, as monthly payments do get quite expensive for the last two tiers.
This content generator doesn't have a free plan, unfortunately, but you can activate a five-day trial and test out all of its features before committing. Do note that the trial version requires entering payment information, but there's also a 30-day money-back warranty if you're not fully satisfied with the product.
FAQ
What is an AI content generator?
As the name implies, it's a piece of software that uses advanced artificial intelligence and machine learning to create various pieces of written content. Such tools are able to create headings and article outlines, do copywriting work, and in some cases, write long-form content based on the knowledge gathered from the internet.
Rytr can be used to create any kind of written content - blog posts, ads, job postings, even song lyrics.
Most of the article generators that provide AI assistance for writing aren't free, but they usually offer some kind of trial version or a limited plan so you can try out the tool before spending money on it. Developing AI is expensive, so the companies that provide this type of software have to recoup their investment.
That is a hotly debated topic. In some cases, the AI managed to write just as well as humans, but it's not smart enough to provide any personal flair or write using a sophisticated style as humans do. Although AI may become more advanced over time, it's still far from putting human writers out of work.
What is the best content generator?
All of the tools we reviewed today are considered top of the line. Jasper and Rytr are current market leaders with amazing tools at users' disposal, but really any of these apps will provide you with quickly generated content that you can use for your blog, YouTube channel, or ad campaign.