Content marketing and generation is a never-ending battle to always stay one step ahead of the competition, the Google algorithm, and find new and interesting topics to write about. While you can't do anything about Google's algorithm except bend to its will, the AI content generator can help you put your content generation in high gear.
Just be warned that no matter how good the AI-generated content promises to be, when it comes to quality, it can't compare to a competent writer and editor. Still, if you need content generated quickly, the AI writer is the way to go.
Related Product Categories
What Can Content Generator Software Do for You
Almost all AI content-generation tools claim to provide original, SEO-optimized content quicker than a human writer would. But what exactly does an AI tool do, and how does it help you?
AI writing tools excel at generating content on any topic quickly, but don't expect them to get content just right on the first try. Depending on the tool, you'll have to continue generating new content until you get something you like, or you'll have to provide clear instructions and guide them to get quality content.
Speed is important, but it is not everything you need. If you even hope to have a chance at ranking among the top ten Google results for a certain topic, you'll have to include carefully chosen keywords. Don't expect the AI to include them automatically.
Even if some keywords do get included, it will be by accident and not by design, since the content generators don't add them automatically. However, most, if not all, AI content tools will allow you to manually designate keywords you want included during writing.
Even though it doesn't include keywords automatically, content generator software does create original content in the sense that it won't be plagiarized. Yes, all AI tools use already existing text as sources and may pick up a thing or two, including the tone of the article, but in most cases, you can adjust the tone before starting the article or adjust it in the editing stage.
While everything we've mentioned so far refers mostly to a blog content generator, these tools can also be successfully used for eCommerce and marketing. They can generate product descriptions, create social media posts, invent catchphrases, and much more.
It's in the nature of any AI that the more content it consumes and generates, the better it gets.
5 of the Best Content Generators for Every Business Need
Content at Scale

Jasper

Rytr

GrowthBar

Copysmith
Our Criteria for Evaluating Content Generator Tools
How do we, as humans, judge the effectiveness of an AI? It sounds like the previous sentence was taken from a sci-fi novel. However, to us, it's just a common part of doing a review, despite the fact that it may someday replace us.
The key features we check in each of these AI writing tools are the quality of the written content, which takes grammar, originality, and keyword integration into account; how much time the tool saves; the effect it has on the writer's writing skills; how easy it is to use; and the pricing. Let's take a closer look.
Quality of Content
The quality of the content is, after all, the most important factor. You can have thousands of articles, but if they are of poor quality, nobody will read them, and Google will stop recommending them. So, how did we gauge the quality of AI-generated content?
We start by checking if the content is free of grammatical errors or logical inconsistencies. This is the basic thing we expect any AI tool to be able to do and to do it well. After all, grammar is just a set of rules that an AI should easily follow. It turns out to be true for grammar, but sometimes you can easily spot the irregularities in the text where AI struggles to continue.
In most cases, it starts repeating itself, blatantly making things up or copying someone else's work. These are all common pitfalls for an AI writer, but it brings us to the next point: plagiarism.
The generated text has to be unique; it shouldn't be a blatant copy of the text that already exists. Such content is worthless and will only cause problems if you post it anywhere.
Time Saving
Nobody wants a hastily created blog with a confusing and incomprehensible mixture of words, also known as a "word salad." You don't need an AI for it, as anyone can do it. We expect an AI to be able to produce engaging, natural-sounding content that you won't have to spend another ten hours editing to get something worth posting on your blog.
If you spend too much time editing the AI-generated content, then the AI tool isn't worth your money or time.
Writing Skill Improvement
We believe that web content generators should have a positive impact on the writing skills of people using them. You've probably heard of the famous quote: "If you give a man a fish, you feed him for a day, but if you teach a man to fish, you feed him for a lifetime."
The AI content generators' version of it would be similar, but with content writing instead of fishing. Having AI create content is great, but it should also improve the user's writing skills after prolonged use of the tool. The best type of tool won't do everything for you but will get you to learn something new as well.
In addition to making your writing better over time, the tool should have a blog idea generator that you can use if you run out of things to write about, or it should integrate other SEO tools that can do the same thing.
Ease of Use
Every tool should be relatively simple and easy to use. If you need to spend 20 hours adjusting the parameters to get it to work, then the tool isn't fit for consumer use and should stay in scientific or engineering circles. Content-generation software shouldn't require a special degree or training.
Don't get us wrong, as this has nothing to do with laziness. It has a lot more to do with the design. If you have a product you are advertising to a broader public, then anyone, including our grandfathers, should be able to grasp how it works.
The AI used doesn't have to be the most optimal, but it should be capable of producing some tangible results. It's normal for any tool to take some time and practice before you can master it and get the most out of it, but the basic use should be as simple as possible.
Pricing
Even the free software will cost you. It will cost you time, and time is money. With that in mind, we compared the time needed to get a complete article with the price of the AI.
Let's say that a free AI content generator and a paid one take the same amount of time to produce the content of equal quality. In that case, the free tool is clearly superior.
We also compared the price, time, and quality of an AI writer with the average price, time, and quality of a human writer. There's no point in paying for a tool when a human writer costs less in the long run, is faster than AI, and produces higher-quality content.
Content Generator Reviews
Content at Scale Review
⦿

Provides a full package

⦿

Simple to use

⦿

Done-for-you service
When it comes to creating content, there's no tool quite like Content at Scale. This AI-powered blog post generator does everything from content creation to SEO and distribution for you.
It can generate 2,600+ character long articles and excels at creating quality SEO-driven content. It should be noted that the Content at Scale AI writing tool is specialized for articles and shouldn't be used for creating ad copy or landing page content.
This content generator is designed for bloggers and small business owners who want to scale their blogs quickly without sacrificing quality. The best thing about Content at Scale is that it's a turnkey solution - you don't need any outside help to get started. Just enter your target keyword, hit the Prepare button, and the tool will be done in a couple of minutes.
When the article is finished, you'll probably spend another 15 minutes tweaking it to your specifications and running a built-in plagiarism check. This check will provide percentage results and, in most circumstances, give you a score between zero and two. That said, you may need to perform some minor editing on certain occasions.
If you're looking for a full package solution that includes keyword research, editing, optimization, and blog publishing, you can opt for the Content at Scale done-for-you service. It will get you 20 blog posts each month, but it'll also cost you a hefty $2,000 per month.
Unlike most top content generators, Content at Scale doesn't rely only on GPT-3. It assembles the full article using a sophisticated combination of three AI engines, two natural language processing algorithms, and a semantic analysis algorithm. To top it off, it also methodically searches Google and all the top-ranked sites for your target keyword to get an understanding of what's already out there. It then takes all that information and creates a unique article from scratch.
When it comes to the price, at this moment, the only publicly stated price on the company's website is that it costs between $0.008 and $0.013 per word, which isn't much for a 1,000-word article. The tool is currently in beta, and if you want to get early access, you must apply for it and wait for a response.
Luckily, we already have access to their pricing page, and it looks like the Content at Scale blog post generator will have three plans: Starter, Scaling, and Agency. The Starter option costs $500 per month or $0.018 per word. It allows you to generate 20 blog posts per month, and it comes with Copyscape integration. The Scaling plan allows for 50 blog posts per month, and it comes with WordPress integration, but it costs $1,000 per month ($0.015 per word).
The last plan, Agency, gets you up to 100 posts each month, but it'll cost you $1,500 every month ($0.01 per word). It provides everything that the other two plans have, plus you get a white label on your subdomain and custom AI integration with your version of the app. This plan also has a $1,000 setup fee, which is waived if you subscribe to it while the app is in beta.
That said, the plans are on the expensive end, but they're totally worth it when you consider everything that this service offers. You should keep in mind that the Content at Scale AI writing tool is currently in beta, which means that the pricing and some features may change before they are released.
Jasper Review
⦿

World-class AI writer

⦿

Large number of templates

⦿

Integrates with SEO and grammar checking tools
Probably the most well-known app in the world of AI-assisted writing. Jasper, formerly Jarvis, is a powerful tool that's able to generate articles, outlines, and even help with SEO. Mostly focused on long-form content, this tool can drastically cut down the time needed to write a blog post or even generate ideas for your next ad campaign.
To create an article, you can either start from scratch or pick one of the dozens of available templates. Even if you're having writer's block, Jasper can help you get some ideas by suggesting titles and intro paragraphs or simply outlining the article structure. All it takes is to tell Jasper what your article is about, set the tone, and add a couple of keywords to get its content idea generator going.
The tool is designed so you can "talk" to it, as in give it descriptive commands. For example, if you're writing a blog post about podcasts and the best sites to host them, you can type something like "explain what's needed to start a podcast," hit Enter, and watch the magic happen.
Your commands can be more detailed, instructing Jasper to include subheadings, bullet points, and more. Another way to write content is to fire up the Power Mode. Jasper currently features more than 50 templates in this section, from paragraph generators to sentence expanders and captions for Instagram posts.
Some of these tools ask you about your target audience, too, so Jasper can adjust its tone. With all of these ways to customize content, it becomes obvious why it's such a popular content generator.
The content we managed to create using Jasper was quite good and free of grammatical errors, thanks to the leading grammar checking software that's built in. Jasper has, on occasion, tried to repeat previous statements and phrases, but luckily it can all be rephrased and re-formatted to create fresh paragraphs.
It's not the most affordable piece of software, though, as the entry price is $24 a month. At this tier, you can generate up to 20,000 words per month, but you don't get access to the full editor or all the commands. If you go with the Boss Mode plan, which starts at $49 a month, you not only get a full set of AI copywriting features but also an increased word limit of 700,000 per month.
There are also customized plans with a higher number of words-per-month credits, but these surpass $500 a month.
Considering that there's a five-day money-back guarantee, you can try Jasper and see whether it suits your business needs. It's a versatile piece of software that's rapidly developing and could bring a bunch of benefits to your company.
Rytr
⦿

Free version is a great starter

⦿

Versatile content creation

⦿

Fun and intuitive
The creators of Rytr promise that you can speed up your writing process 10 times. While that's a bold statement, the tool has indeed become one of the top content generators despite being just one year old. It may still be in the developmental stages, but what it currently does is impressive, and even more importantly, it does so at a fraction of the cost of competitor products.
Writing an article through Rytr is a straightforward process. You just pick a language, the tone of voice, and the use case for the piece of content you'd like to have generated. You can also insert a keyword you'd like to have Rytr incorporate into the text it generates, as well as select how many variants of the content to generate.
The text editor you'll then be working with is similar to other commonly used editors, like Microsoft Word and Google Docs. It offers various formatting tools, such as inserting links, images, and quotes, but also highlighting, which is really handy if you're collaborating on a document. Rytr is, in fact, more feature-rich than Jasper.
As for the AI writing tool part, you need to select a piece of text to issue further commands. Once you have a piece of text selected, you'll get a small strip of commands that allow for rephrasing, content improvement, and expanding the phrase into a full-blown paragraph.
You can also use Rytr to shorten a paragraph and check for grammar errors in a piece of written text. The tool has recently been updated with the "continue ryting" (no, that's not a typo) feature that makes Rytr analyze a piece of text and try to continue your train of thought.
Rytr didn't have many integrations as of the date of this review. The AI writer app has a grammar checker, works via OpenAI, and checks for plagiarism via Copyscape. It's clearly designed for bloggers and YouTubers, especially taking into account that its templates revolve around generating content for social media and blogs.That said, you can use it for SEO, as it recently got support for the Semrush SEO tool and can offer keyword suggestions.
The biggest selling point of this tool, aside from its ease of use, is its pricing. Rytr can be used for free indefinitely, and you won't be locked out of any features with a free plan. The only limit is that you can generate up to 10,000 characters per month with the free AI content generator plan.
If you end up liking the tool, the Saver plan is just $9 a month and increases the character limit to 100,000 while adding the ability to create custom templates.
Finally, the Unlimited plan is $29 a month. As the name implies, it has no limitations on how much text you can generate, making it ideal for marketers and writers who create a lot of content. The only downside is that Rytr's team doesn't offer any refunds once you make a purchase, pointing to the free trial as a way to test out the app before you upgrade to a paid plan.
Growthbar Review
⦿

Professional-grade article editor

⦿

All-in-one tool for SEO included

⦿

Lots of useful templates
GrowthBar is, first and foremost, an SEO content generator. Like the other tools we're reviewing today, it has a powerful AI at its core, and its main feature is generating AI content for websites. However, the SEO features make it an interesting alternative to other popular tools for Google optimization.
We mentioned that GrowthBar is AI-powered. For that, the developers used the GPT-3 AI routine, currently one of the best choices for producing text that sounds natural. The tool supports many writing styles and has quick access to templates for all kinds of content creation, whether they're long-form blog posts or call-to-action copywriting.
It's also a great tool to turn to when starting to write, as it can generate a title, an introductory paragraph, and an outline, all with just one click.
At first glance, the editor this article generator uses looks just like any other run-of-the-mill text editor. You get a set of standard features for formatting, but the true power of this editor lies in its drag-and-drop features. In the sidebar, you can store AI-generated headlines and blocks of text, which you can instantly drop into the article like building blocks.
Finally, after you're done editing, you can export your article to Google Docs.
This web content generator comes in three pricing tiers. The Unlimited plan is $29 a month, and it's quite limited as you can generate up to 25 article outlines, 200 paragraphs, and run 300 keyword queries each month.
The next tier is called Pro, and it starts at $79 per month. This plan raises the number of outlines to 100 and lets you generate 500 paragraphs, while the SEO tools allow up to 1,000 queries. Lastly, the Agency plan further increases all the mentioned limits, but it's rather steep, starting at $129 a month.
There is a five-day trial, so you can test out all the features. We consider this a good deal for small businesses that want an all-in-one solution that covers both content and search engine optimization.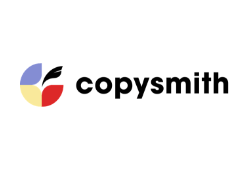 Copysmith Review
⦿

Unmatched for eCommerce use

⦿

Intuitive interface

⦿

Easy to connect to other apps
Creating an ad campaign can be more efficient with the help of Copysmith. It's regarded as the best AI content generator tool in the advertising sphere, and many ad agencies have created successful campaigns using this tool.
As is the case with all the tools we're looking at today, it all boils down to templates. Through them, you tell Copysmith what kind of content you'd like it to generate. The impressive array of templates includes Google and Facebook ads, ideas for carousel advertising, or taglines for TV commercials and billboard ads. These templates are also great for brainstorming and can help you nail down the perfect ad creative in just a few minutes.
But this tool isn't just for creating catchy ads. It can also help you fill your online store with interesting item descriptions. Copysmith is able to create eCommerce content in the style of Amazon product descriptions, as well as YouTube reviews and listicles. Teamed up with good software for building landing pages, it will create eye-catching pages that create good conversion.
This online content generator isn't costly, either. The Starter plan is just $19 a month and comes with 75 credits. Each credit equals 400 words, capping this plan at 30,000 words. The Starter plan includes all the integrations, like a grammar and plagiarism checker.
Bigger businesses that work with a lot of text should opt for the Professional plan, which increases the monthly word cap to 160,000, or 400 credits, and costs $59 a month. Finally, you can request a custom quote under the Enterprise plan, adding bespoke templates and unlimited credits to your account if you wish.
The downsides? The usage of the integrated plagiarism checker tool is limited. For example, the Starter plan for this content idea generator comes with just 20 plagiarism checks per month, while the next pricing plan increases that limit to 100. If you need to frequently check the generated content, you might need to pay a lump sum to unlock the app's full potential.
When it comes to integrations, Copysmith is an app designed to help with eCommerce and advertising, which is why it connects to quite a selection of popular tools. Pretty much everything that's commonly used in business is supported, and the developers are constantly improving the app.
Granted, it works only in English right now, but there are plans to expand support to more languages.
Anyword Review
⦿

Great for professional use

⦿

Easy to learn

⦿

Amazing free plan
Not many companies, especially app developers, can claim their tools are used by such media giants as NBC, but Anyword can. It's a content generator for SEO, blogs, and ad-centric content that sports some unique features. Best of all, its pricing model is so flexible that it doesn't matter if you're a blogger, an internet influencer, or a multimedia conglomerate; it will always fit your budget.
Anyword is a completely template-oriented tool, or rather project-oriented, as that's the wording used on the app. When you start a new project, you'll need to select from several categories: ads, landing pages, email, blogging, editorial, and SMS.
Then, you'll be taken to the first part of the editor, where you'll provide some details, like industry and keywords, to let Anyword know more about what kind of style to use for your content.
One of the great features of this AI copywriting software is its scoring mechanism, which predicts how likely it is that the generated headline or paragraph will engage the audience. Hovering over that score will give you a more detailed breakdown of the demographics for your content. This is especially handy if you create lots of social media content and do frequent A/B testing.
Using Anyword's editor is effortless, as it will guide you step by step through the process of content creation. If you're writing long-form content, you'll be able to generate an outline and several intro paragraphs, while the tool will also suggest ways to improve your article.
Everything in the editor is block-based, so it's easy to reorganize the generated content. That said, other blog post generators do a better job at formatting content. Anyword is just for generating the article or the copy, but the real editing should be continued with your word processor of choice.
Copywriters will greatly appreciate this tool. Namely, ad creatives can be generated from existing web pages, and the tool offers several writing styles, including the AIDA and PAS frameworks. Switching to the creative mode makes the AI write in a more casual voice, perfect for video descriptions and whimsical creatives.
Anyword's content generator is free for the first two months with the Starter plan. It includes the basic set of copywriting tools and the full-blown blogging tool and is available in 30 languages.
Other options for a free content generator typically do not include such a variety of tools. However, the Data-Driven plan, at $83 a month (discounted from $99 a month if you pay annually), also offers two free months. While it's quite an investment, it is one that will pay off once you start generating amazing ad campaigns and other creative posts.
Article Forge Review
⦿

Directly connects to WordPress websites

⦿

Bulk editor and uploader

⦿

Interlinking tool
The creators of Article Forge know one thing: when you're over your head in work, it's hard to put aside the time needed to post articles. That is why they created a blog post generator called Article Forge, a tool that's able to both generate and publish web content for you. With the ability to hook up to your WordPress site or basically any other API-based platform, you'll be pushing new content in no time.
Article Forge makes it really easy to generate written content. You just need to fill out a form with your main and secondary keywords and the language you're writing in. You'll choose a couple of pointers about formatting, and that's pretty much it. The tool also has a set of checkboxes through which you can add images and links.
Even though the process of setting up is quick and easy, the article generation does take some time. Unlike other AI writing tools, Article Forge doesn't generate the article paragraph by paragraph. Instead, it fully analyzes the niche you want it to write about and then presents you with a completed article.
It works like this because it's mostly designed for bulk article generation, and through the same tool, you can generate up to five articles at once. It's a real time saver if you need a bunch of articles written quickly.
For writing, the app uses an in-house AI but still runs the content through Copyscape's plagiarism checker. If you run a WordPress site, you can then upload all that AI-generated content directly to your website without having to manually copy and paste each piece of text into the WP editor.
Just like many other content generation tools, Article Forge can help you with SEO. Each keyword you enter can be converted into a link, allowing you to create well-organized, fully interlinked articles. We do recommend checking all those links when you're uploading them to WordPress, but it's still a great time-saving feature to have.
Another thing we liked was the pricing structure of this app. Depending on the number of words you need per month, you can choose between four tiers, which are priced differently for monthly and yearly payments.
Here's how the pricing works for different words per month:
The first plan comes with 25,000 words and costs $13 a month when paid yearly or $27 a month when paid monthly. For 100,000 words, the price rises to $27 and $57, respectively. The next tier bumps the word limit up to 250,000 and costs $57 per month for those making monthly payments or $127 per month for yearly payments.
Lastly, for 500,000 words a month, you'll pay $127 per month or $247 per month. The most expensive tier also allows for three users on one account.
This content generator doesn't have a free plan, unfortunately, but you can activate a five-day trial and test out all of its features before committing. The trial version requires your payment information, but there's also a 30-day money-back warranty if you're not fully satisfied with the product.
FAQ
What is an AI content generator?
An AI content generator is a creator of computer-generated content, capable of imitating a human writer by processing preexisting web content on the same subject to create new original content.
Rytr is an AI co-writer used to speed up the writing of blogs, articles, stories, and other written content.
There are some AI content generators that will give you a free sample of their capabilities, but just like a real writer, the AI content generator isn't free. It may be cheaper than hiring writers, but don't expect the same quality of content.
AI isn't capable of generating completely new and original content like a human can. A good visual example is the work of the AI artists. It's created by reusing authentic human pictures, mashing them together, and blending them.
AI writers aren't any better as these tools are just reusing already existing content and reshuffling and blending it so it doesn't look like a blatant copy of someone else's work.
What is the best content generator?
Our review found that the Content at Scale has one of the best offers available on the market at the moment. However, since AI is constantly developing to stay ahead of Google's detection algorithm, it's impossible to say which is the best content generator.