Technology is ever evolving to keep up with the demands of the modern business world. One such example is the barcode scanner. Originally introduced in the 1970s, these devices have come a long way and are now essential to many workplaces.
In this article, we will discuss the best barcode scanners based on their features and benefits for specific sectors.
Nadamoo Wireless Barcode Scanner
•

Long scanning range

•

Extended battery life

•

Light design
Symcode 2D QR Barcode Scanner
•

List of codes supported

•

Modern design

•

LCD screen display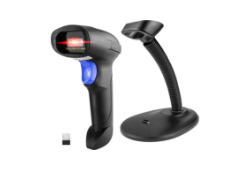 NetumScan Wireless Barcode Scanner
•

Accurate linear code reading

•

Protective silicone design

•

Plug-and-play technology
Tera Pro Fully Upgraded 2D QR Barcode Scanner
•

Versatility

•

Large depth of scanning field

•

Excellent for reading unclear barcodes
Honeywell's Granit 1910i Industrial Scanner
•

Sturdy and durable

•

Advanced LED light and sound

•

Adaptus 6.0 imaging technology
1. Nadamoo Wireless Barcode Scanner Review
The Nadamoo Wireless Barcode Scanner is one of the most popular options for a barcode scanner today, and rightly so. It covers all the basics, has many practical features to offer, and its price is affordable.
With Nadamoo's long-distance wireless transmission technology, this barcode scanner has a range of 400 meters (1,312 feet) if there are no physical obstacles between the scanner and your laptop or POS system. If the signal has to pass through an obstacle, the range will be limited to 100 meters (328 feet).
This long signal range is an advantage when scanning items in a large warehouse, making it a great choice as a barcode scanner for inventory management.
Another practical feature is the battery life of 30 days when fully charged, assuming a workload of 2,000 scans a day. It is a plug-and-play scanner, so you don't have to worry about installation drivers.
You can pair a single barcode scanner with your USB receiver in the one-to-one mode, or you can use the more-to-one mode and connect multiple scanners with a single USB receiver. If you work offline, a USB receiver can hold up to 100,000 barcodes in its memory, which will be uploaded to the system once you're online.
Although the Nadamo scanner is very practical for most uses, some features are lacking compared to those of the very best wireless barcode scanners. For example, you can't use it for 2D barcodes, and it can't read barcodes on silver foil paper or under plastic covering.
An upside is that it's light and easy to carry for an extended period, making it suitable for reading barcodes for ticketed entry to events.
To sum up, this is an all-around practical barcode scanner that can easily find its use anywhere from supermarkets to warehouses.
| Key Features | |
| --- | --- |
| Value for Money | EXCELLENT |
| Ease of Use | EXCELLENT |
| Compatibility | POOR |
| Durability | GOOD |
+ Show more
2. Symcode 2D QR Barcode Scanner
Barcode Types:
1D, 2D, QR, PDF417
The Symcode 2D QR Barcode Scanner can be a great handheld scanner for inventory but works just as well in places other than warehouses, thanks to its sleek design features and a variety of barcode types it supports.
The barcode scanner comes with a 1.8-inch TFT color LCD screen that lets you check the barcode on the display. The display also shows the remaining battery power, signal strength, and real-time transmission status.
You can optimize your screen info by hiding the barcode. The device also lets you add prefixes and suffixes, which helps you organize your data entries, a feature that landed the device on the list of the best barcode scanners covered by this review.
The Symcode 2D QR Barcode Scanner will work with all your Windows and iOS devices, including your mobile phone, iPhone, iPad, laptop, and tablet. It is compatible with most top-rated POS systems, although it doesn't sync with Square's POS system.
The 3-in-1 connection allows you to use a USB cable, wireless 2.4 GHz signal, or Bluetooth to connect the scanner to your setup. It is not plug-and-play, so you will have to access the installation drivers through the manufacturer's website.
The battery lasts up to 30 hours without additional charging, and the signal range is solid, with 492 feet in areas without obstacles.
To improve your workflow further, use this handheld inventory scanner's automatic sensing feature to scan items without pressing the trigger.
The scanner supports 1D, 2D, QR, DataMatrix, Aztec, PDF417, and other codes. It can scan barcodes on paper, mobile phones, and computer screens.
In conclusion, the sleek design, good connectivity options, and the LCD screen are the advantages of the Symcode scanner. On the other hand, the device is not as convenient to set up as some of the other products on our list, and it's not compatible with every POS system, though we consider these to be only minor shortcomings.
| Key Features | |
| --- | --- |
| Value for Money | GOOD |
| Ease of Use | EXCELLENT |
| Compatibility | EXCELLENT |
| Durability | GOOD |
+ Show more
3. NetumScan Wireless Barcode Scanner Review
The NetumScan Wireless Barcode Scanner can be used as a portable scanner for 1D and 2D codes, or you can place it on the stand and use it as a part of your desktop POS system.
While its CCD sensor makes accurate readings of linear codes even when smudged or slightly damaged, the device is not equipped to read QR codes. Its scanning range is average, with 75 meters (246 feet) without obstacles and only 25 meters (82 feet) when an obstacle is present, which doesn't make it a good choice for inventory management in a large warehouse.
However, some redeeming features make it a decent inventory scanner for most retail stores. The silicone design is meant to protect the device from dust and moisture and also serves as anti-shock protection, allowing the scanner to withstand accidental drops from the height of 6.56 feet.
Special functions allow you to edit barcode information by hiding a part of it on the display or adding suffixes and prefixes to better organize your data.
A storage mode is available, allowing you to store the barcode when offline and upload the data to your device when back in the transmission range. The scanner supports both wireless and USB wired connections with no need to lose time on an installation process.
We liked NetumScan's customer support and the option to customize the product to specific needs. On the other hand, the inability to scan QR codes and the limited range put the device at a disadvantage compared to the competition.
| Key Features | |
| --- | --- |
| Value for Money | GOOD |
| Ease of Use | GOOD |
| Compatibility | GOOD |
| Durability | GOOD |
+ Show more
4. Tera Pro Fully Upgraded 2D QR Barcode Scanner Review
Barcode types:
1D, 2D, QR, DataMatrix
The Tera Pro Fully Upgraded 2D QR Barcode Scanner is a widely used barcode scanner for stores, warehouses, delivery services, hospitals, and other venues.
It is light, easy to use, and features a silicone case that protects it from accidental tumbles.
This Tera Pro scanner will work with pretty much any equipment. You can connect it using a 2.4 GHz wireless signal, cable connection with a USB 2.0 port, or Bluetooth. It will work with both Windows and macOS, and you won't necessarily have to link it with a computer or a POS system, as you can also connect it with your mobile or tablet.
The feature that makes it an excellent inventory barcode scanner is the large depth of field, making it easy to scan items without worrying about the right angle for the laser.
It comes with a 2000 mAh battery that can hold for 60 days on standby. Once fully charged, the battery provides you with up to 19.5 hours of continuous scanning, so rest assured you'll be able to get a day's job done on a single charge.
Use options that come with this barcode scanner to set your alerts. For example, you can get a mild vibration to notify you that the scan has been successful, or you can turn this feature off and work without any sound disturbance.
You can upload the scanned code directly, or it can hold up to 10,000 codes in the memory, making it suitable for delivery service personnel.
It works efficiently as a 1D and 2D scanner for barcodes on paper, as well as computer and mobile screens. And if the barcodes are smudged, deformed, or fuzzy, it has the technology to read those as well.
| Key Features | |
| --- | --- |
| Value for Money | GOOD |
| Ease of Use | GOOD |
| Compatibility | EXCELLENT |
| Durability | GOOD |
+ Show more
5. Honeywell's Granit 1910i Industrial Scanner Review
Barcode Types:
1D, 2D, QR, PDF
When working conditions are more demanding, you'll need to go for an industrial barcode scanner. They provide extra durability and features that allow seamless scanning operations in challenging working conditions.
Honeywell's Granit 1910i is an industrial scanner featuring top-level performance in reading 1D and 2D barcodes. Industrial scanners are made exceptionally durable, and the Granit 1910i can withstand up to 5,000 tumbles from a height of 3.3 feet and 50 drops from 6.5 feet.
You need an industrial barcode scanner if your operations take you outdoors in harsh conditions. The Granit 1910i can work in temperatures of up to -22° F, which render regular handheld scanners for inventory inoperable.
In such harsh conditions, you'll also need a scanner that can read damaged barcodes, and this is where the Granit's Adaptus 6.0 technology comes in.
The scanner comes with super bright LED light, enabling you to work in poorly lit areas without additional issues. Working in industrial settings can also involve loud noises, so the Granit 1910i features a higher volume beeper.
The Granit 1910i model is much more expensive than the most frequently used warehouse barcode scanners. But when you need a working tool that will withstand rugged warehouse and outdoor conditions, the Granit 1910i is well worth the pric
| Key Features | |
| --- | --- |
| Value for Money | GOOD |
| Ease of Use | GOOD |
| Compatibility | GOOD |
| Durability | EXCELLENT |
+ Show more
Related Product Categories
Our Methodology
In our review of the best barcode scanners in 2022, we focused on the devices' applicability, functionality, and what they offer for the price.
The three most important criteria were the scan rate, durability, and compatibility.
The scan rate is the number of times a scanner can read a barcode per second. A higher scan rate means a scanner can read more barcodes in a shorter period of time.
Durability is important because you want a scanner that can withstand being dropped or bumped around. A durable scanner will simply last longer.
Compatibility is essential whether you're looking for a warehouse or a POS barcode scanner. You want a scanner that can be used with software and hardware you already have.
Another thing we considered is the scanning range. If you scan barcodes from a short distance, you'll need a scanner with a short scanning range. Conversely, if you scan barcodes from a considerable distance, you'll need a scanner with a long scanning range.
We also looked at the scanners' features and versatility. For example, wireless barcode scanners allow you to be mobile and independent from your connected devices.
An important question was what type of code the devices could read. There are two main types of barcodes – linear and two-dimensional. Linear barcodes, such as UPC codes, are long and skinny, while two-dimensional barcodes are square or round.
Most businesses need scanners reading linear and QR codes, so we favored those that come with these options.
Barcode scanners can improve your workflow. They can save you time by automating tasks that would otherwise be done manually. For example, if you need to scan a large number of barcodes, a scanner can do this very quickly.
Additionally, barcode scanners can help you avoid errors. If you are manually inputting data, there is always a chance for human error. And barcode scanners for inventory with wider scanning fields both eliminate errors and speed up the business process.
There are a few more things to consider. To scan large items or barcodes from a distance, you need a laser scanner. But for small items or barcodes that are close together, we found that an imager scanner worked better.
If you're looking for more ways to speed up your business process and organize your products, you can take a look at our list of shipping label printers that we've curated specifically for online business owners.
Top 5 Barcode Scanners in 2022
Nadamoo Wireless Barcode Scanner

Symcode 2D QR Barcode Scanner

`NetumScan Wireless Barcode Scanner

Tera Pro Fully Upgraded 2D QR Barcode Scanner

Honeywell's Granit 1910i Industrial Scanner
FAQ
Which barcode scanner is best for retail stores?
Choosing a suitable barcode scanner is essential for a retail business. The first step is to decide which type of scanner you need. Handheld scanners are ideal for scanning large items, while desktop scanners are better for smaller items.
You should also consider the scanning range and the number of scans per second. For most retail businesses, a basic barcode inventory scanner will suffice. However, if you have a high volume of customers, you may want to invest in a more sophisticated scanner that can handle a higher number of scans per second.
Do all barcode scanners work the same?
Most barcode scanners work using the same principle: They emit a light that is reflected off the barcode and back into the scanner. The scanner then interprets the reflection to determine the barcode's content.
However, there are some variations in how various scanners operate. For example, some scanners use a laser to read barcodes, while others, like a heavy-duty scanner for a warehouse, would use LED lights.
Additionally, some scanners can only read a single type of barcode, while others can read multiple types. Ultimately, though, all barcode scanners serve the same purpose: to quickly and accurately read barcodes.
Which is the best 2D barcode scanner?
The best barcode scanners for 2D will have a wide field of view, allowing you to quickly and easily scan large barcodes without having to line up the scanner perfectly. You'll want a scanner with a high resolution, as this will ensure even small barcodes are read accurately. Finally, you'll want a scanner compatible with various applications, eliminating the need to invest in new software.
Some of the best-rated 2D barcode scanners in our review include Tera Pro Fully Upgraded 2D QR Barcode Scanner, Symcode 2D QR Barcode Scanner, and Honeywell's Granit 1910i Industrial Scanner.