You don't have to be tech-savvy to register a domain name, but finding the right registrar to do so does require some prior knowledge.
Domain registrars are services that allow you to register a domain with the Internet Corporation for Assigned Names and Numbers, the official organization for managing domains. Finding a good one can be a daunting task simply because there are so many companies offering this service. That's why we're here - to separate the wheat from the chaff and present you with the seven best domain registrar companies you can turn to when looking for a domain.
Related Product Categories
Our Methodology for Evaluating Top Domain Registrars
Finding a domain that perfectly satisfies your business needs is not as easy as it sounds. There are many questions to answer before purchasing a domain: How does one find a proven and secure domain registrar? Which domain extension is best for me? Should I buy a domain name from the same company that I bought the hosting service from? Those and many other questions will arise as soon as you start thinking about purchasing a domain. Our methodology section was written to answer some of those dilemmas and help you feel more confident when choosing your domain name.
Price
Most registrars offer a similar selection of domain extensions, but they differ based on the fees they charge for them. If you've just entered the market, we recommend buying a cheap domain name and sticking to your budget.
Since many providers offer the best domain names at a discount, some consumers will go for the lowest price instantly. However, to choose your domain registrar wisely, you should always check the prices at renewal. While some domain registrars offer exceptionally low prices for the first year, their regular prices won't make for such a good deal in the long run.
Number of Extensions
All good registrars will offer a broad range of domain extensions. Top-level domains (.net, .com, .org, .io, etc.) are usually the most wanted among consumers. Logically, they will be pricier, too. These domains are always a better choice if you're planning to start an eCommerce business or dropshipping company because they'll provide greater visibility on search engines. All good domain services also offer country-code domains and domains for specific businesses (.blog, .yoga, .bar).
WHOIS Privacy
A WHOIS database stores all registered domain names and the information about their owners, which includes their email and phone number. It's useful if you want to look up the owner of a domain name you like and try to negotiate the sale of the domain. However, having your business email and contact phone available to just about anyone can expose you to a lot of spam. That's why most registrars offer to hide your info and replace it with their own. This feature is referred to as "WHOIS privacy" or "domain privacy," and we highly recommend you make use of it.
Additional Features
Services like web hosting, business emails, or website builders are something you can expect to find offered by top domain registrars. These services come at an extra cost, but the good thing is that many domain name companies offer them at a discount or as part of a deal if you register your domain with them. Additionally, you can opt for SEO management services, website design, and professional support.
The Best Domain Registrar in 2022
Domain.com - Best value for money

Bluehost - Best free domain for one year with shared hosting

NameCheap - Cheapest domain renewal

Google Domains - Best for simple and fast domain registration

GoDaddy - Most affordable domain names during the first year

Hover - Best for managing multiple domains

DreamHost - Best domain privacy and security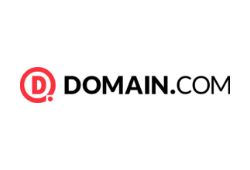 Domain.com Review
⦿

Web design services

⦿

Phone and live chat support

⦿

Integration with WordPress
The first one on our list of the best domain buying sites is Domain.com. Founded in 2000, Domain.com is trusted by 2 million customers worldwide. It's a one-stop-shop for all domain-related services, including web hosting, domain transferring, website creation and management, and more. This domain service provider is well known for its expert customer support representatives who excel at helping clients choose the very best domain name and additional services for their business.
Domain.com offers more than 300 top-level domains, one of the richest offers of extensions on the market. It's one of the cheapest domain registrar companies, too, offering domain names for as little as $2.99 for the first year. However, the most affordable domains won't always provide you with enough Google visibility necessary for your business growth.
Domain.com charges $9.99 per year for a domain name with the .com extension. However, this is the price only for the first year of service. After that, the cost goes up to $15.99 per year. Other popular options are .net ($12.9 per year) and .org ($8.99 per year).
Domain.com is also the best domain name registrar for quick and painless domain name transfer. This provider allows you to transfer your domain from any current domain registrar you use after 60 days. To do that, just type your domain name into the search box on the Domain.com website and follow the instructions. The price of this service depends on the domain and ranges from $8.99 for .us to $44.99 for domains such as .tech.
Domain.com offers WHOIS privacy protection from spam, identity theft, stalkers, and more on .com, .net, .org, .biz, .info, .name .cc, and .tv domains for $8.99 per year. Domain.com is also the best place to buy a domain with additional security tools like antivirus protection and blacklist monitoring. The company also offers web hosting services, SSL certificates, and an online website builder. Moreover, if you need web design services or marketing support to run a successful website, you can get them at Domain.com.
Bluehost Review
⦿

Integration with Microsoft 365

⦿

Geo-location domains

⦿

Affordable web hosting services
Bluehost has been around since 2003, supporting over 2 million websites worldwide. According to customer reviews, Bluehost is the best place to buy a domain if you're looking for a variety of top-level and country-code domains at affordable prices for the first year. However, to get the best price, you'll have to purchase its hosting services, too.
If you are looking for new generic top-level domains, Bluehost is the best site to buy a domain. Its gallery of domains has a rich set of generic domains suitable for various industries or purposes. Whether you want to start a dropshipping business, run your own coffee shop, or write a blog, Bluehost offers myriad specific domain names such as .bar, .blog, .catering, and more.
Bluehost domain search is easy to use. Once you type the name you want to use, the search system will let you know if it's available and provide you with name suggestions. Don't forget to unmark the appropriate check box if you don't want to buy domain privacy and protection as well.
Once you pick and purchase a domain, the registrar will give you access to a user-friendly control panel that enables you to easily manage your domain(s). Of course, every good web domain site has knowledgeable customer support ready to help when needed. Should anything go south, the Bluehost support team is available 24/7 through phone or email.
If you didn't purchase domain protection when buying the domain name, you can do that at any time you want and disable unauthorized transfers. The service costs $15.
Bluehost is best known for its web hosting services. If you've just entered the market with your first LLC, you'll probably have lots of things on your mind. Creating and hosting websites on your own can be time-consuming, especially if you don't have any experience. Luckily, Bluehost is right there for you, offering shared hosting services with free domain names and free SSL and CDN services.
NameCheap Review
⦿

Free WHOIS privacy

⦿

Affordable hosting service

⦿

User-friendly website
The next one on our list of the best domain registrars for 2022 is NameCheap. NameCheap is a reputable company that provides top-level services and support for websites. Its user-friendly website with tons of online materials (articles, blogs, and online tutorials) will help you learn everything you need to know about domains, web hosting, and WordPress hosting services. Its stellar customer support, as well as affordable pricing scheme for most popular domains make NameCheap one of the best domain name sites for small businesses.
NameCheap offers all popular domains, including .com, .net, .online, .dev, .info, .top, and more. When it comes to NameCheap pricing, the most affordable plans are for more than one year of service. For instance, a .com domain costs $8.98 on a five-year plan ($44.40 in total, renews at $69.90). Moreover, you get an email service for free for two months and privacy protection for as long as you use the domain name. The WHOIS protection means that your personal domain data won't be accessible to others searching the WHOIS database, thus protecting you from identity theft and an onslaught of spam emails.
NameCheap offers the best domain registration for clients who want personal name domains. Artists, writers, photographers, consultants, and anyone who wants to own their online presence will surely appreciate the option to register a domain with their name and a popular extension of their choice (.com, .me, or .biz).
Another great service offered by NameCheap is handshake domains. Handshakes are blockchain-based networks that give you more security, privacy, and control over your domain since they bypass the traditional organizations that regulate the online sphere. NameCheap has 11 available handshake domains, and their prices vary from $8.98 to $34.99.
NameCheap is the best website to buy a domain if you want access to extensive additional services. While other similar companies offer website-related services only (like hosting and website creation), NameCheap has a lot more to offer, for example, a rich set of security tools (VPN, public DNS, 2FA, and more), social media management tools, and even a business card printing service.
Google Domains Review
⦿

Google workspace

⦿

Over 300 extensions

⦿

Free cloud DNS support
Google Domains is a fast-growing domain registrar with hundreds of popular domain names. Whether you need a standard domain like .com and .net, or you're looking for more specific ones like .cafe or .academy, Google Domains is the right place to get a domain name.
Google Domains puts emphasis on straightforward domain name registration and transparent pricing. Another good reason to go for the Google Domains service is affordable prices for all popular endings.
If you want to buy website addresses at Google Domains, go to the Get Started feature on top of the homepage. Then, enter your new domain name and wait for a few seconds for name results. The results will be displayed with the price for most popular domains, including .com, .org, .net, .one, and more. With Google Domains domain registrar service, you can also see prices for other popular domains and sort the endings by relevance, name, or price. The website features a list of over 300 extensions to choose from. However, some popular extensions, like .tv, are missing.
Google Domains' pricing is as straightforward as it gets: It's always the same for the same domain, and there's no difference between the first year and renewals. Most popular domains (.com, .net, .dev, etc.) will set you back $12 per year.
On the other hand, if you are looking to bundle a domain with cloud hosting and other services to get a better price, Google Domains is not the best place to purchase a domain name. Its offer of add-ons is limited, although you can still enjoy some important features like free WHOIS privacy and multidomain registration. There's also free cloud DNS support, DNSSEC security, and the Google Workspace integration.
GoDaddy Review
⦿

Invest in website domain names

⦿

Bulk domain names search

⦿

Reserve your domain name
One of the best places to register a domain, GoDaddy is an industry-leading domain name provider with over 20 million customers and 82 million registered domains. Hundreds of reviews praise GoDaddy for its fast and reliable service, lots of discounts, and extra security features you get at no additional cost. Moreover, GoDaddy is your go-to registrar if you need full support to build and manage your websites. From dedicated hosting services to email support, GoDaddy will help you cover all your website-related needs.
This registrar understands the importance of choosing the right website name for your business. If you need your domain name to reflect your business more straightforwardly, there's a wide range of industry-related GodDaddy domains, like .yoga, .fit, .blog, .health, and so forth available with this top domain name registrar. The search functionality allows you to run a bulk search and get name suggestions with various extensions. And even if your domain name isn't currently available, the GoDaddy domain checker allows you to reserve and purchase the name when it becomes available again.
The company typically offers dozens of discounts and promotional offers. At the moment of writing this review, for example, .com domains were discounted to just $0.01 for the first year of a two-year contract (the second year cost $18.99).
GoDaddy domains come with free WHOIS protection and many other features that'll protect your website from scammers. If you forget to pay for a renewal, GoDaddy gives you extra time to do so and save your domain name. It also offers bulk domain transfers and organizes regular domain name auctions.
GoDaddy is also the best place to buy domains and sell them later. This service is called domain investing and enables you to invest very little (for example, one dollar) for a domain name and sell it later for a much higher price.
Hover Review
⦿

Auto-renewal

⦿

Cheaper renewals for more domains

⦿

Free WHOIS privacy
Founded in 2008, Hover is a Toronto-based company with millions of clients worldwide. Most domain registrar reviews praise Hover for excellent customer service, a user-friendly dashboard for managing multiple domains with ease, and great discounts for domain renewals. On top of that, Hover offers all sorts of top-level and country-code domains.
It's important to note that Hover is a domain-management-only platform, meaning that if you need web hosting services, you'll have to look for them at some other place. The only additional service you can get at Hover is a professional email for your domain.
But, when it comes to domains, Hover truly shines with over 400 extensions, including the most popular top-level domains, country-code domains, and industry-specific domains. Depending on your needs, you can find some really affordable domain names. However, our domain registrar comparison shows that the cost of the most popular endings (.com, .net, and .org.) is above the average. For example, the standard price without a discount for a .com extension is $15.99 per year, $17.49 for a .net ending, and a whopping $49.99 for a .io extension.
Hover offers discounts periodically, but the discounted price is still higher than what you can find with the competition. The good news is that you can get discounts on bulk renewals. If you buy many names, Hover will offer you a special price depending on the number of domains. For example, if you purchase between 10 and 24 domains, you'll get a discount of $0.25 for each at the renewal. The price gets progressively lower as you add more domains to your shopping cart. Although Hover is not the cheapest place to buy domain names if you only need a couple of them, it'll save you money if you're looking to buy dozens or even hundreds of domains.
When it comes to renewing your subscription, you can set up auto-renewals or do it manually. Use the online dashboard to manage your domains, renewals, and to communicate with the Hover support team.
As mentioned, Hover provides only domains and business emails, meaning that additional services like website builders or security tools aren't available. WHOIS privacy protection is free, but it isn't available with all domains, so make sure you check this before opting for a domain.
To complete this Hover domain name registrar review, we need to mention that the company allows you to link your domain with other apps and services, including popular website creators, social media, marketplaces, and more.
DreamHost Review
⦿

Over 400 domains

⦿

SEO marketing

⦿

Quick and simple domain transfer
DreamHost has been around for over 25 years, offering web hosting services, domains, business email, and website creation. It's a reputable company, serving 400,000 customers around the world and powering over 1.5 million websites. DreamHost focuses primarily on web hosting, but it's also the best domain registrar for a small business that can help you with SEO marketing, web development, website design, and social media profile management as well.
When it comes to domain options, DreamHost has a huge library of domain extensions to suit any business. You can link your domain name with your social media accounts on Facebook, Linkedin, and Instagram or your personal blog.
Like all good places to buy domain names, DreamHost frequently offers discounts on its extensions, usually for a year. After that, you pay the full price. For example, a .com domain will cost you $7.99 for the first year, while the renewal price is $17.99. Dot-net and .org are also currently on sale, costing $10.99 (renews at $16.99), and $11.99 (renews at $15.99), respectively.
Like most other registrars from our list of the best domain sites, DreamHost allows you to filter domains and review the most popular ones, discounted extensions, country-related domains, and so forth.
DreamHost domain management is simple and easy with the company's control panel. You can manage multiple domains, DNS, and add as many subdomains as you want. Domain transfers are also simple and quick and usually cost no more than the renewal for that particular domain.
FAQ
Which domain registrar is the best?
There isn't a single best place to purchase a domain name - it all depends on your business's unique needs. Domain.com, Bluehost, NameCheap, Google Domains, GoDaddy, Hover, and DreamHost are all industry leaders that offer reliable domain services for affordable prices and many useful additional services and features.
Which domain name is the most reliable?
Top-level domains (like .org, .net, and .com, to name a few) are the most reliable domain names. The best website domain registrars also sell country-code domains and more "exotic" domains designed for various businesses like .caffe, .academy, .app, and so on. Whichever you choose, make sure that the domain registrar is in accordance with ICANN (Internet Corporation for Assigned Names and Numbers), which is a non-profit organization for managing domain names.
Does it matter what domain registrar you use?
Technically, the domain registrar is not as important for your business as the domain name itself, which will have an impact on your online visibility. However, you should always go with a safe and proven domain registrar to avoid scams and to benefit from extra security and privacy features. The best way to buy a domain name is to check if the company is accredited by ICANN and then read an expert review like ours.
Is Google Domains a good registrar?
Yes, Google Domains is an excellent registrar, with straightforward domain registration and a transparent pricing system. Unfortunately, this service is not as feature-rich as some others. Google Domain enables integration with third-party apps and services, but it doesn't offer its own hosting solution or website builder.
What is the safest domain registrar?
All of the domains we've evaluated in our "Finding the Best Domain Registrar" article are safe, so you just need to find the one that fits your budget and business needs.