When you first launch a business, it's possible to manage contacts with your personal phone number. But doing so is neither scalable nor professional. As your team and your business expand, the need for a business phone number becomes more obvious. That's where a virtual phone number comes in handy. Instead of paying expensive bills for both your employees' phones, your office phone, and your personal number, you can just opt for a virtual business number. For a reasonable monthly fee, virtual phones route calls to your cell phone, your home number or a VoIP phone number. So you can take business calls anytime, anywhere.
Related Products & Services
Why You Need a Virtual Phone Line
Even if your business is still in its initial stage and you're working with only a few customers, it's not too early to think about an online business number.
But why would you get a virtual phone number?
First of all, it looks more professional to potential clients. Secondly, it will give you the chance to connect with prospects from any device that's convenient for you at the moment. If you're in the office, you can pick up the call on your desk phone. If you are in your car on your way to a meeting, you can answer via mobile. You even have the option to pick up from your desktop computer, and to the caller, it won't make any difference. The person calling your virtual phone number will dial your business phone number and you'll answer it professionally regardless of your location.
The advantages of this solution multiply as your business grows. Your employees don't have to be in the office to answer in-house calls. Moreover, you can use the software to route calls to the team member who can best address a caller's concerns.
You can use this system to gain the trust of international customers by letting them contact you via local number. Another great feature of virtual phone numbers is the possibility of recording the conversations your staff has with customers or prospects. The list goes on and on.
Keep in mind, though, that going with an unreliable provider can cost you business. If the calls aren't getting through to you and your team, prospects will lose interest and go with your competitors. Even if the calls reach you but keep getting interrupted, customers will get annoyed and probably hang up.
Our Criteria for Evaluating Virtual Phone Services for Small Businesses
Price
As a small business owner, you want to keep track of where every dollar goes. That's why it's important to find the right virtual phone service providers that will fit in your budget. The following list includes companies that charge per minute, and companies with monthly plans. The ideal provider will not require you to pay for features you aren't using, but will allow you to add them as your business grows.
Selection of Phone Numbers
When you set up a virtual phone system, you need to choose a business phone number. Depending on your current professional needs and scaling plans, you'll want a local or a national toll-free number. Some entrepreneurs target foreign markets with their products and services so they'll need an international number.
Call-Management Features
You won't be able to answer all the questions your clients have. That's why you have a team. But does the software allow call transfers to qualified co-workers? On a busy day, you'll get more calls than you can handle. Is there a call queuing feature? Some business owners want to be able to monitor their workers and provide feedback. Can you use the online phone system to record calls?
Automated Attendant
As your business grows, the number of incoming calls will grow too. Routing them according to callers' needs is important as it streamlines your customer care. Clients will be happy to get straight to the point. And your employees will be more efficient too. It's a win-win. So we checked to see if a small business virtual phone system offers a voice menu system commonly known as an auto-attendant.
Multiline Management
When you start your own company, there are a million things you need to get done. Regardless of your profession, many of them take you out of the office. Since business calls keep pouring in when you are on the go, you want to receive the calls via virtual numbers on your personal phone. Needless to say, carrying two phones around is impractical and out-dated. Bearing this in mind, we assessed the virtual business phone service providers on how well they split your personal and professional communication on a single device.
Call Quality
If you want to communicate a sense of professionalism to your potential clients, you'll need a business number. No arguing there. But what good is having a business phone number if the connection is bad? We always take call quality into consideration when doing our virtual phone system reviews.
Customer Service
When you ditch the traditional landlines for a cloud-based PBX, you're bound to have some questions about your new virtual business phone system. Trained technical support over the phone is a very welcome feature. After you set up the system you will have some questions about the new environment. So it's helpful when a company offers explanatory articles on its website, and - even better - hands-on support from customer care agents. Bearing these requirements in mind, we evaluated the providers based on the availability and quality of customer support.
10 Best Virtual Phone Number Services for Small Businesses
Grasshopper

Phone.com

eVoice

8x8

RingCentral

Line2

Nextiva

Sonetel

CallHippo

iPlum
Reviews of Virtual Phone Services for Small Businesses
Grasshopper Review
⦿

Voicemail transcription

⦿

Business contacts

⦿

Custom greetings
Overview
Grasshopper is great for small entrepreneurs wanting to separate professional and personal communication. It's also great for those who don't want to break the bank. This virtual phone number for business is aimed at solopreneurs or teams of up to 15 people. Grasshopper boasts a strong set of call management features that can be added atop your existing landline or mobile-phone line. You can also use an internet connection to receive and make calls.
Features
This virtual phone company used to have two different products – Grasshopper and Grasshopper Connect. However, it has recently changed its offer, with only one business phone product available, split into three different pricing plans.
The Grasshopper virtual phone service for small businesses provides the standard call-management features you'd find with most companies, like auto-attendant, call forwarding, call transferring, simultaneous call handling, and voicemail. It even offers a voicemail transcription service.
Other useful features include call reporting, virtual fax, custom greetings, extensions, and so forth. Whether you're a solopreneur or a small team, you'll have all the features you need with whichever plan you go with.
Pricing
There are three pricing plans available at Grasshopper – Solo, Partner, and Small Business. All of these plans have all of the aforementioned features. They differ only in the number of phone numbers and extensions included. Grasshopper presents a pretty easy way to get a cheap virtual phone number.
The Solo plan costs $29 per month and comes with a single business number and three extensions. The Partner plan is $49 per month, and it will get you three numbers and six extensions. The most expensive tier, Small Business, is $89 per month. It comes with five numbers and unlimited extensions. The 10% discount for annual billing applies to these plans too.
The positive thing about Grasshopper pricing is that there are no additional costs for new users. As your team expands, your Grasshopper virtual phone bill will remain the same.
Customer Service
The Grasshopper support center boasts a comprehensive library of helpful articles, instruction videos, and PDF guides. In addition to this, the company also offers non-stop assistance over the phone. You can call anytime to inquire about the products or ask for help. According to Grasshopper reviews, you are likely to get a quick and friendly answer from the trained support team. What this company is lacking, though, is a live-chat and email support system.
Grasshopper Bottom Line
Grasshopper.com is a solid choice for those who need to get a virtual phone number for a small business. Its fixed pricing plans give it a competitive edge over other companies that charge per month. The Grasshopper Connect product is an exceptionally practical solution for anyone running a business without employees. You can give it a go with a 7-day free trial.
Phone.com Review
⦿

CRM integration

⦿

Call analytics

⦿

E011 service
Overview
Even though Phone.com doesn't come with a free trial, it plays on the card of a budget-friendly yet comprehensive service that ticks all the right boxes, making it ideal for a small business in need of phone lines for both domestic and international calls. Phone.com offers individual numbers or VoIP that allows sharing a phone number across multiple devices. Phone.com boasts more than 50 features, with standard ones like voicemail to email and video conferencing available to all users, regardless of the pricing tier.
Features
Phone.com offers unlimited virtual local toll-free US phone numbers, as well as global numbers - a feature designed to enable users in the US to provide their customers in foreign countries with a local phone number, adding to the credibility of their business. For a fixed monthly rate of $4.99 up to $14.99 (the rate depends on the country), you'll be able to expand your business and connect with customers and business partners in more than 40 countries.
​​A virtual office phone system became indispensable in the pandemic-hit society, with businesses massively switching to home-based offices. Organizing remote meetings wouldn't be possible without video conferencing tools, and Phone.com offers unlimited first-class group calls with every pricing package, with up to 100 participants.
Pro users can take advantage of the CMR Integration and Call Analytics, which are both considered premium features, while all plans come with 50 useful standard features such as hold-on music, an auto-attendant, call routing, and e011 service. All pricing tiers enable users to send and receive text and image messages using their business phone numbers.
Lastly, when you opt for a virtual phone number, having an intuitive and user-friendly mobile app to access and manage your account is a big asset. Once you download the app, you'll be able to make phone calls when you're out and about using your 3G/4G data or Wi-Fi connection. Mobile extensions contain their own HD conference bridge that makes connecting with employees working remotely or with clients easier than ever.
Pricing Plans
Phone.com comes in three affordable and straightforward pricing plans. The cheapest one is for Basic Users and costs $12.99 per user per month. Ideal for solopreneurs, this plan comes with one virtual business phone line with 300 pooled minutes for calling per user, 1,000 pooled text segments, unlimited video conferencing with 10 participants, and the aforementioned 50 standard features, the list of which is available on Phone.com.
If you decide to upgrade your contract to a Plus Users package, you'll pay $19.99 per month per user and get one phone number per user with unlimited minutes and text messages. You can add up to 25 participants to your HIPAA-compliant video conferences that can be recorded. Your phone numbers will be IP desk phone compatible, too.
Lastly, those who need the best virtual phone number service money can buy should go for the Pro Users package. For $29.99 per user per month, you'll get all the features that come with previous plans, plus CMR integration, advanced call analytics, video conferences with 100 participants, a whiteboard, and HiFi and voicemail transcription.
All plans have a 30-day money-back guarantee, volume discounts, and a 20% discount on annual payments.
Customer Support
We were exceptionally satisfied with the swift and knowledgeable answers we received from customer support agents who are available round the clock. Once you get a business phone number with Phone.com, you'll get access to a sizable knowledge base and an FAQ section to help you with minor glitches, while in case you need to talk to somebody, you can reach out to English- and Spanish-speaking agents via email, live chat, and phone.
Phone.com Bottom Line
If you own a business you hope to expand to a foreign market without any unnecessary costs, Phone.com is the right place for you. With affordable pricing plans that pack some excellent features and offer unlimited video conferencing and global calls to more than 40 locations, you can't go wrong if you go with this phone number service.
eVoice Review
⦿

Audio/video conferencing

⦿

Live receptionist

⦿

Call queuing
Owned by tech giant J2 Global, eVoice is an excellent solution for small businesses and entrepreneurs looking for a virtual office telephone system. J2's rapidly growing global network of more than 11 million subscribers testifies to the efficiency of the service, which includes everything from a 24/7 virtual receptionist to studio-recorded greetings.
Features
eVoice provides businesses with all the features they need to deliver a seamless communication process with customers.
To begin with, it provides clients with toll-free and vanity phone numbers. From there, users get additional call management features, such as call forwarding, advanced routing, blocking, and screening. Users can also forward calls internationally, set up voicemail, and replace a full-time receptionist with an auto-attendant. Meanwhile, the conferencing option allows for both audio and video calls.
eVoice, like some of the other virtual business phone systems on this list, also offers a nifty app for both Android and iOS users and has detailed call logs and an advanced reports feature to help users keep track of their activity.
Pricing
If you aren't sure whether eVoice is the right way to go, you can test out the service without any risk thanks to a 30-day money-back guarantee.
The pricing system at eVoice is straightforward - the amount you pay depends on the number of users. The Elite annual plan will set you back $12/month for a single user. The price is $10.83/month/user for six users and $11.25/month/user for 11 users. The monthly subscription is a little more expensive, with one user costing $14 and 11 users costing $13.50. On the other hand, If you choose to go with any of the annual plans, you'll get to use the virtual phone numbers for free for the first two months.
You can also upgrade to one of three Live Receptionist plans. For $189.95 per month, the Plus package offers 100 live receptionist minutes and 2000 eVoice minutes.
Customer service
eVoice has an extensive support center containing helpful articles to get you started. You'll also find guides on how to use the different features and even a detailed FAQ section.
To get directly in touch with this virtual office phone number provider, you can call them, send them an email at [email protected], or talk to an online representative via live chat. The agents are available from Monday through Sunday between 4 a.m. and 6 p.m. PST.
eVoice Bottom line
eVoice can accommodate both small and medium-sized businesses with its impressive list of features, which includes toll-free and local numbers, unlimited extensions, and inbound online faxing. Moreover, businesses can secure up to 250 live receptionist minutes and get call forwarding options to ensure entrepreneurs don't miss out on any opportunities.
Read Full Review
8x8 Review
⦿

HD audio and video meetings with screen sharing

⦿

Analytics and call quality reporting

⦿

Post call surveys
Overview
With over three decades of experience in telecommunications, 8×8 delivers complex cloud PBX solutions to companies big and small. However, in this review, we'll focus on its small business plans. The four plans for small business phone numbers are: cloud services for voice, international company meetings, team collaboration, and call centers. Once you set up your account by selecting a voice over IP phone number, you'll enjoy a crystal-clear connection while making unlimited calls to US and international phone numbers.
Features
8×8 offers standard call management features like auto-attendant, caller ID, call queuing and forwarding, voicemail, and free texting online. In addition to these basic functionalities, 8×8 distinguishes itself as a leading call-center solution for small companies. In its set of features, you'll find an IVR system that guides callers to the right department; call recording that helps with employee monitoring and feedback; operator switchboard that lets agents transfer calls to colleagues; and analytics tools.
Allowing users to make unlimited calls to 48 foreign countries, 8×8 offers the best virtual phone number service to US entrepreneurs doing business with clients overseas. 8×8's packages also include supreme team-communication features like conference calling and screen sharing with up to 100 participants, instant one-on-one messaging, and group chats. It's worth mentioning that this product integrates well with Microsoft Office and Google Calendar.
Pricing
The 8×8 Express plan comes at $15 per user per month. It allows unlimited calling in the United States and Canada, satisfying the needs of small business owners making outbound calls. This low-cost deal also includes call-handling features, an auto-attendant, voicemail service, team messaging, and HD audio and video conferencing/screen sharing. This is the only 8×8 pricing plan that comes with a 30-day free trial.
This virtual phone number service also offers the X Series X2 plan – perfect for communicating with foreign clients. With this plan, you can make unlimited calls to 14 countries for a fixed price of $24 per user per month. This also unlocks voicemail transcription and cross-platform team messaging features.
The list of countries you can reach expands to 48 with the X Series X4 plan. In addition to all the features from the previous plans, you get access to an operator switchboard, and analytics and call-quality reporting. The monthly price for this plan is $44 per user.
The X Series X6 is ideal for those searching for the best virtual phone system for a small business with call-center needs. This plan offers unlimited calling within 48 countries, 4,000 minutes, skill-based routing, interactive voice response, queued and web callback, and contact center reporting and analytics. The price is available on request. This plan also provides enterprise-grade security and is compliant with significant regulations like the GDPR, HIPAA, and ISO 27001. There are two more pricing plans, offering advanced features like speech and text analytics, quality management, and more.
Customer Support
According to our research and 8×8 reviews, the support system is quite complicated. Contacting chat support is a multi-step process that requires an explanation guide. Competitors like Phone.com and Nextiva provide a much smoother customer experience with chat pop-up windows on most pages. The only 8×8 alternative to chat is email, and again – you need to jump through hoops to open a support case. Phone support is unavailable.
8×8 Bottom Line
8×8 beats the competition when it comes to state-of-the-art call center features. Thanks to unlimited calling within 48 countries, it's got the best solution for bringing your business to the international market while impressing your clients with first-class customer care. Ironically, the one area 8×8 should work to improve is its own customer support.
RingCentral Review
⦿

National and local business directory listings

⦿

Video voicemail

⦿

Professional implementation
Overview
RingCentral offers a robust business-communications solution based on VoIP technology. Provided you have a strong internet connection, you can bring RingCentral software to your desktop computer, laptop, mobile phone or even desk phone and take business calls wherever it's convenient at the time. The company that has been in the cloud-based communications business for 20 years caters to businesses of all sizes by providing local phone numbers, nationwide virtual 800 numbers, and toll-free vanity numbers.
Features
RingCentral offers plenty of call management features that will enable you to leave a professional first impression, even if you're the only employee in your company. These features include directory listings and auto-attendant, so leads can find your number in national/local business directories and be greeted by a pre-recorded message.
As your business grows, you'll appreciate access to numerous extensions and call forwarding to the right employee. Caller ID control, call screening, call logs, notifications of missed calls and received faxes are also among RingCentral's functionalities. This industry-leading provider even allows clients to reach you via video voicemail. And you can reply to them in the same format, building unique relationships.
This company earned a high spot on our best virtual phone system provider list because it streamlines internal communication and entirely eliminates your phone bill with its cloud PBX. You can use the softphone desktop application to conduct conference calls with remote team members with or without video.
Pricing
RingCentral pricing plans are structured per user per month. Prices are on par with Grasshopper, which offers similar features but fewer scaling opportunities. The more employees the company has, the more affordable the plans are. Unlimited phone calls within the United States and Canada are provided with every plan. The great thing about RingCentral is that all of its plans come with a free trial that can even include hardware. If you're unsure about the quality of the service, be sure to try it out through the trial first.
The Essentials plan, intended for companies with up to 20 employees, starts at $19.99 per user per month if billed annually. It includes most features the company provides. The ones lacking are created for virtual phone systems of larger companies like custom app development and deployment, multi-level auto-attendant, and multi-site support.
If you choose the Standard plan, you'll be able to include an unlimited number of people into conference calls and access unlimited internet faxing. Companies with 2-10 members can get it for $27.99 per user per month. This plan also has no limits on the number of users (but the pricing does scale).
The Premium and Ultimate plans, starting at $34.99 and $49.99 respectively, include advanced features, like conference calls with 200 people at once, automatic call recording, and multi-site support. The Ultimate plan additionally offers useful device status reports and alerts.
Customer Care
If you are new to the world of virtual business phone technology, you can find plenty of resources on the RingCentral website. Users who prefer reading can enjoy blog articles, case studies, and free e-books, while those who learn better from video content can sign up for free webinars and demos.
If you encounter an issue, customer support agents are available 24/7 via chat and email. There's also a user community forum you can search for answers. Developers have a nook of their own where they can talk about RingCentral API.
RingCentral Bottom line
RingCentral's service exceeds industry standards while staying within the average price range. The company provides a well-rounded solution for both internal and external communication that integrates with more than a hundred business apps. Designed with flourishing businesses in mind, RingCentral is definitely worth exploring for 30 days for free.
Line2 Review
⦿

Toll-free and vanity numbers

⦿

Voicemail transcription

⦿

Inbound call handling
Line2 is one of several small business phone service providers that offers a quick solution if you're looking for a software voice client for both desktop and mobile devices. With several phone number options, call management features, and unlimited text messaging solutions, small teams can easily maintain channels of communication with customers.
Features
Line2 is an ideal option for small businesses that value their customers and strive to offer excellent support as well as enhance the overall user experience without having to hire someone for the job. Instead of relying on traditional business phone providers and setting up a bulky phone infrastructure in the office, Line2 enables small teams to install an app on their mobile phones or desktop computers. Clients can choose between local, toll-free, and vanity numbers.
The call features list is even more impressive. You can answer calls with a pre-recorded auto-attendant message, provide callers with on-hold music while they wait, and use customizable hold messages to deliver valuable info about your business. You can also forward calls depending on your availability to ensure you don't miss the important ones.
Moreover, this virtual office phone service makes it possible to reach anyone thanks to its unlimited text messaging option. This includes MMS messaging, which allows you to send images and group messages to 10 recipients.
Pricing
Line2 offers monthly and yearly subscriptions. Both options have three pricing plans: Starter, Growth, and Business.
A monthly subscription will set you back $15.99 with the Starter plan, $20.99 with Growth, and $25.99 with Business. With the annual plan, Starter costs $13.75 per month, Growth is $17.66 per month, and Business is $21.83 per month. Each of the plans comes with a local or toll-free virtual phone number for free, unlimited calls and texts, and a call forwarding feature. The yearly plan also offers the first two months for free.
Each of the plans covers up to five lines, but if you need additional numbers, you can customize your package by contacting the support team.
Customer service
If you experience any hiccups while using the service, start by checking out the extensive support section on the Line2 website. You'll find articles on a broad range of topics, including technical support and billing information. If you still need additional help with your virtual telephone system, you can reach the Line2 customer support team via phone from Monday to Friday between 5 a.m and 5 p.m. PST or shoot them an email. If you're experiencing issues with an app, you'll get assistance faster if you contact support through the app in question.
Line2 Bottom line
When compared to other products on our list, Line2 can hold its own. In some areas, the service has an edge over the competition. For example, in the Line2 vs. Grasshopper showdown, the former emerges as the more affordable option with a very similar list of features. However, if you need a provider that extends its services to social media, then MightyCall might be a better fit. Nevertheless, Line2 is an excellent choice for small businesses that need to add an additional layer of professionalism to their exchanges with customers.
Read Full Review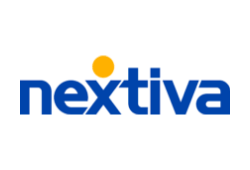 Nextiva Review
⦿

CRM system

⦿

User and team performance reports

⦿

Unlimited conference calls
Overview
Nextiva provides much more than just a virtual business phone number. The Business Communications Suite brings a powerful combination of features for consolidating team communication, providing efficient customer care, and tracking productivity. The company offers this service for a fraction of the price it would cost you to get virtual numbers for your team, a CRM, and an analytics tool. Nextiva's VoIP boasts 99.9% of uptime so it's perfect for small business owners looking for a reliable provider.
Features
The company offers a selection of local and national business numbers but it lacks international numbers. If you need a virtual number to break into a foreign market, you might be better off with a company like RingCentral or Phone.com.
That said, Nextiva provides more than 40 VoIP features, making it one of the best virtual phone systems you can find for your business. These features include call screening, queuing, forwarding, holding, and blocking, auto-attendant, and voicemail. There's also a number of rare features like call park, call pulling, voicemail forwarding, and AI-enabled voicemail to email.
On top of that, Nextiva instant messaging lets you tend to clients who are not big on talking but still want to get in touch with your company. And with its top-of-the-line cloud PBX, you can kiss your traditional desk phone goodbye. Small business owners can take advantage of Nextiva softphones for both internal and external communication over the internet with HD call quality. Larger businesses set in their ways can keep their existing hardware or buy additional phones sold by this VoIP service provider.
Nextiva's offer consists of a virtual office phone solution and a CRM system. For a budget-friendly price, the Business Communications Suit lets you store contact information, provide omni-channel communication to clients, and analyze your performance.
Pricing
The Nextiva pricing structure is similar to RingCentral's, meaning the prices are lower for companies with more employees.
If you run a medium-sized operation, with 20-99 people, you will pay a monthly fee starting at $18.95 per user for the Essential plan, $22.95 for the Professional, $32.95 per user for the Enterprise plan and $57.95 for the Ultimate plan. These prices could be further lowered if your team is bigger, if you prepay and choose longer contracts.
With the Essential plan, you get a virtual phone system for your small business, with unlimited voice and video calling, 24/7 support and basic integrations. As you upgrade to the higher tiers, you will also get professionally recorded greeting messages, more toll-free minutes, unlimited conference calls, reporting features, and much more. The Unlimited plan is especially powerful, as it brings sales productivity, pipeline management and other useful management and efficiency features.
The Enterprise plan is the only one that offers a variety of chat features. While a free trial isn't available, the company offers a 30-day money-back guarantee.
Customer Support
On its website, Nextiva boasts about having around-the-clock "amazing service." Hundreds of Nextiva reviews left by users on popular review websites confirm this bold claim. You can reach them anytime via phone, chat, and email and expect truly amazing service.
Nextiva Bottom Line
If you want to get more than a virtual phone number for your business, Nextiva is the way to go. It pairs first-class online calling features with both a customer and sales CRM. If you are looking for a reliable service provider that takes good care of its users, Nextiva is the way to go. You won't have any issues scaling this solution since it was designed to support companies of all sizes.
Sonetel Review
⦿

Call forwarding to any type of phone

⦿

Robust mobile app

⦿

Free minutes/calling discounts with paid plans
Overview
Sonetel is not your typical virtual phone number service. Instead of offering a business virtual phone system that comes with CRM-like features, it's more of a lightweight solution that allows you to purchase a local phone number anywhere in the world, increasing trust between you and your customers. Sonetel is one of the fastest-growing tech companies in Sweden. Founded in 1994, it has built up its reputation quite a bit over the years. One of the many reasons the service found its way to our best virtual phone number service list is because it offers free call taking through its app and free local numbers if you choose to use its website chat widget. Let's take a closer look.
Features
Marketed as a free virtual phone number solution for entrepreneurs, Sonetel presents an easy way for your business to get local phone numbers on your website. The main purpose behind having phone numbers that appear closer to your customers is to increase conversions. People are more likely to trust businesses that offer local numbers and hence will feel more comfortable purchasing your product or calling your sales teams.
Another reason Sonetel is considered to be one of the best virtual phone system for small business solutions is that it reduces customer chargebacks. When your clients encounter a problem, not having an easily-reachable phone number may result in them initiating a chargeback through their bank instead of trying to solve the issue with the company's support team.
All calls made to the local phone numbers supplied by Sonetel can be forwarded to any type of phone, including mobile, anywhere in the world, or answered through the Sonetel app. You can also make international calls from your virtual phone number.
Sonetel also allows you to set up voice responses for your phone line easily. Choose from a selection of prerecorded voice responses and voicemail, or record your own. Additionally, you can freely record both incoming and outgoing calls.
Apart from providing you with local phone numbers, Sonetel also offers a chat widget to integrate on your website or into Facebook Messenger. It allows you to chat with your customers or communicate with your team more easily.
Pricing
One of the best things about Sonetel is that it offers a completely free small business phone number to use if you decide to utilize its chat-widget on your website. The chat-widget is free as well, so there's no reason not to use both and cut costs.
However, there are some other costs to be aware of. Any calls forwarded globally will cost you as much as your local call unless you answer them through the mobile app. International calls made through the Sonetel-supplied numbers are also charged.
In addition to its free plan, Sonetel offers Premium ($13.95 per user per month) and Business ($4.99 per number) plans. Choosing the voice–over IP phone number Premium plan gives you a free phone number (without the need to utilize the widget), free calls worth $30 per month for each user, discounts, unlimited chat history, conference calls, increased data storage, and more.
The Business plan also comes with free minutes and discounts, simultaneous calls, access to call recording and call queues, priority support, and voice responses.
Customer Support
Sonetel support is available via live chat, email, and phone. Since Sonetel is a company dedicated to improving your customer service, it comes as no surprise that its own support team is top-class. Before contacting the customer support agents, you can consult the extensive FAQ section on the site.
Sonetel Bottom Line
If you're looking for the best business phone service provider and you don't need advanced CRM-like features, Sonetel is a great choice. You can get a phone number through Sonetel practically for free and just cover the call-forwarding costs (or avoid them by taking calls via the app). Alternatively, choose one of the affordable paid plans and get free minutes, calling discounts, and other useful call-related features.
CallHippo Review
⦿

Local numbers in 50+ countries

⦿

Multiple integration options

⦿

Smart call forwarding
Overview
CallHippo virtual number service was created with the idea to help small businesses and their customers connect in a way that is convenient, efficient, and cost-effective. According to CallHippo reviews, this software can help you service your customers better, attend to more business opportunities, and even generate more conversions.
Through this on-demand cloud-based VoIP service provider, you can get virtual local phone numbers from more than 50 countries, add multiple users, and make calls to receivers all around the world. Thanks to CallHippo's user-friendly interface and robust software architecture, you'll be able to set up your call center in a matter of minutes.
Features
CallHippo's business phone number service is available as a mobile- and web-based application. The solution helps support, marketing, and sales teams get in touch with their customers globally. When you make an outgoing call, your virtual phone number is displayed to your client. Meanwhile, the options to receive an incoming call include redirecting the call to an alternative phone number or picking up through CallHippo's app.
The service comes with a wide array of features that you can integrate with your virtual phone number. These include standard options such as call transfer, call conference, call queuing, call barging, smart phone number forwarding service, ring all, team collaboration tool, voicemail, and on-hold music. CallHippo's call recording feature lets you record conversations so that managers can go through them later, while the real-time analytics tool comes in handy if you need detailed information about callers, call duration, and call quality.
This provider's virtual phone service can also be integrated with a number of business software solutions including Pipedrive, Slack, Hubspot, Intercom, and Freshdesk.
Pricing
As far as pricing goes, CallHippo has a four-tiered offer. All of its service packages are available on a monthly subscription basis.
The Bronze plan has a minimum of two users, and is created to meet the needs of a small outbound calling team, starting at $14 per user per month. This plan comes with one free phone number that can be assigned to multiple users along with basic features such as call forwarding, SMS, team management, voicemail, and call recording. This tier is also equipped with CallHippo's SDAP patent pending technology, a unique feature that automatically optimizes your calling system aiming to improve calling experience and enhance call quality.
We recommend CallHippo's Silver plan as the best virtual phone system for a small business's sales or marketing team. The cost starts at $24 per month for each user, and should you decide to go for this option, you'll get all the features from the Bronze tier alongside a few more useful services. Additional features include unlimited incoming calls, call queuing, call cascading, interactive voice response (IVR), live call, call reminder, internal team calling, user working hours, after call work, holiday routing, and intelligent analytics.
The Platinum tier starts at $35, and it's the best phone service for larger sales and support teams in need of more advanced virtual telephony and workflow automation services. It includes everything that comes with the Silver plan with the addition of a power dialer, call transfer, barging, conference calling, and the options to route to external numbers and forward to multiple devices. If you'd like to take your service to the next level, go with the Platinum tier.
With the Enterprise plan you get access to CallHippo's tailor-made solutions. This plan includes everything from the lower-tiered options plus a number of advanced add-ons such as personalized onboarding, custom reports and integrations, unlimited users, prioritized custom development, and an annual business review. As the best virtual phone number pack, CallHippo's Enterprise plan also comes with a dedicated account manager. The Enterprise plan also features a free trial period for testing out the service, so we definitely recommend giving this plan a spin.
Customer Support
CallHippo's customer support is one of the company's strongest assets. The site's support center boasts a huge library of answers to commonly asked questions divided by category. CallHippo's customer service team is available round the clock and can be reached via live chat, email, phone, Facebook Messenger, and Twitter. Should you encounter any issues with the software, you can also request help by submitting a ticket through the site's support page.
CallHippo Bottom Line
CallHippo is a scalable call center software solution that offers internet phone numbers to small and mid-sized enterprises with a growing customer base. Created with the idea to help businesses maximize their productivity with virtual telephony and workflow automation, CallHippo's solution comes with a plethora of features and integration options. Aiming to minimize the complexity of setting up a call center, CallHippo provides local numbers from more than 50 countries and lets you assign them to specific departments in just a few clicks. Finally, apart from customer communication, this software can also help you improve team collaboration.
iPlum Review
⦿

Interactive Voice Response (IVR)

⦿

Auto-text reply

⦿

Call recording
Overview
Once you've taken care of some of the more urgent matters regarding your business, such as upgrading your eCommerce website so as to fix the mistakes that were hurting your brand, you may proceed to getting a virtual phone number. The next virtual number provider on our list is iPlum.
iPlum was founded in 2015, and is headquartered in Santa Clara, California. Its app provides a range of handy features to its users, from call recording to voicemail transcriptions, with all options neatly packed into its user-friendly interface.
Features
To use iPlum features, you have to download the iPlum app, available for Android and iOS. Sadly, there is no official desktop version available. Apart from calling, texting, and voicemail, iPlum houses a number of cool features.
For instance, you may set up your business hours. When you receive calls outside of the set hours, the calls will be redirected straight to voicemail, and texts will receive an automated reply. This virtual phone number service also has dual calling capabilities, which allow you to switch between VoIP data and your phone's voice network.
Additional Features include call recording, API integration, auto-text reply, and online fax. There is also the interactive voice response (IVR) feature, which enables you to redirect calls to other team members by setting up a phone tree. This process is facilitated by a virtual receptionist.
Keep in mind that not all features are included in the plans. For example, if you want to activate the voicemail transcription option, you have to pay $4.99 a month. However, this also includes additional storage for voicemails, as you get to save 100 of them. Otherwise, the storage capacity for voicemails is 15.
Pricing
While this may not be the cheapest virtual phone number service out there, it's certainly among the more affordable ones. The most affordable plan is $5.99 for a US phone number. However, with this option, you get 200 credits. For unlimited credits, you have to pay $8.99 a month if you decide to pay yearly, or $11.99 in case you choose a monthly subscription.
There is also a virtual toll–free number option, which is slightly more expensive. It costs $14.99 per month if you pay annually, but $19.99 should you decide to pay on a monthly basis. Both of these options include unlimited credits. Alternatively, you may get a plan that gives you 200 credits for $9.99 a month.
Customer Service
iPlum customer service is available 24 x7 by opening a web ticket. What is more, if you do not have inhouse technical staff, iPlum can provide you access to iPlum specialists by settings up a live call for only $25 for a 30-minute Zoom consultation. However, there is a detailed FAQ section on the website that might help you.

We should note that numerous iPlum customer reviews praise the customer service, in addition to some of them considering this to be the best virtual number app. The main points they brought up are the fact that the customer service agents are very knowledgeable and friendly, and were thus able to assist them properly.
iPlum Bottom Line
As you can tell, there are a lot of benefits to subscribing to an iPlum plan, although, unfortunately, you need to pay extra for some features. Nevertheless, you get call recording, auto-text reply, out-of-office greeting, setting up business hours, and many other options. Depending on your needs, this may just be the best app for a virtual phone number for you.
Freshdesk Contact Center (Formerly Freshcaller) Review
⦿

Multi-level interactive voice response system

⦿

Wait queue

⦿

Custom greetings
Overview
The Freshdesk Contact Center (formerly known as Freshcaller) virtual number service fits the needs of all entrepreneurs looking for a simple and affordable product. The call recording and call monitoring features make it a good choice for sales businesses too. No matter where your clients are, Freshdesk Contact Center lets you connect and provide great customer service. Select a local, toll-free or an international phone number and start making calls. You can even create a customized vanity number that people will remember.
Features
Freshdesk's features match the ones offered by the other best virtual phone number providers on our list. However, it is the only provider of robust call center features like a multi-level interactive voice response system that routes your customer calls to teams or agents with a customizable call-flow mechanism. You can configure the system any way you wish – callers could press 1 for Customer Support, 2 for Sales and 3 for another department unique to your company.
The wait-queue function informs callers of their position in line while waiting for an agent. And the custom-greetings feature allows you to advertise new products or share announcements with clients who are on hold or queuing.
The real-time dashboard and abandoned call metrics are some other features that make Freshdesk the best phone service for businesses looking for a call-center size solution. The dashboard allows you to see call queues, agent availability information, and ongoing calls. The metrics help you analyze abandoned calls so you can build a better phone journey for your customers.
Pricing
The Freshdesk Contact Center pricing structure differs from other companies on our list. It's the only company that charges incoming/outcoming calls on top of monthly user fees. Though this makes it a high-priced option for businesses with a large customer care staff, the company delivers great features.
The Free plan is an attractive option for small teams that need internet phone numbers to handle their business calls. This plan includes basic features like call notes, desktop notifications, call notes transfer, and custom greetings. It comes without a monthly user fee, so you'll only pay for the minutes you spend. The call rates vary depending on the country the call is coming from or going to. Incoming domestic calls are charged $0.028 per minute, whereas outgoing calls cost $0.022 per minute.
The Growth plan suits teams operating from various locations. The $15 monthly user fee for each agent includes a much longer list of functionalities than the Free plan. For example, with this plan, you can set business hours and access to team routing, among other features. This plan also comes with free 2,000 incoming minutes each month.
With the Pro plan, you can access the Smart Escalations advanced phone number forwarding service. This service lets agents send cases to colleagues who have more experience or authority. Other call center features include call barging, call monitoring, and holiday calendars. This plan costs $39 a month, per agent, and has 3,000 free incoming minutes every month.
The Enterprise plan is ideal for larger teams, bringing 5,000 free incoming minutes per month. It also comes with advanced call metrics, call barging, holiday routing, queue callback, and many other features. This plan will set you back $69 per month per agent. You also get abandoned call metrics and service-level monitoring.
There is a 21-day free trial available for all plans. This trial period is longer than what most companies offer and presents a great opportunity to check out all the different features Freshdesk brings to the table.
Customer Support
Freshdesk's support system is a bit slim. The only way to request help is by submitting a ticket online. You leave your phone number and Skype ID for Freshdesk Contact Center support agents to get in touch with you if an email isn't enough. But there is no available number for you to call and ask for assistance. There is also no live-chat option.
Freshdesk Contact Center Bottom line
If you need a business phone number service to set up a cloud-based call center, Freshdesk is the way to go. It offers advanced features that will enable agents to provide outstanding assistance. Managers also get a set of supervision features that will enhance productivity. The suite integrates perfectly with other Freshdesk products. It should be noted that the service functions only on softphones, so it might not appeal to businesses that have invested heavily in standard equipment.
VirtualPBX Review
⦿

Automatic call distribution queues

⦿

External storage

⦿

Multiple integrations
Overview
Whether you're a solopreneur, or a small, medium-sized, or large-scale business owner, VirtualPBX has the right virtual number service to suit your needs. Thanks to its exceptional capabilities, this cloud telephony company can help you make the most of all business communication.
Solopreneurs and growing businesses turn to VirtualPBX for a good deal on dedicated business phone numbers. Small- to medium-sized business owners enjoy the provider's advanced features, such as audio conferencing and ring groups, while large-scale enterprise managers use this company's solutions to accommodate their multinational call centers.
Features
VirtualPBX's phone service for small-business and corporate managers comes with a plethora of powerful functionalities. As a customizable VoIP solution, this service lets users configure a unique set of features based on their specific needs. Apart from basic features, such as toll-free minutes, call forwarding, voicemail, and music/info on hold, VirtualPBX also offers a number of advanced functionalities.
The auto-attendant feature automatically redirects an incoming call to an extension without the need for a telephone operator, while audio conferencing lets multiple users join a single call. With ring groups, you can share the distribution of incoming calls among group members. As one of the best virtual phone service solutions, VirtualPBX provides ACD queues (an advanced version of ring groups), too. Given that it distributes calls to a group of users, this functionality makes managing a call center with large volumes of inbound calls much easier.
Depending on the pricing tier, this virtual phone assistant also offers CRM integration, paperless fax, API access, priority support, external storage, advanced reports, and integrations with robust software solutions, such as Zapier and Webhooks.
VirtualPBX has recently introduced its Starter plan, a low-cost VoIP plan that further cements this company's place on our best business phone service provider list. The fee for this plan starts at only $9 a month. With it, you get two phone numbers and unlimited local minutes. There are no toll-free minutes included, but you can add them for a 5.9-cent fee. Features include a VirtualText App, web phone, audio conferencing, ring groups, Zapier integration, digital faxing, and much more.
Pricing
VirtualPBX's pricing table is divided into four plans - Starter, Flex, Pro, and Premier. The plans differ in their amount of free minutes and additional features.
The Starter plan costs $9 per month per user and comes with two phone numbers. The Flex plan has a starting price of $18 per month per user and offers three numbers. The Pro plan is $24 per month per user and includes five phone numbers. Finally, VirtualPBX's Premier plan comes with 10 business phone numbers and a monthly fee of $34.
Regardless of the plan you choose, there are additional costs for extra minutes you use. With the Starter plan, every extra minute is charged 5.9 cents. With the Flex plan, extra toll-free minutes are charged 4.9 cents. If you opt for the Pro plan, you should know that there are 1,000 free minutes, but every extra minute costs 3.5 cents. The Premier plan has over 2,500 free minutes. After that, the provider charges 2.9 cents per minute.
All services are provided on a monthly or annual subscription basis. The provider doesn't offer a free plan, but you can request a demo to explore VirtualPBX's interface before signing up for the paid service. All VirtualPBX business plans come with a 15-day money-back guarantee, so they're definitely worth giving it a try.
Customer Support
VirtualPBX's online phone service comes with multiple avenues of customer support. Should you have any questions or issues, you can get in touch with the company's technical assistance team via phone, email, and live chat. The provider's support agents are quick to respond, kind, and knowledgeable.
VirtualPBX Bottom Line
VirtualPBX offers a scalable phone software solution that can not only accommodate the call center of a multinational enterprise, but also meet the needs of a single entrepreneur on the hunt for an easy-to-use virtual phone number app. Thanks to its wide range of powerful features, VirtualPBX is a robust solution for making and receiving calls that can match any business model. Many users enjoy the feature that lets them reroute calls directly to their cellphones, while those who left negative reviews mentioned that setting the software up can be a bit complicated in the beginning.

MightyCall Review
⦿

VIP and blacklist call routing

⦿

Voicemail transcription

⦿

Scalable solution
Overview
Unlike most providers on our list that offer online phone number services, MightyCall provides an advanced communications system made to aggregate customer queries coming from phone calls, but also social media channels and emails, into one queue. This provider's service appeals to small and mid-sized business owners who want to improve their internal and external communication and organize client data in a way that's cost-effective and less time-consuming.
As an all-in-one virtual receptionist system, MightyCall handles all calls made and received via vanity, local, and toll-free numbers. Considering that all calls can be routed to specific departments, processing a large volume of customer queries shouldn't be a problem.
Features
What makes MightyCall one of the best virtual phone number providers is its wide range of advanced features. It's also important to mention that this virtual phone solution uses cloud hosting to connect seamlessly to any telephone device you have in place, such as landline and conference numbers or even your team members' smartphones.
Apart from toll-free, vanity, and local numbers, MightyCall's solution comes with useful features such as unlimited calling, call forwarding, call history, call queues, call recording, call screening, voicemail and transcription, and softphones. As one of the best virtual mobile number providers, MightyCall also offers a few unique features including visual call flow configuration and VIP or blacklist call routing.
Pricing
As far as pricing goes, MightyCall offers three plans - Small Team, Business, and Enterprise. The provider can accommodate your business needs as your company scales. If you're cautious when it comes to long-term commitments and you would like to test drive the service, you can start things off with a 7-day free trial or book a demo and have MightyCall show you how their system works and help you pick the right pricing plan.
The Small Team plan starts at $15 per user per month and is made for two users. It comes with two toll-free or local numbers, 100 texts, 500 minutes, and ten clients in the contact book.
For the monthly price of $20 per user, you can get MightyCall's Business virtual mobile number pack. This plan is made for at least three users and includes two toll-free or local numbers, unlimited clients in the contact book, voice-to-text, call recording, presence indicators, as well as desk phones and softphones.
The Enterprise pack has a flat fee of $150 for the first six months after which the price goes up to $200 per month. It offers two toll-free local numbers and all the features from the lower tiers with the addition of API and high-priority support.
Customer Support
Although its virtual cell phone number solution is easy to use, MightyCall still makes sure that all of its customers get professional help whenever they need it. The company's support page offers a huge library of commonly asked questions and answers. Moreover, the options to get in touch with the provider's customer care team include live chat, phone, email, and ticket. It's also important to mention that access to support does not depend on the plan a user has chosen.
MightyCall Bottom Line
Unlike other virtual US phone number providers, MightyCall doesn't limit you on the device type or the number of devices you can sign in on. The monthly fees start at $15 per user ($20 for the Business package), and the company offers discounted pricing for larger enterprises. This scalable product is best suited for small businesses and teams on the go or those working remotely. The app is easy to set up and utilize, and the only downsides come in the form of occasional bugs and poor call quality due to connectivity issues.
Vonage Review
⦿

AI-powered assistant

⦿

Unlimited calls, SMS, and team messaging on basic plan

⦿

Company-wide and on-demand voicemail recording
Overview
Vonage is an excellent virtual phone number service for anyone looking for a ready-made solution. It offers toll-free, local, and geographic numbers, with more than 50 features for customizing your user experience and optimizing internal processes. All components integrate seamlessly with all your business software and build on your existing processes.
Features
We've already mentioned that Vonage has over 50 communication features, but now we'll discuss them in detail. These features are divided into categories, improving mobility, flexibility, customer experience, collaboration, and productivity, respectively.
In terms of mobility, Vonage allows you to set up shop anywhere, on both desktop and mobile devices. This virtual phone line solution can also be browser-based. The setup takes no effort with either option, and you won't need to be tied to your desk to manage calls.
Flexibility features automate the login process and provide a virtual receptionist and mailbox. Vonage's app center also shields you from spam and allows virtual conferencing for up to 30 people.
Vonage's customer experience-oriented features match all other providers on this list: You can rely on company-wide and on-demand call recording, call routing, screening, announcing, and tracking, as well as queueing, logging, parking, and call-waiting features.
The feature that truly makes Vonage one of the best virtual phone number solutions on this list is its AI-powered virtual assistant. With it, you can create highly personalized messages and trust it to provide quick answers and handle simple inquiries on its own, removing plenty of pressure from your representatives. This will allow them more time to address other, more pressing issues.
Pricing
Vonage's pricing plans are built to cover specific needs. For example, developers looking for an API to build their own solutions will find it for a price that starts at €0.0020 for its Dispatch API. Businesses looking to kick-start their call center will have to contact the provider for a custom quote.
Next up, it is essential to mention that you can use Vonage's free business phone number for 14 days to get much-needed first-hand experience with its features. This will help you decide whether this phone number service will be the right product for your business before you commit to its monthly plans.
If you decide to get a Vonage account, you can choose between three plans: The first one, Mobile, comes with unlimited calls, SMS, and team messaging. It also includes the renowned Vonage App Center, all for $19.99 per month per line.
The second plan, Premium, costs $29.99 per month per line and includes everything provided with its cheapest virtual phone number plan. Also, it adds in unlimited meetings for up to 100 people, multi-level auto attendants, CRM integration, and IP desk phone capability.
Lastly, the Advanced plan is the most expensive one: For $39.99 per month per line, it includes everything from the Premium plan, plus 15 hours of on-demand call recording, video conferencing, and Visual Voicemail.
Customer Service
There is a lot of comfort in knowing you can receive support whenever you need it, and Vonage's phone number service is happy to make that happen. This provider of virtual phone numbers has an excellent resources section, where you will find detailed information about its products and services. If you need additional help, you can always reach out to its customer support team. They are available via phone, email, and you can even text them through live chat available on the site. The agents will be polite, knowledgeable, and more than helpful.
Vonage Bottom Line
All in all, Vonage is an excellent choice for anyone looking to set up a virtual number system. Its price is relatively affordable, and its virtual number app works seamlessly regardless of platform. With more than 50 communication features, you will be able to handle all those calls without breaking a sweat.
It integrates well with many famous and effective solutions, so you will also be able to give your support or sales team the boost they need by combining multiple tools. In conclusion, with Vonage, you get everything you need to improve your customers' satisfaction - even hardware!
Frequently Asked Questions
What is a virtual phone number?
A virtual phone number is a telephone number without a phone line directly associated with it. Instead of being connected to one specific telephone line, a virtual number is programmed to forward incoming calls to one of the pre-set telephone lines that the client chooses, be it fixed, mobile or VoIP. Virtual phone numbers are also known as access numbers since they can work as a gateway between traditional calls and VoIP.
How to get a virtual phone number:
Getting a virtual telephone number is a pretty straightforward procedure. You can start by signing up with a service provider. Then you select a country and a phone number that customers will dial to reach your small business. And you're good to go. You'll be able to receive calls on your mobile phone, laptop, tablet, home phone - wherever you are, as long as you have an internet connection or cellular phone line.
VoIP stands for Voice over Internet Protocol. Although often used as a synonym for virtual phone numbers, VoIP numbers actually differ from them. While the former use private data centers to route calls over existing land and cell phone lines, VoIP numbers use public internet for routing calls. Both solutions are less expensive than some traditional phone services and they enable you to take and make calls on the go. VoIP numbers are less reliable as they depend on the strength of your internet connection.
How do I get a VoIP number?
The first step to getting a VoIP number is checking your internet connection. It needs to be stable for your calls to be clear. If your internet connection isn't strong, calls won't be able to go through to your devices. Meeting this requirement is imperative. The following steps are similar to getting a virtual phone number. You need to sign up for a VoIP plan with a vendor. You can consult our list of best online phone service providers to find one that fits your needs. The final step is choosing foreign or domestic phone numbers that clients will use to get in touch with your business.
How can I get a free virtual number?
The best free virtual number provider at the moment is Google Voice. It trumps the competition since it gives US users a permanently free virtual phone number. You need a Google account to sign up for the service. Once you register, you will type in the city you want your number to look like it's coming from and select one of the available numbers.
What is the best virtual phone number company?
The answer to this question depends on your business needs. The best virtual phone number company for a business employing about 150 workers and getting hundreds of calls each day will most likely be too expensive and overly complicated for a team of 10 people. If your business falls into the first category, we recommend checking out 8x8 and Freshcaller. You can set up a call center using the services these companies provide. If, on the other hand, you identify with the second category, Grasshopper, Line2 or Google Voice business are a better fit. These three companies give users a virtual phone number and a neat set of features that will make your small business seem more professional without the unnecessary functionalities.