Whether you're a frequent traveler or a remote business owner, you have to think about how to keep your packages and mail flowing. The ideal solution is to find yourself a virtual mailbox service, which allows you to read your mail online from anywhere in the world.
In addition to forwarding mail to another address and scanning it for digital viewing, a virtual mailbox also provides real-time notifications, keeps your mail on file, or disposes of it. But finding the right service for your individual needs can be time-consuming, which is why we've compiled a list of the best virtual mailbox options on the market. We've reviewed various providers, their key features, pricing details, geographic availability, and more.
What Is a Virtual Mailbox?
If you're among the millions of people looking to relocate after migrating to remote work or you recently started running your small business from home, you'll need to be proactive about ensuring that your essential correspondence can find you. Enter virtual mailboxes.
This service is designed for everyone from frequent travelers to business owners who have trouble accessing their physical mailbox but still need to check their mail. Virtual mailboxes send you notifications and upload images of your mail, forward packages to different addresses, or shred confidential documents. These are just some of the benefits of a virtual mailbox. If you're one of the individuals or business owners who need this service, there are a few factors you should consider when choosing a virtual mailbox.
Our Methodology
As there are numerous options when it comes to virtual mailbox services, it's important to examine the list of perks and choose the most suitable ones for your individual needs. Here are the most critical factors to look at.
Pricing
We can talk about advanced features for days, but if the service isn't affordable, it simply isn't worth it. That's why all of the names on our list of the top 2022 virtual mailbox options offer multiple pricing plans. These are intended for both individuals and businesses and can cost as little as $4.98 per month for basic plans to $90 per month for the premium ones. Also, most providers offer both monthly and yearly plans, which can be convenient as they usually have discounted rates.
Services
Although their overall purpose is the same, every virtual mailbox offers a slightly different set of features. Every service can open and scan your mail so that you can view it remotely. But some services offer check deposits, package forwarding, and package consolidation. The digital mailbox service providers that we've reviewed offer at least one of these features. If you run a remote business and need help with checks, the check depositing feature is a highly valuable asset. Package forwarding is also useful as it allows you to receive a package at a specific address and forward it to another one. Meanwhile, package consolidation can save you some money along the way. If you're thinking about opening an online boutique or starting some other type of eCommerce business, and you need to be able to send and receive multiple packages per month, a virtual mailbox can help you save on postage by merging them into a single shipment.
Additional Fees
Some virtual mailboxes don't have a recurring monthly fee. Instead, you need to pay a one-time setup fee. Additional services such as mail forwarding, scanning, or storing are charged separately. To help you out, we made a comprehensive virtual mailbox service comparison which includes all additional costs you may encounter.
Mailbox Locations
One of the first things to look at with a virtual mailbox service is the list of mailbox locations. Some of the providers on our list offer more physical addresses than others, which can be more convenient for some. If you're looking for a specific mailing location for your mailbox, make sure that it's available before signing up.
Mobile App
Frequent travelers and people running a remote business like checking their virtual mailbox from a mobile app. And even though we've reviewed some of the best virtual mailbox services in 2022, not all of them have a mobile app, which can be a deal-breaker for some users.
The Top 5 Virtual Mailbox Services in 2022
Business Anywhere

Anytime Mailbox

PostScan Mail

Traveling Mailbox

US Global Mail
Best Virtual Mailbox: Reviews
Business Anywhere Review
⦿

Unlimited scans

⦿

Unlimited packages

⦿

Easy-to-use dashboard
Business Anywhere is a company that offers various services to help businesses get started. These include LLC formation, online notary, registered agent, and, of course, virtual mailbox service. The company is based in Chandler, Arizona, but its services are available in all 50 states.
In terms of pricing, Business Anywhere has things pretty much figured out. And, although it's not a free virtual mailbox service, its rates are reasonable, starting at just $20 per month.
If you just need some basic features, you can select the Package One option. It includes
up to two mail recipients

unlimited mail, packages, and scan

physical addresses in Wyoming, New Mexico, and Arizona

mail scanning into your dashboard

mail and package forwarding worldwide

no junk mail
If you need more recipients, you can go for Package Two, which includes all of the features of Package One plus up to five mail recipients. This package will cost you $30 per month.
The most expensive option is Package Three, with up to 20 mail recipients. It includes all of the features of the previous two packages and costs $65 a month, which seems like a fair deal.
Whichever plan you choose, Business Anywhere offers a 100% satisfaction guarantee and focuses on providing excellent customer service, so you can be sure that you're in good hands.
Overall, Business Anywhere is a great option for those looking to get their business up and running quickly and efficiently. And if you're looking for the best-rated virtual mailbox with a physical address, you should definitely check out this provider.
The company offers a wide range of products and services designed to help businesses get off the ground as quickly and easily as possible. Its pricing is also very reasonable, making Business Anywhere an excellent choice for those on a budget.
Read Full Review
Anytime Mailbox Review
⦿

International addresses in Europe, Asia, Australia

⦿

Affordable

⦿

Mail and package forwarding
We'll kick things off with one of the most popular services on the market. Founded in 2013, Anytime Mailbox is a secure, easy-to-use platform that transforms postal mail into digital mail and makes it immediately available online. In addition to some regular features, which most virtual mailboxes offer, Anytime Mailbox also provides mail forwarding services. It can accept packages from all major carriers, including FedEx and DHL, making it one of the best mailbox forwarding services around.
With Anytime Mailbox, you'll get access to unlimited online storage and more than 1,300 locations worldwide. There is also free physical storage, but the availability ranges from 14 to 30 days, depending on the plan you choose. Additionally, some of the packages include unlimited opening and scanning of documents, unlimited recycling, unlimited pickup during business hours, and a check deposit service.
There are multiple plans to choose from:
Address Only

Bronze

Silver

Gold

Unlimited

Virtual Office Suite
All the tiers include different features depending on the location, which also determines the price. Rates for US locations start as low as $4.98 per month, making Anytime Mailbox one of the most affordable virtual mailbox providers.
Another great thing about Anytime Mailbox is that you can manage your mail on the go. As its name suggests, this solution provides access to your virtual mailbox anytime, anywhere. By downloading the mobile app to your iOS or Android device, you'll get access to everything the service has to offer.
PostScan Mail Review
⦿

30-day money-back guarantee

⦿

Local mail and package pickup

⦿

Automated filters for mail sorting
PostScan Mail is one of the leading virtual mailbox providers, with almost ten years of experience and thousands of satisfied clients. It was established in 2012 and designed to digitize postal mail worldwide.
Whether you're looking for a registered agent service or a business virtual address, PostScan Mail has you covered with its 400+ locations. PostScan Mail is widely regarded as the best US virtual mailbox service thanks to its real US street addresses included in all of its plans. Aside from the US, it also offers international addresses in Canada, the Czech Republic, Switzerland, the United Kingdom, Grenada, and Singapore.
When it comes to pricing, things are pretty straightforward as there are only three packages to choose from - Starter, Standard, and Premium. The Starter package costs $15 per month and covers 30 incoming mail items, five items that can be opened and scanned, and one recipient. The Standard plan has a $20/month price tag, which buys you 60 incoming mail items, ten open and scan items, and two recipients. The Premium plan costs $30/month and covers 120 incoming mail items, 20 open and scan items, and six recipients. You can try out the service risk-free thanks to a 30-day money-back guarantee.
In addition to its regular functionalities, some of the advanced features include:
Mail item consolidation and package forwarding

Unlimited recycling of junk mail

Email notifications

for new mail and packages received

Shipment tracking and delivery updates

Automated inbound mail scanning

Free package storage for seven days and mail storage for 30 days
PostScan Mail is also regarded as the best virtual mailbox app because it's easy to use and free to download on Android and iOS devices.
Traveling Mailbox Review
⦿

Free mail shredding & recycling

⦿

Searchable PDF documents

⦿

Standard and premium virtual addresses
Traveling Mailbox is another feature-rich virtual mailbox provider with ten years of experience. Its journey started in 2011, and today, the company has over 4.9 million documents scanned and more than 50,000 pounds of mail shredded.
The service includes mail forwarding, mail storage, post mail scanning, mail filtering, secure mail shredding, and check deposits. The QuickScan feature grants you access to your mail within minutes, and you can request for all the documents to be converted to a digital format so that they can be viewed remotely. The service also allows you to create folders where you can keep your mail organized. And you don't have to worry about storage space as Traveling Mailbox offers unlimited cloud storage for all your scanned mail and PDFs.
Although there is no shortage of virtual mailbox & business address providers available, not many of them integrate with other services as well as Traveling Mailbox. It allows you to send your PDF files to Google Drive, OneDrive, Dropbox, Bill.com, and Evernote.
Here is a breakdown of the pricing plans:
Basic Plan: $15/month

Extended Plan: $25/month

Small Business Plan: $55/month

Enterprise Standard: $99/month

Enterprise Custom: custom pricing
All the plans include free mail shredding, junk mail filtering, and unlimited cloud storage, but there are a few notable differences. With the Basic plan, you can receive up to 40 envelopes. You also get 35-page scans and three mailbox recipients per month. Meanwhile, the advanced plan covers 100 incoming envelopes, 80-page scans, and rolls over unused envelopes and scans to the following month. All these features are accessible through mobile apps for Android and iOS devices.
US Global Mail Review
⦿

Unlimited mail with all plans

⦿

Same-day shipping

⦿

Free check deposit
US Global Mail is a Texas-based provider known for its affordable and efficient solutions. Established in 1999, it's one of the oldest virtual mailbox services on the market. If you're a digital nomad or a traveler that just needs a physical address, US Global Mail is an excellent choice. However, if you need a professional business address, you might want to look elsewhere as this provider offers only one location in Houston, Texas.
US Global Mail's services include more than just a regular virtual mailbox, which is why it's on our list of the best virtual mailboxes. The company also offers mail forwarding and enterprise mail management to all large businesses. Some of its most prominent clients include Netflix, AIG, and Chubb.
US Global Mail offers two personal and one business plan.
Basic Plan: $14.99/month or $9.99/month with the yearly plan

Plus Plan: $19.99/month or $14.95/month with the yearly plan

Business Plan: $34.99/month or $29.95/month with the yearly plan
The Basic plan includes one name on the account, a free check deposit service, and 45 days of free mail storage. With the Plus plan, you can add multiple family members to the account, use the free check deposit service, 90 days of free mail storage, and have up to 80% off on shipping rates. The Business plan also allows you to add family members, as well as companies to your account, send or receive unlimited mail, ship physical mail, and have 180 days of free physical mail storage. One of its flaws is that it doesn't have a mobile app.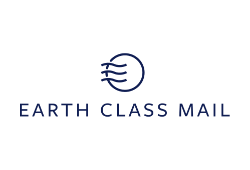 Earth Class Mail Review
⦿

Unlimited online storage for open mail items

⦿

Check deposit service

⦿

Automatic mail scanning
Founded in 2004, Earth Class Mail enables thousands of clients to access their mail online. Some of their more prominent clients include Reddit, Lyft, and Zapier. But if you're searching for the best international virtual mailbox, you should look elsewhere, as Earth Class Mail doesn't offer any international addresses. On the other hand, the vast US address network covers everything from Alaska and Illinois to Arizona and Massachusetts.
The service allows users to automate labor-intensive processes like scanning, forwarding, secure shredding, and check deposits. The automatic scanning option can be extremely useful. Once you forward the documents you need scanned, they're converted into high-resolution PDFs and sent back to you. You can sync those documents with your cloud storage, forward physical copies, or authorize additional users. With the secure shredding option, you can request for all your opened and scanned documents to be shredded. You can even adjust your settings to automatically shred any unwanted mail.
There are various factors to consider when choosing the best virtual mailbox service for individuals and businesses, and pricing is one of them. Earth Class Mail has two price categories: MailBox Plans for individuals and small offices and MailRoom Plans for businesses and enterprises.
The MailBox Plans offer three options:
Personal MailBox for travelers and remote professionals is $19/month

Shared MailBox for families and groups of travelers is $29/month

Premium MailBox for small organizations and offices is $79/month
The MailRoom plans include:
Startup Mailroom for small businesses for $139/month

Business Mailroom for medium to large businesses for $229/month

Enterprise Mailroom for enterprises from $459/month
Whichever plan you choose, you can access the mailbox from your mobile device and manage all your important tasks on the go.
iPostal1 Review
⦿

Up to five recipients with all billing plans

⦿

Automatic email alerts for new items received

⦿

Flexible shipment scheduling
iPostal1 is one of the largest virtual mailbox networks on the market. It's been in business since 2007, and it has more than 2,000 locations across the US and in other parts of the world. Its international locations include Austria, Canada, China, the Czech Republic, Italy, Singapore, Slovakia, Spain, Switzerland, Ukraine, and the United Kingdom.
Thanks to the site's filtering options, you can either view all of the locations or check out Office Buildings and Coworking Spaces and Discounted International Forwarding. The latter lists locations that can help you save up to 80% on international shipping from the US. If you're looking for a virtual mailbox & business address service, iPostal1 is a great option. You can use one of its 2,000 real street addresses to register your company and manage your mail 24/7.
In addition to opening and scanning your mail, all iPostal1 plans have the option to forward, discard, shred, or store it. There are four different plans to choose from:
Green - $9.99/month or $99/year

Blue - $14.99/month or $149/year

Silver - $24.99/month or $249/year

Gold - $39.99/month or $399/year
The Green plan covers 30 mail items per month. Each of the more expensive plans doubles that number, with Gold offering 240 mail items per month. Moreover, all the plans include a service for discarding mail items, up to five recipients per address, a 30-day free mail and letter packs storage, five to ten-day free package storage (depending on the box sizes), and preparation of commercial invoices. What's also great about this virtual mailbox for personal and business use is that you can manage all of your mail and packages on the go using the iPostal1 mobile app. It's free to download, and you can use it on any iOS or Android device.
VirtualPostMail Review
⦿

Shipping with USPS, UPS, and FedEx

⦿

30-day money-back guarantee

⦿

Permanent mailbox address
VirtualPostMail was launched in 2009 with a mission to provide remote business owners with an innovative way to manage their mail. Although it might not be the very best virtual mailbox service for every business and all travelers due to the limited number of mailbox locations, it still offers some top-notch features.
This isn't just a virtual post box address. The service offers street addresses where you can receive your mail. The unopened envelopes are then scanned, and you can view them online to determine whether to have the mail opened, forwarded, or destroyed.
Other features include unlimited digital storage, the ability to forward packages, check deposits, smart address tags, and free registered agent service (on supported plans). But when it comes to locations, you can only choose between Nevada, California, and Delaware.
In terms of pricing, VirtualPostMail is a bit more expensive than some of the other companies on this list, but the plans are packed with useful features. There are four plans:
Starter: $20/month for 25 free pieces of mail, ten free scans, and two recipients

Plus: $35/month for unlimited free mail, 50 free scans, and five recipients

Business: $60/month for unlimited free mail, 100 free scans, and ten recipients

Premium: $90/month for unlimited free mail, 150 free scans, and 20 recipients
You also have the option to add more scans, recipients, and other services to your plan for an additional cost.
The most notable downside and the reason why VirtualPostMail doesn't rank as the best virtual mailbox is the absence of a mobile app.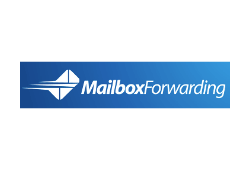 Mailbox Forwarding Review
⦿

Unlimited shredding and recycling

⦿

No setup fee

⦿

30-day free envelope storage
Mailbox Forwarding is one of the best virtual mailbox services in its price range. As the name implies, its main function is mail forwarding. It also allows users to access their mail online and offers secure mail scanning, mail shredding, and recycling. In addition, you can use it to deposit checks and receive faxes online with a shared or dedicated fax line.
You'll receive an email notification whenever something lands in your mailbox, and after reviewing it, you can decide whether you want the mail scanned or disposed of. If you need the mail or the package sent to you, you can request that it be forwarded. And if you no longer need it, Mailbox Forwarding can have it shredded.
Mailbox Forwarding currently offers only three mailbox addresses in California, Florida, and Michigan. The Grandville, Michigan address is included in all the plans, while the other two locations come with an additional fee. If you decide to go for the Los Angeles one, there is a fee of $15/month, and the one in Pompano Beach is $10/month. This is added to your regular subscription.
Mailbox Forwarding offers three different pricing plans:
Basic: $14.95/month

Professional: $24.95/month

Premium: $49.95/month
The Basic plan covers 50 mail items per month, 15 mail scans, unlimited recipients, and unlimited shredding and recycling. The Professional plan consists of 50 mail scans, while the Premium one has 150 mail scans.
Unfortunately, there is no mobile app you can use to access your Mailbox Forwarding virtual mailbox.
FAQ
Which virtual mailbox is best?
There are many different options, and finding the best one depends on your personal preferences and business needs. All of the solutions on our list have different features and multiple pricing plans. When reviewing different options, you need to think about the features that fit your requirements. In other words, decide whether you need unlimited storage space, free physical storage, a variety of software integrations, or a service with a mobile app.
Are virtual mailboxes safe?
Before signing up with a virtual mailbox service, you should review their privacy agreements to ensure they don't share private data with third parties. The whole idea behind a virtual mailbox is to keep your actual address private. Our list consists of the best virtual mailboxes that take security very seriously and implement stringent measures to safeguard your data.
What is the cheapest virtual mailbox?
One of the most affordable solutions on the market is Anytime Mailbox, with rates for US locations starting as low as $4.98 per month. iPostal1also has an affordable Basic plan for $9.99 per month, which includes 2 GB of secure cloud storage and 30 days of free mail storage.
How do I get a virtual address?
The process is straightforward. All you need to do is pick one of the services from our virtual mailbox reviews and simply select a plan and a location that are right for you.
Do banks accept PO Box address?
You can use a PO Box to receive mail from the bank, but banks usually don't accept a PO Box as a billing address. If you're thinking about opening an account or applying for a loan with a certain bank, you'll need to provide a physical address so that they can authenticate your place of residence. Some of the best virtual mailbox solutions offer a physical address, which can be very helpful in these situations.