Over the past decade, online crowdfunding has become one of the most popular ways to launch projects, attracting billions of dollars in donations from all over the world and helping hundreds of thousands of dreams come to life. With veteran giants like Indiegogo and Kickstarter, and new platforms supporting original enterprises popping up every day, the crowdfunding landscape seems to have a spot open for anyone willing to put their idea out there. Could it really be that simple? Check out our list of the best crowdfunding sites in 2022 and find the perfect platform for you.
Related Product Categories
Crowdfunding Marketing Services - Do You Really Need Them?
The short answer is - yes. Successful crowdfunding campaigns raise an average of $33,430, so if you have a revolutionary new idea, chances are you could use the expertise offered by crowdfunding services. You can develop really interesting and creative projects, but there's no guarantee you'll succeed in finding enough financial support.
To increase your chances of making your idea a reality, you can hire experts from marketing agencies to help you reach the right audience. Then again, knowing that companies spend an average of more than 21% of their marketing budget on advertising, you could also choose not to spend hundreds of dollars on their services. Instead, you can get support from platforms that provide marketing opportunities at a much more affordable price.
Our Methodology for Evaluating Fundraising Platforms and Crowdfunding Marketing Services
We've created a list of the best crowdfunding sites for launching your fundraising project, as well as a list of sites that can help you organize its promotion. Although those are two different types of platforms, they have enough common ground for us to evaluate them using the same criteria.
Ease of Use
Whether you just want to publish your project or run an affiliate marketing program, a simple and easily navigable platform is crucial. Crafting and distributing press releases using the platforms on our list is a breeze, and they're also suitable for tracking your visitors and creating a list of backers.
Services
The next stop in our crowdfunding platforms comparison includes the various services and support available on a given platform to help you promote your project and reach your fundraising goal. Here is the list of things we looked at:

Backer Directory
Finding people who are willing to invest is the hardest part of any campaign. Well-established platforms like Kickstarter and GoFundMe have a huge base of backers who have been supporting crowdfunding projects for years. But platforms can also have their own databases with backers, donors, and anonymous fans who frequent the best fundraising websites. Access to these lists and directories increases your chances of finding the right donor match for your idea. You can use various search tools to filter their lists and find investors who have previously supported projects similar to yours.

PR Distribution
They'll draft and send a press release to the most popular media outlets about your campaign on the best crowdfunding site for you. Press release writing services vary in price depending on the number of words you need. This type of platform can also help you create a landing page before the campaign starts, so you can start generating a list of subscribers.
Affiliate Program
It's important to note that most successful crowdfunding campaigns get lots of donations through affiliate links. Organizing and managing the affiliate program for your campaign requires the involvement of a lot of experienced people, which might become a problem if your resources are limited. This is where crowdfunding companies for running affiliate programs come in, as they help you automate the whole process.

Social Media Promotion
Promoting your campaign on social media channels is crucial, so you should certainly find a way to do that. A simple solution is purchasing the services of some of the websites we listed. If you want a dedicated approach, you can opt for professional social media management tools instead.
Platforms like Krowdster and Crowd Funding Exposure will help you reach a large audience on Twitter, Facebook, and other channels.
Crowdfunding Platform Support
Depending on the kind of platform you opt for, funding websites offer either free customer support when it comes to launching your project or a complete rewrite of your project - provided you pay for it, of course. Our list includes only proven platforms with reliable and experienced crowdfunding support officers who will help you at every step of your campaign.
Pricing
Two pricing options exist depending on the platform you choose and the payment methods you prefer. If you decide to launch a campaign on one of the many crowdsourcing sites, you pay only platform fees (if you're successful) and transaction fees, depending on the payment methods used. In case you want to purchase marketing, PR distribution, and other services for campaign promotion, other kinds of platforms offer diverse pricing plans.
Best Crowdfunding Sites: Our Top 5
EquityNet

Krowdster

CrowdedHero

GoGetFunding

GoFundMe
Best Crowdfunding Sites Reviews
EquityNet Review
⦿

Investor integrated messaging

⦿

Expert consulting

⦿

Investor activity tracking
Overview
Founded in 2005, EquityNet has evolved into one of the largest business crowdfunding platforms on the market. It's a unique service that focuses on matching entrepreneurs with investors while streamlining both the due diligence and funding processes.
EquityNet is among several prominent crowdsource sites that have experienced continuous growth in recent years, with $600 million raised through its platform and more than 25,000 accredited investors. These qualified investors can help your business raise anywhere between $100,000 to $100 million.
Services
Here's how to boost your business with EquityNet. The company armes you with its Business Profiling tools that guide you through the process of creating a profile in 10 easy steps. You'll be asked to state the goals, milestones, and products, and if you get stuck at any point, the program will automatically offer inline hints and explanations.
Being one of the best equity crowdfunding sites means that its services go a step further than profiling. EquityNet offers business planning software with patented planning and analysis tools. There are also several calculators on the site to help you determine your company's profit margin, startup risk, and cash flow. You can upload and share files and documents as part of your campaign.
The next step is to promote your campaign and get funding for it. You can share your plan with a network of investors by messaging them directly or promote it by publishing the plan on partner sites. But EquityNet doesn't just tailor to entrepreneurs. It's also one of the best crowdfunding sites for investors, and as such, provides comprehensive systems and detailed information that help investors make smart decisions.
Pricing
EquityNet offers several subscription plans. The first one is Free and enables entrepreneurs to create their business profile and get insight into the network of investors. Note that this plan won't let you contact investors or upload your business plan on the platform, which means that you can only hope for them to stumble upon you and offer funds.
The Premium DIY tier costs $299 per month and enables you to publish and showcase your profile while providing analysis software for your business plan and direct contact with investors. But securing a place among the best crowdfunding investment sites requires a bit of advertising, and that's what you get with the Full Service plan. For $2,990 per month, users can get all the features listed above, plus consultations with experts about improving your business plan, feedback from companies, special marketing promotions, and daily campaign management.
Our Verdict
EquityNet is a solid platform for business users who are looking for accredited investors to fund their ideas and startups. Even though the advertising is reserved for Full Service plan subscribers, EquityNet is undoubtedly one of the best crowdfunding sites for serious players who'd like to raise capital.
Krowdster Review
⦿

Marketing via 350 media outlets

⦿

Twitter marketing campaigns

⦿

Chat support
Overview
Whether you need help promoting your crowdfunding campaign on the best fundraising sites or you're striving to reach backers to support your project, Krowdster is the site for you. Launched in 2014, Krowdster offers marketing and PR services to help you promote and run crowdfunding campaigns. The company prides itself on having the largest backer registry with more than 3.5 million trustworthy donors – the main reason why so many fundraisers use its services.
Services
Krowdster is crowdfunding software used for promoting crowdfunding projects. It has many uses, ranging from PR and media list distribution to Twitter and Facebook promotion and, most importantly, access to its Backer Directory.
With Krowdster, you'll have at your disposal backers from top crowdfunding sites like Kickstarter and Indiegogo. This is a game-changing service, and all potential crowdsourcers know it. Krowdster allows you to use special filters and narrow the scope of your search – looking for backers who have already supported projects similar to yours or those who have supported 10 or more crowdfunding campaigns, for example. Once you find them, you can collect their personal information from Indiegogo and connect with them on Facebook.
Pricing
Krowdster offers several pricing options. You can purchase a singular service or opt for some of its bundles, which we recommend. For example, you can subscribe to the Backer Directory plan for $99 per month. For this, you'll get access to the backer directory from some major funding sites, but that's all. A better option would be to purchase the bundle that includes both the Backer Directory and Krowdster's Twitter marketing service, which will set you back $129 a month.
Our Verdict
This funding site is a good choice for those who want to start their business crowdfunding project well-prepared. It can help you syndicate your press release to numerous media outlets and reach a broad audience via social media channels. Although it's still more affordable than purchasing an agency's services, Krowdster's offer is on the pricier end.
CrowdedHero Review
⦿

CrowdedHero Secondary Market (coming soon)

⦿

Knowledge test and simulation for non-sophisticated investors

⦿

Brand recognition across the EU
Overview
Established in 2019 in Latvia, CrowdedHero is an equity crowdfunding platform that is focusing on growing markets, particularly those in the Baltic States, Poland, the Czech Republic, Hungary, Slovakia, and Ukraine. Instead of dealing with early-stage startups only, CrowdedHero is open to more established businesses as well.
CrowdedHero's mission is to make high-level investment services accessible to everyone, including non-sophisticated investors. It is currently the only platform that provides a full financial analysis of the companies involved.
Services
CrowdedHero offers equity-based crowdfunding for businesses in growing markets. Through their platform, businesses can offer a percentage of their equity in exchange for funding.
Investors on CrowdedHero can choose to invest in companies from all industry profiles, including technology, healthcare, food and beverage, and more, except for tobacco production companies and other risky areas.
CrowdedHero allows investments into professional, mature businesses and those that are just starting out. Because of this model, it is one of the best crowdfunding sites for sophisticated investors who want to be directly involved in the company they invest in and for less experienced investors who can join together through an SPV.
CrowdedHero is one of the original founders of the Latvian Crowdfunding Association, which wants to create a code of ethical crowdfunding practices for all organizations and practitioners in the sector and, among other things, promote openness and good governance in the industry as a whole.
Finally, CrowdedHero offers two types of funding depending on what your business needs: equity investment or a business loan.
Every company that wants to get listed on the platform undergoes a strict vetting process, including a full financial analysis.
To apply, the company has to be registered and operating in the EU and EEA with a minimum of three years of operating history, have a transparent corporate structure and professional management, be ready to distribute at least 50% of net profit in the form of dividends, and offer an equity ticket size of €100,000.
Though the criteria sound too strict, the onboarding process is swift and straightforward, which makes CrowdedHero one of the best crowdfunding sites for small business owners who want to raise money quickly. The crowdfunding campaign usually takes 30 to 45 days.
CrowdedHero will promote you on social media and use the platform to communicate with potential investors to attract them to your campaign. You'll be working with a PR expert to get the word out about your business.
Pricing
CrowdedHero has a transparent pricing structure. The registration on the platform is completely free, while the processing fee that covers processing and administration costs 1.25% of the amount invested per project. However, if the non-sophisticated investor revokes their offer to invest during the pre-contractual reflection period, the processing fee will be returned.
What makes CrowdedHero one of the best real estate crowdfunding sites is the minimum investment of only €100 (variable per project). The platform also has an exit fee of 9% that is only charged if the project is successfully funded and which will be deducted from the payout to the investor at the time of the payout.
Also, there's a win-win dividend fee, which is 5.5% of the net dividends paid to the investors. It will be charged starting from the second year after the date of the closure of the project on the platform.
Our Verdict
CrowdedHero is a great crowdfunding platform for businesses in growing markets that are looking for equity-based financing. The platform is easy to use; the onboarding process is swift; and it offers a transparent pricing structure.
CrowdedHero might be one of the best crowdfunding sites for non-sophisticated investors who want to participate in the growth of a company without having to go through the hassle of doing their own due diligence.
GoGetFunding Review
⦿

PayPal and Stripe payment processing

⦿

Hosts health-related fundraising projects

⦿

Timed and ongoing campaigns
Overview
If you're looking for the best crowdfunding sites for personal use, GoGetFunding should be towards the top of your list. In operation since 2011, this site supports people running personal-cause campaigns. With this platform, you can launch a campaign for almost anything you can think of and you can do it from practically anywhere in the world.
Services
With GoGetFunding, you choose between ongoing and timed fundraising campaigns. Ongoing campaigns are suitable for those who need continued support from their backers. For instance, if you have a team of volunteers providing support to homeless people, you should run an ongoing campaign. GoGetFunding is also well-known for hosting campaigns related to medical issues, most of which are time-limited.
Besides crowdfunding for personal use, you can create campaigns that support artists, startups, communities, religious camps, and many others.
This is also one of the rare platforms that allow you to run flexible campaigns – whether you reach your fundraising goal or not, you can keep the amount you collect. Unlike other similar platforms, GoGetFunding also enables you to access the money gathered during a campaign, not just after it's over.
However, there are some limitations when it comes to funding. Say you launch a timed campaign and you reach your funding goal before it ends – you won't be allowed to receive donations anymore. Thankfully, GoGetFunding also lets you opt for overfunding, so this doesn't have to be an issue.
Pricing
Convenient for crowdfunding for nonprofits, GoGetFunding provides its service in exchange for 4% of each donation, plus another 2.9% for card processing fees. If you use PayPal or Stripe payment options, keep in mind that there are additional fees for their services, varying between $0.25 and $0.30 per transaction.
Our Verdict
Overall, GoGetFunding is the best choice for those who want to run campaigns catering to individual needs. It supports you by hosting your campaign but doesn't tempt you with expensive marketing and PR services.
GoFundMe Review
⦿

Mobile support

⦿

Wide range of fundraising options

⦿

Flexible campaigns
Overview
Based in San Diego, GoFundMe was established in 2010. The company describes itself as the internet's largest social fundraising platform. It supports fundraising projects for both personal and business purposes. Over the past 10 years, GoFundMe has collected more than 120 million donations totaling more than $9 billion. The site is praised in the crowdfunding community for its easy-to-manage platform and supportive customer service department.
Services
GoFundMe is a fundraising platform that supports all sorts of personal and business projects. Whether you are collecting money to support a local school choir, to open your own small business, or to cover a family member's medical bills, GoFundMe is an excellent option for you.
GoFundMe projects are donation campaigns, meaning that you aren't expected to give rewards to your donors. You can also choose whether you want to run a time-limited campaign or an ongoing campaign. The platform allows you to take the money you've collected even if you don't reach your funding goal. Only the best crowdfunding websites allow you to do that.
In addition to its personal and business fundraising business, the company operates GoFundMe Charity for non-profits. As an individual, you can use the GoFundMe platform to raise funds for the charity of your choice. The platform can also be used by charity organizations that are collecting funds for their own use.
GoFundMe shines when it comes to promoting your campaign. GoFundMe integrates with numerous platforms, including WordPress, Salesforce, and Mailchimp.
Like other crowdsourcing sites, GoFundMe offers a free mobile app for iOS and Android devices. It allows you to set up, launch, and manage your campaign at any time you want, no matter where you are.
Pricing
In the United States, GoFundMe charges 2.9% plus $0.30 per donation. Percentages and charges vary by country. The site has established slightly lower charges for charities – 2.2% and $0.30. If you're raising money for charity you can give donors the option of adding payment processing fees to their donations.
GoFundMe doesn't charge donors fees, but it does provide an easy way for donors to support the platform with tips.
Our Verdict
GoFundMe is among the best online fundraising platforms for business, personal, and charity fundraising. It's rated A+ by the BBB, and on Trustpilot, it has 4.6 stars of 5. It's a secure and effective platform that allows you to withdraw funds immediately.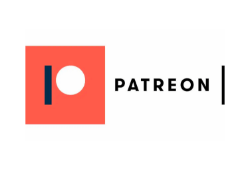 Patreon Review
⦿

Multiple membership plans

⦿

Expert support

⦿

Rich FAQ page
Overview
Patreon is among the top fundraising websites for musicians, photographers, writers, game developers, actors, and other creators who want to profit from their work by interacting directly with customers and fans. It was launched in 2013 by musician Jack Conte and developer Sam Yam, who believed creators needed a place to launch and manage their work while assured a stream of financial support from subscribers.
Today, Patreon supports 200,000 individuals, creators mostly, who bring in more than $2 billion per year for their projects.
Services
Like Kickstarter and Indiegogo, Patreon is a fundraising platform that supports creative individuals and helps them craft unique campaigns. However, the Patreon model of support differs from other crowdfunding platforms because it is based on subscriptions. Instead of getting a one-time reward in return for a donation, Patreon donors receive long-term subscriptions that strengthen the patron-creator relationship.
This arrangement is beneficial for both artists and fans. Patrons pay regularly for creators' content and get exclusive access to creators' working processes. Creators can look forward to a steady stream of monthly subscription payments as long as they continue pleasing patrons.
Patreon has a huge base of donors. More than 6 million people currently fund projects each month.
Another great thing about this platform is its flexibility. On the website, you'll fund a dropdown menu with supported options for creators: musicians, visual artists, game creators, podcasters, writers, and so on. It's also a great crowdfunding website for non-profits and education fundraising projects.
Pricing
Patreon offers three subscription models: Lite, Pro, and Premium. The Lite plan includes basic tools that help you create your project, attract patrons, and grow your relationship with fans. The platform charges a 5% fee for this plan in addition to standard payment processing fees.
With the Patreon Pro plan, you'll get tools for creating multiple membership tiers at different price points so you can optimize your business and earn more. You'll also get useful analytics tools and integration with apps like WordPress and Crowdcast. You'll pay standard payment processing fees with this plan plus 8% of the money you raise from patrons.
The Premium plan includes a variety of useful features that are not offered with the lower-tier plans. This is the best crowdfunding option, since you'll get direct support from Patreon experts and better opportunities for advertising your content. The platform charges Premium creators a 12% monthly fee.
Our Verdict
Patreon is a solid platform that allows artists and other creators to enjoy stable income through monthly subscription payments. Established creators will benefit the most from this platform, especially if they use Premium-tier business tools.
Kickstarter Review
⦿

Projects We Love badge

⦿

Informative FAQ section

⦿

Backer rewards
Overview
Launched in 2009, Kickstarter is one of the original and the best crowdfunding platforms. Over the years, it has successfully hosted more than 190,000 projects, with more than $5.4 billion pledged to initiatives from all over the globe. Priding itself on completed projects, the Kickstarter team is constantly working on improving its platform's services to better support would-be kickstarters.
Services
Kickstarter is a New York-based funding platform that helps artists – musicians, writers, game developers, designers, dancers, actors, and many others – find donors to fund their ideas. If you simply look at the amount of money that passes through it, Kickstarter has clearly established itself as worthy of our trust.
Arguably the best crowdfunding platform, Kickstarter will not only give you a platform for launching your campaign, but also connect you with its team of professionals, who are always there to support your ideas and help you develop them into a successful campaign.
First of all, Kickstarter has the biggest base of backers in the world; more than 18 million people have used it to make donations to various causes. Of those, there are more than 6 million people who have pledged funds twice or more.
Apart from launching your project for free, Kickstarter entrenches itself among the best crowdsourcing sites by honoring you with the Projects We Love badge if your idea stands out. More importantly, it features your campaign on the homepage and in the Kickstarter newsletter. Kickstarter also provides information on how to craft an eye-catching project and reviews it after submission.
Pricing
The Kickstarter fundraising platform takes a 5% fee from your donations. There are also payment processing fees that range between 3% and 5%, but Kickstarter doesn't charge anything if your project doesn't reach its goal.
Our Verdict
Kickstarter is a great place for creative types, art lovers, tech enthusiasts, and inventors alike. Considering how long it's been around and its hordes of potential backers, it's obviously one of the best fundraising websites out there.
Indiegogo Review
⦿

InDemand service

⦿

Perk rewards are optional

⦿

Responsive customer support
Overview
Indiegogo launched in 2008, which makes this fundraising platform one of the oldest on the market. It was originally aimed at independent film creators, but soon Indiegogo expanded its scope to encompass all sorts of projects. In the years since it has grown exponentially in fame and reach, amassing an admirable army of backers and successful projects and becoming one of the best funding sites for small businesses and creative ventures.
Services
A top-notch crowdfunding website, Indiegogo supports both flexible and fixed-funding campaigns. A flexible campaign means no time constraints for achieving a milestone in your fundraising so long as the whole campaign lasts up to 60 days. Regardless of the amount you collect, you can withdraw the funds at any time. The second option means that you have a fundraising goal that needs to be completed before the campaign ends.
Indiegogo is one of the best crowdfunding sites for business projects, as it has its own marketplace that you can use to promote and sell products you've created during the campaign.
The options for running projects are numerous and cover practically every niche – from community-building and volunteering to tech projects.
The latest addition to Indiegogo is InDemand, a service for raising money after you complete your campaign on Indiegogo or some other platform. Note that if you're transitioning from a different site, you'll have to pay an extra fee.
Pricing
Indiegogo charges a standard 5% fee on the money collected, but if you run a timed campaign and don't reach your fundraising goal, the platform will not charge any fees. Like other crowdsourcing websites, Indiegogo works in accordance with the Stripe Agreement, so there's a payment processing fee that varies based on your location and the currency you use.
Additional fees include transfer and bank delivery fees.
If you enroll in the InDemand program, the platform fee remains the same for those who run their campaigns on Indiegogo: 5%. For those who run a campaign somewhere else and then switch to Indiegogo's InDemand program, however, the platform charges a fee of 8%. Indiegogo doesn't oblige you to give rewards to your backers, although it is recommended.
Our Verdict
Like Kickstarter, Indiegogo is one of the world's most popular fundraising sites. It is the best crowdfunding website for both tech and creative projects, and it offers some unique benefits like the InDemand feature.
FAQ
It's a way of supporting tech, creative, or charity projects, personal causes, or entire communities with funds raised from various backers. Since becoming mainstream, crowdfunding has become a potential pillar of financial support for anyone who wishes to try their hand at it.
What is the best crowdfunding site?
This depends on your needs, meaning that you have to know how you're going to develop your idea into a complete project before you choose a platform. Some sites are suitable for artists, others for tech projects. Indiegogo, for example, is a good choice for those wanting to run projects with flexible funding and timing goals, but it also supports stricter timeframes.
What percentage do crowdfunding sites take?
Hosting platforms usually take a 4-5% fee, but payment processing fees and additional bank fees need to be paid on top of that, so you should keep that in mind before you set your fundraising goal.
Is Crowdfunding a good idea?
Yes, if you have a unique offer to bring to the table. The best crowdfunding sites also offer tips on how to get the most out of your ideas and translate them into an outstanding project. If your project is interesting enough, the crowdfunding site will promote it on its homepage, attracting even more backers and donors.