Thank You Page Examples To Help Nurture Your Leads
You've worked hard to bring visitors to your website or product, and now it's time to show your appreciation with a well-crafted Thank You page.
A Thank You page is more than just a static page with the words "thank you" plastered across the top. It's an opportunity to continue the conversation, nurture the relationship with your consumers, and turn a one-time visitor into a lifelong customer. These pages are a great way to show your guests that their business is valued.
We've compiled a list of Thank You page examples across the industry. Use them as inspiration for your own pages, and watch your conversion rate soar.
What Is a Thank You Page?
A Thank You page is a web section that is displayed after a visitor submits a form on your landing page or completes an action, such as making a purchase. It's designed to show appreciation for engagement with your brand to your prospects and customers.
A well-made Thank You page can show your visitors that you are grateful for their business and encourage them to continue interacting with your brand. Plus, it can provide you with valuable data about your customers' interests and help improve your marketing strategies.
But there's more to it; a good Thank You page for a website can often lead to further actions, such as signing up for your newsletter, increased social media engagement, or repeated purchases from a soft CTA.
In short, this page is an essential element of marketing strategy that can help boost conversions, customer satisfaction, and brand loyalty.
How To Create an Effective Thank You Page
When designing your Thank You page, there is no one-size-fits-all solution. The best approach is to tailor the page's design and content to match your brand's tone and the theme of your landing page.
That being said, there are a few essential elements that all Thank You page message examples we've come across include:
A personalized message: A Thank You page is not just a place to display a confirmation message. It's an opportunity to connect with your visitors on a personal level and build a relationship with them. So make sure to include a personalized message that shows your appreciation for their engagement with your brand.
A call-to-action (CTA): A Thank You page is the perfect opportunity to encourage your visitors to take further action, such as subscribing to your newsletter. You can offer a coupon or a CTA that is relevant to your goals and aligns with the tone of your brand.
Social media icons: Most examples of good Thank You pages we've seen include social media icons so that the visitors can easily follow you on their favorite platforms.
Your contact information: Don't forget to put your contact information on the page so visitors can easily get in touch if they have any questions or concerns.
Examples of Thank You Pages
There are several types of Thank You pages, each with a different purpose. We'll walk you through most of them and untangle the snarls of how best to use each.
1. Thank You for Subscribing
The first type of Thank You page we'll discuss is displayed after a visitor submits their email address through a sign-up form. After filling out the contact form, all Thank You page examples we've come across encourage the subscriber to confirm their subscription.
This will not only welcome the visitors to your website but also start the onboarding process on a positive note. Plus, it allows you to introduce your brand's voice and personality.
Confirmation Thank You pages usually have a button or link that the subscriber can click to confirm their subscription. Once they hit it, they'll be taken to another page where they can input their contact information and preferences.
This can be your one-time chance to get the visitor's attention, so include a strong CTA that encourages them to confirm their subscription and start shopping, downloading, or reading your content.
The best Thank You page examples we've examined ensure the whole process is as easy and frictionless as possible. The last thing you want is your visitors to get frustrated and give up before they even get to the confirmation page.
2. Thank You for Downloading
If you offer an ebook, a white paper, or other downloadable product on your website, you might want to consider using a Thank You page. Studies have shown that providing value-added content on the page can increase customer satisfaction and loyalty.
All the examples of download Thank You pages we've reviewed are displayed right after a visitor downloads a piece of content from the website. Even though the item is usually delivered to customers' emails, pages often show a link to the downloaded content. This ensures they'll be engaged on your site and open the material immediately.
Other than that, download Thank you pages also invite the visitor to take further action, such as signing up for your newsletter, purchasing another product or service, or following the brand's social pages.
3. Thank You for Attending
The page that expresses gratitude for attending an event is next on our list of Thank You web page examples. It'll be shown after a visitor signs up for a webinar, class, or live seminar. Its purpose is not only to confirm the attendance but to encourage the attendee to add the event to their calendar.
This page should include a message of appreciation and a CTA to encourage visitors to sign up for your next event, leave feedback, or get a coupon code.
It's also important to include all the relevant event information on this page, such as date, time, and location. Clear communication will ensure your attendees have all the information they need to plan for your next event.
A well-set Thank You page will also include a link to the event photos and videos. Visual content will help create a sense of community and encourage the visitor to spread the word about your event.
You might want to consider recording it and making it available on the Thank You page if it's a webinar. This will allow attendees to watch the replay if they missed anything or share it with someone who couldn't attend.
4. Thank You for Participating
Good examples of Thank You page content would be appreciation messages asking the participants to share the survey or contest with their friends. It's best to include a link to the contest rules or the survey results so that participants can see how their input helped shape the outcome. That way, you're building goodwill and fostering a sense of community among your customers.
Most of the Thank You page text examples we reviewed came with a social media share button to make it easy for participants to share the survey or contest with their followers.
This, in turn, will help you reach a larger audience and generate more leads. Let's not forget that only 29% of brands nurture their existing customers beyond the initial purchase. Don't be one of them!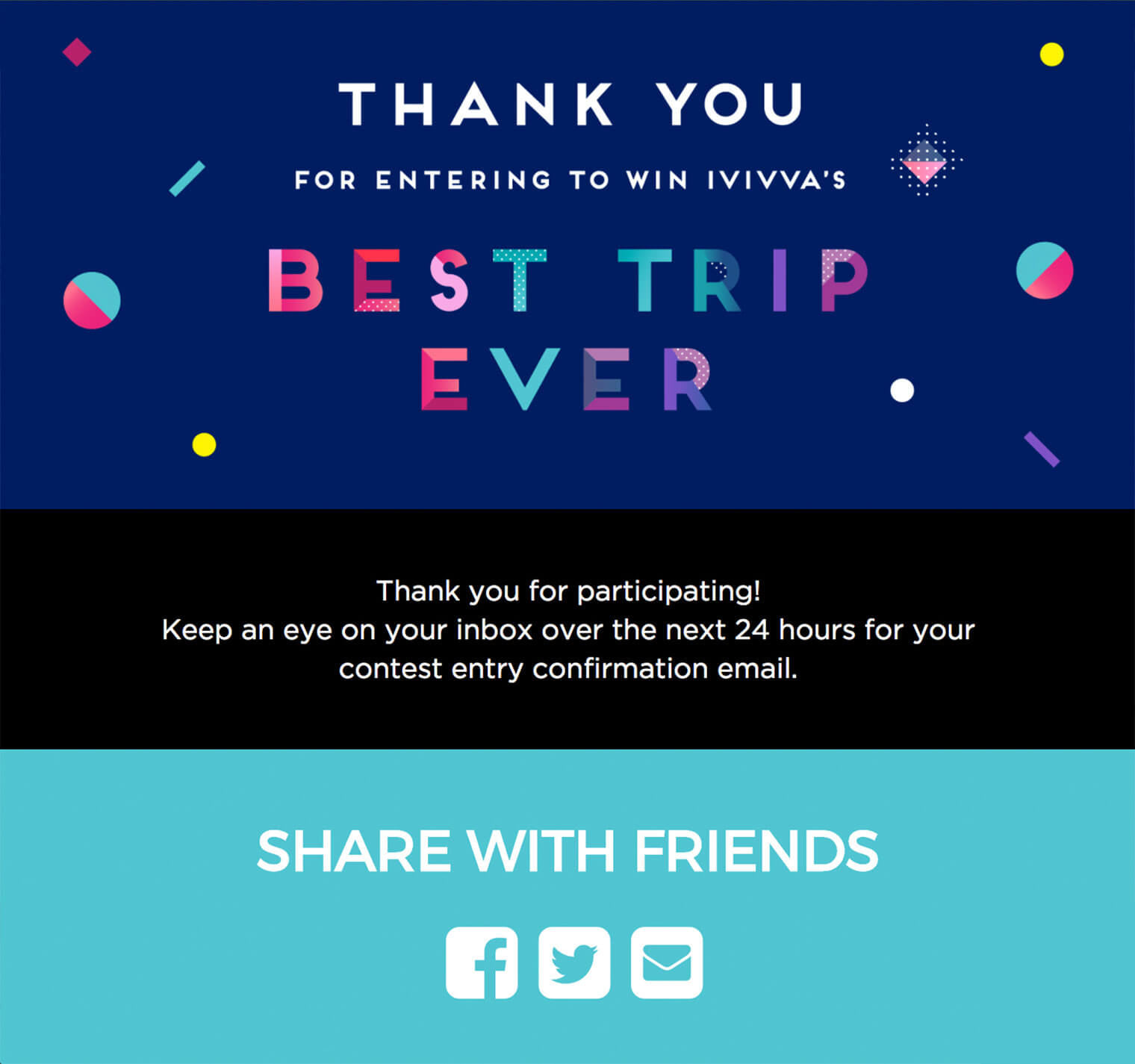 5. Thank You for Purchasing
A Thank You page for purchasing is displayed after a visitor completes a purchase on your website. These post-sales notes usually include a confirmation message, and an upsell offer to encourage customers to buy more.
Aside from these examples of Thank You page upsells, another valuable CTA asks the customer to write a review or product testimonial. You could display these reviews on your website or social media platforms to build social proof and trust with potential customers.
Customer reviews and ratings are important because they help build trust and credibility with potential customers. Some businesses even hire management companies to polish up their customer feedback.
This type of Thank You page should also include a link to the product manual and warranty information so the customer can easily find it if they need to reference it.
Thank You pages for websites may include a customer service contact in case of any questions or problems with the product.
By providing this information, you're showing that you're available to help if needed and that you care about your customers' satisfaction.
6. Thank You for a Donation
Even though donors are technically not buying a product or service, they still appreciate being thanked for their donation. Receiving feedback about how you'll use the money can't hurt as it assures that their contribution will positively affect society.
We've gone through lots of donation Thank You page examples and realized that most of them also include a CTA that encourages the donor to spread the word about their cause or make another donation.
By including a CTA, you're helping generate more donations and raising awareness about your cause.
And finally, remember that many crowdfunding platforms include a form to collect the donor's contact information. This is a neat way of keeping donors updated on campaign progress and thanking them for their continued support.
7. Thank You for Being a Patron
Many podcasters, YouTubers, and influencers earn by creating Patreon pages and communities to gather support for their work. While researching Patreon Thank You page examples, we've often seen short videos from the creator expressing their gratitude. Followed by statistics on how patron support has helped them grow and a CTA asking patrons to share the page with their followers, it helps increase the page's visibility and could potentially result in more sign-ups. You can utilize your Thank You page to express how grateful you are and how patron support has helped you grow.
Most Patreon communities are tight-knit, so it's important to show that the support of each patron is valuable and appreciated. Some of the Thank You page examples we've reviewed list patrons, with the option for them to remain anonymous. It's a great way to show transparency and build trust with your audience.
Finally, some pages offer a voucher or discount for the patron's next purchase.
Clever Ways of Using the Thank You Page
Now that we've seen the different types of Thank You pages, let's take a look at some of the ways you can utilize this powerful tool:
Increasing Social Media Engagement
A "thank you for visiting our website" message is the perfect tool to increase social media engagement. You can include buttons with links to your social media profiles. Don't forget to use this opportunity to encourage customers to leave a review for your product or service on their favorite platform.
If you find it overwhelming dealing with social media, you can use content management tools to help you schedule and publish content and track your performance.
Collecting Customer Feedback
A Thank You page is an excellent opportunity to collect customer feedback by adding a survey or questionnaire to the page. It's a valuable way to collect data you can use to improve your business.
Cross-Selling Products or Services
Another great way to use a thank you landing page, according to available examples, is to cross-sell products or services. The easiest way is to attach links to items related to the one the customer had purchased to your page. You can also include special offers or discounts on this page to encourage customers to make another purchase.
Upselling Products or Services
Try upselling products or services by including links to higher-priced items to further boost your sales. Adding special offers or discounts to this page will likely encourage customers to upgrade their purchases.
Getting Referrals
Word of mouth is one of the best ways to grow your business, and a Thank You page is the perfect place to ask for referrals. You can usually find Thank You page samples with a pre-set CTA asking customers to refer your business to their friends and family. If you offer an incentive for customers who make a referral, you'll get an even better response and grow your customer network.
Offering Content Recommendations
Finally, a Thank You page is a great place to provide your customers with content recommendations if you have a blog or website. Simply add some links to related articles or blog posts that would be of interest to your visitors, or offer a subscription to your newsletter or RSS feed.
Common Mistakes On the Thank You Page (With Examples)
Now that we've gone over ways to use your Thank You page let's look at some common mistakes the website owners make. Avoiding them will help you make the most of this section of your website.
1. Not Customizing the Thank You Page
Not customizing the Thank You page for each customer can be a big turn-off for some. This page is your chance to establish a personal connection with the customer and show them that you value their business. Add the human touch by including the customer's name or a personalized message to add credibility to your website.
2. Not Including a CTA
For the best Thank You pages, make sure to include a CTA. Asking customers to refer your business or subscribe to your newsletter are good actions to be taken. Without a strong CTA, you're missing out on an opportunity to engage with your customers. Design your Thank You page with conversions in mind and make it easy for visitors to take action. You will likely see a high bounce rate if your page isn't optimized for conversions.
3. Failing With the Design
Your Thank You page should be consistent with the rest of your website, especially with the landing page. It will create a cohesive customer experience and make visitors more willing to take action on the page. Failing to grab your customers' attention with a catchy Thank You page design can result in them leaving the site without taking any action.
4. Flooding the Page With Content
Another common mistake is flooding the page with too much content. Too much information can overwhelm customers and cause them to leave the site. Adding more than four or five lines to the page can be too much for customers to digest. Also, it can result in visitors not noticing your CTA. So, keep the content on your Thank You page concise and to the point.
5. Not Tracking Performance
We've seen many "thank you for your purchase" page examples without the necessary metrics to track performance. Without tracking, you won't be able to determine what's working and what isn't. As a result, you may continue using ineffective strategies or miss out on opportunities to improve your page. Make sure to include metrics such as conversion rate and bounce rate to track the performance of your Thank You page.
Bottom Line
Thank You pages are a valuable tool that improves customer engagement and encourages them to take further action. By avoiding common mistakes and including a strong CTA, you can make the most of this important section on any eCommerce website. As a result, you'll see an increase in conversions and a decrease in shopping cart abandonment.
FAQ
What is a Thank You page on a website?
A Thank You page is a website section to which customers are redirected after purchasing or subscribing to a newsletter. Most sample Thank You pages offer an option to thank your consumers and encourage them to take further action.
How do you write a Thank You page?
When creating a Thank You page for your website, it's important to include a personalized message, a strong call-to-action, social media icons, and your business' contact information. Keep the content concise, ensure your Thank You page template is designed to be consistent with the rest of your website, and track the page's performance using metrics such as conversion and bounce rates.
Is a Thank You page necessary?
While a Thank You page isn't necessary, it can be a valuable tool for engaging with customers and encouraging them to take further action. For example, a Thank You page can be an excellent opportunity to upsell customers or ask them to subscribe to your newsletter. It can also help reduce shopping cart abandonment by providing a sense of completion. Not to mention, it's a nice way to show appreciation for your customers' business.
What do you say on a Thank You page?
According to all the Thank You page examples we've examined, the most important thing to include is your gratitude to the customer. Keep the content concise and include a strong CTA that will engage the customers.
Make sure to personalize your message as much as possible. A good Thank You page should feel and look personal. You might want to include a photo of your team or a video of a team member explaining the product. Finally, show some enthusiasm to make the customer feel valued.
More from blog
The post-pandemic world has brought dramatic changes to the business landscape. Many brick-and-mortar businesses have closed their doors for good, while others have shifted to an online presence. Starting a business is easier than ever before, and there are many opportunities for those with an entrepreneurial spirit. If you've been thinking about starting your own business, now is the time to take the plunge. But where do you start? We've gathered tips and tricks on how to become a business owner to get you started on the right path. 1. Define Your Niche The first step to starting any business is to identify your target market. Who are you selling to? What need does your product or service fill? Make sure to brainstorm your general goals for the business, as well as specific marketing strategies that will help you reach your target audience. Once you've defined your niche, it's time to research the competition. See what businesses are already out there serving your target market. What are they doing well? What could they improve upon? Finally, if you are interested in how to become an owner of a business, you should start by identifying the gaps in the market. In that way, you'll create a unique selling proposition for your business. 2. Decide on a Type of Proprietorship Now that you've determined what business you'd like to start and done thorough market research, it's time to choose a career path. Do you want to be a solopreneur or build a team? Are you interested in starting a franchise or an independent business? The options are endless, and the decision should be based on your specific goals and skill set. The three main ways to kick-start your company are: Purchasing an Existing Business This is the quickest way to become a business owner, but it comes with some risks. Existing businesses come with a customer base, employees, and established systems. However, becoming a small business owner this way also means that you'll inherit the company's debts and liabilities. If you're looking to take on an existing business, make sure to do your due diligence and understand all the financial risks involved. Starting a Franchise Franchises offer the opportunity to be your own boss while also benefiting from the support of a larger company. When you start a franchise, you're purchasing the right to use the company's name, logo, and marketing materials. You'll also receive training on how to run the business and access to the company's supplier network, in case you don't know how to become a business franchise owner. The downside of franchises is that you'll have less control over your business, and you'll be required to pay royalties to the franchisor. Launching a New Company From Scratch This is the most challenging way to become a business owner, but it also offers the most growth potential. If you're starting a business from scratch, you'll need to generate your own funding, build a team of employees, and create a new brand. While this option is riskier, it also gives you complete control over your business. 3. Draft a Business Plan Having a business idea isn't enough. Before you venture into finding out how to become a successful business owner, you should first put together a business plan. This document will serve as a roadmap for your business, outlining your short- and long-term goals, strategies for marketing and growth, and details about your financial projections. Your business plan should be as specific and detailed as possible. Include information on your target market, product or service, pricing strategy, and expected profits. Don't forget to include a detailed marketing plan, which will outline how you plan to generate awareness for your business and attract customers. 4. Find Ways to Secure Funds Unfortunately, we can't provide you with ideas on how to become a business owner with no money. In fact, according to statistics, 20% of small businesses fail within the first year. One of the main reasons for this is a lack of capital. Before starting your business, you need to find ways to secure funding. There are a number of options available, including loans, grants, and investment capital. It is ideal for a small business owner to secure enough funds to cover three to six months of expenses before getting started on their business ownership journey. Once you start, you'll have to find a way to keep the business afloat with operating expenses. Some of the ways you can do this include: Using your own funds Obtaining venture capital from investors Visiting crowdfunding sites Taking out a small business loan 5. Choose a Name and Location If you're researching how to become a legal business owner, you'll have to choose a proper name for your business. Keep in mind that your business name should be reflective of your brand and what you do. Make sure to protect the name of your company and the domain name by trademarking it. You'll also need to choose a business location. If you're starting an online business, you can work from anywhere in the world. However, if you're starting a brick-and-mortar business, you'll need to find a physical space to rent or purchase. Consider the local regulations and zoning laws in your area to find a location compliant with all the legal requirements. 6. Choose a Business Structure Successful business owners understand the importance of choosing the right business structure. The type of business you're starting will dictate the legal structure you should choose. This will further determine the legal and financial liability of your business. The most common business structures include sole proprietorships, partnerships, limited liability companies (LLCs), and corporations. Sole Proprietorship A sole proprietorship is the simplest and most common type of business structure. It's owned and operated by one person, and there's no legal distinction between the owner and the business. Partnership A partnership is a business structure that involves two or more people. Before we delve deeper into how to become a part-owner of a business, we should explain that partnerships can be either general or limited. In a general partnership, all partners are equally liable for the debts and obligations of the business. In a limited partnership, there is at least one partner who has unlimited liability and one or more partners who have limited liability. LLC A limited liability company (LLC) is a business structure that offers personal liability protection to its owners. LLCs can be either single-member LLCs (owned by one person) or multi-member LLCs (owned by two or more people). Choose one of the top-rated LLC services and outsource LLC formation and ongoing compliance to experienced agents. Corporation Finally, if you've been wondering how to become a business owner within a corporation, you should get familiar with what a corporation is. A corporation is a business structure that offers limited liability protection to its shareholders. Corporations can be either for-profit or nonprofit. Additionally, an S corporation is a special type of corporation that offers tax benefits to its shareholders. 7. Register Your Business Once you have a business plan in place, it's time to register your business officially. If you're not sure how to become a licensed business owner, you can consult with an attorney or accountant for help. This process will vary depending on the type of business you're starting and your location. In most cases, you'll need to choose a legal structure for your business and obtain a business license or permit. You'll also need to open a business bank account and obtain any necessary insurance for your small business. These steps will help you get started on the right foot and ensure that your company is compliant with all local, state, and federal laws. 8. Open a Business Bank Account One of the last steps to take to become a business owner is to open a business bank account with a reliable bank that deals with small businesses. This is a separate account from your personal one and is used to track the income and expenses of your company. The most common business accounts are savings accounts, credit card accounts, merchant services accounts, and checking accounts for small business owners. Most banks will require you to have a federal employer identification number (EIN) before they open a business account for you. You should also provide them with your business's formation documents, ownership agreements, and a business license. 9. Hire Team Members Knowing how to become a small business owner isn't enough - you also need to know how to run your business effectively. If you're starting out, chances are you won't be able to do it all on your own. You'll need to build a team of employees, contractors, or freelancers to help you with the day-to-day operations. When hiring team members, it's essential to consider the skills and experience they bring to the table. You'll also want to ensure they're a good fit for your company culture. Once you've built your team, it's important to manage them effectively. This includes setting clear expectations, providing feedback, and offering incentives for good performance. By taking the time to build a strong team, you'll set your business up for success. 10. Develop a Marketing Plan Being a business owner means wearing many hats. One of the most important hats you'll wear is that of a marketer. As the face of your business, it's your job to generate interest in your products or services and convert that interest into sales. The best way to do this is to develop a marketing plan. This plan should include a mix of online and marketing tactics, such as search engine optimization, content marketing, social media marketing, and traditional advertising. You can hire one of the many email marketing services to create and execute your marketing plan for you. What Do You Need to Become a Successful Business Owner? Success doesn't come overnight. It takes time, dedication, and hard work. You'll need a clear vision, a strong team, and a comprehensive marketing plan. You'll also need to constantly learn and grow, monitor your progress, and make adjustments as needed. You can acquire certain soft skills through formal education, such as leadership and communication. Also, many online resources, such as Coursera and Udemy, offer affordable business courses. For example, if you want to learn more about marketing, you can take some online courses in digital marketing. However, in most cases, you won't need a business degree to start a business; knowing how to become a business owner is more important. You can pick the knowledge you need to run a business through the work experience you have gained. Some people are born entrepreneurs, while others develop the skills over time. If you have the drive and determination to succeed, you can become a successful business owner regardless of your formal qualifications. Final Thoughts Becoming a business owner requires hard work and dedication. But with the right knowledge and tools, it can be an enriching experience. By following our tips for business owners who are just starting their entrepreneurship journey, you'll be well on your way to success. Just remember that running a business is not a sprint - it's a marathon. So take your time, build a strong foundation, and continuously learn and grow.
By Julija A.
·
June 30,2022
It's no secret that eCommerce is a huge industry. In fact, it's projected to grow to $5 trillion in 2022. That's a lot of money up for grabs! If you're looking for ways to make money online, selling products and services through an eCommerce website is still one of the most profitable options out there. So, without further ado, let's get started! We'll discuss some interesting eCommerce business ideas that you can use to start making money online. Start an Online Store To Sell Products The easiest way to make money online with eCommerce is to start your own online store. If you have unique products that you can either create or source, or that you can get shipped from around the world, this can be a great way to earn a healthy profit. Starting an eCommerce store can be daunting because you might be at a loss as to what to sell - in all fairness, a range of eCommerce product ideas can work. This could be either vintage garments that are your finds from the local thrift shop, products that are inconvenient to get, or even regular products that you can offer at a lower price online. You'll need to invest in a good eCommerce platform and make sure your eCommerce website is optimized for search engine ranking. Once you've got everything set up, it's just a matter of driving traffic to your site and making sales. Here are some profitable eCommerce business ideas for your online store: Sell Your Art, Handmade Jewelry, Accessories, or Clothing If you're a creative type, selling handmade jewelry, accessories, or clothing on Etsy is a great way to make money online. You can start a shop and promote your products through social media and other online channels. As Etsy is the 12th largest marketplace globally, it's got a lot of eCommerce entrepreneurs. So, you'll need to compete with other sellers in terms of price, quality, and customer service. But if you can establish yourself as a top seller, selling handmade goods online can quickly turn into a profitable eCommerce business. Create a Store for Selling Your Craft If Etsy is not your thing, you can also build your online store and start selling your craft there. However, you'll likely have to spend more time creating your website by using an eCommerce website builder or hiring a developer. Plus, attracting new customers might require more dedication than you would need on Etsy. You'll also likely have to execute some part of your sales via software or rely on another person if you choose this route. However, you'll save on fees you'd otherwise pay to Etsy or other marketplaces. Sell Your Digital Art or Your Photos Online If you're an artist or have some artistic talent, selling your digital art online could be a good eCommerce business idea. A number of marketplaces allow you to sell online, and many of them are quite reputable. This can be a great way to join the online business world if you're comfortable using your artwork to create digital products. For example, if you're a photographer, you can sell your photos through stock photography sites. This can be a great way to make money if you have a good camera and some creative talent. Finally, as with selling physical goods, you don't have to rely on marketplaces and pay the required fees. You can set up your shop and market your wares independently. This eCommerce business idea is perfect for getting your product out there and winning over your first set of clients. It's also great for figuring out the ropes of the eCommerce business. Once you know how it all works, you can create a website and start selling your digital artwork on your own terms. Have You Created Your NFT Collection Yet? NFT collections are a great way to showcase your work and one of the most profitable business ideas these days. However, getting started with NFTs requires some serious know-how, plus some tech skills. Still, since they are gaining in popularity and people are becoming interested in this type of art, it's the most profitable eCommerce business. If you're lucky, you can become rich in the process. Write Your eBook and Sell It Online If you take pride in your writing skills, you can write an eBook and sell it online. This is a fantastic business idea if you have some expertise that you can share with others. It could be anything from writing a self-help book, a piece of fiction, or your autobiography. As with all other eCommerce business ideas on this list - it won't rake in instant profit. You'll need to invest some time in writing your eBook, editing it, and ultimately - promoting it. However, once it's finished, you'll be able to sell it over and over again and make a great income. Start a Print-on-Demand Line of Products If you're looking for a business idea that doesn't require a lot of money upfront, starting a print-on-demand line of products can be your thing. For example, starting a T-shirt business is an excellent way to become a small business owner, but you don't have to limit your offer to T-shirts. Print on demand involves creating T-shirts, pillows, phone cases, puzzles, or mugs. It's one of the best eCommerce stores to start since you can set up a printing process at home. Alternately, depending on your budget, you can rely on a service to have these custom printed when someone makes a purchase. If you decide to go with a print-on-demand business model, you don't have to carry any inventory, and you can start with modest upfront investment. There are a number of excellent platforms that allow you to print on demand, and many of them offer support for marketing and promoting your products. These platforms also charge commissions for their services, so you might not be able to get as much profit as you'd hope for. Luckily, this eCommerce business idea is scalable, so you can switch your initial setup into one that works better for your new online business anytime. Create Your Online Restaurant If you have been toying with the idea of setting up a food truck, why not start it online? This could include anything from homemade meals, jams, organic food, cakes, and baked goods, to handmade pet treats for our little furry friends. If you decide to go with a restaurant-type online business, make sure to find a good website builder designed for restaurants. This will allow you to create a website that includes a menu and other relevant features to help your restaurant grow into a profitable eCommerce business. Fill a Niche Food Role These days, people are looking for convenience, especially when it comes to their meals. If you can fulfill this role and provide them with easy solutions for their meal planning, you might make a big buck online. Online grocery stores, meal-making kits, and fresh or frozen food subscription boxes are skyrocketing in popularity. After all, the online purchase of restaurant/meal kit delivery amounted to 33% of all online purchase categories in 2018, and the growth didn't stop. This is becoming more prominent, especially for niche products and dietary restrictions, such as vegetarian, vegan, or gluten-free. If you're thinking of running a food business as someone who loves this type of food, it could be the perfect choice among our ideas for eCommerce businesses to start. Start an Online Pet Store Another great eCommerce business idea is to start an online pet store. If you love animals, this could be an awesome online business for you. You can sell pet supplies, food, toys, and more. You can also offer pet-sitting services or dog-walking services through your eCommerce business. To get started, create a website or blog to showcase your products and services. Use social media to spread the word and attract customers. With dedication and effective marketing activities, you can build a successful online eCommerce business. Set Up a Shop To Sell Vintage Items Do you have a passion for collecting vintage items? If so, why not join one of the most profitable eCommerce businesses ever? You can sell vintage clothes, furniture, art, and other collectibles that you've accumulated over the years. These eCommerce business ideas are a great way to make money online if you have an eye for spotting valuable items. Just be sure to do your research before listing anything for sale, as you don't want to undervalue your items. Provide Services Online Almost any service that you could provide in a brick-and-mortar venue - you can also provide through your eCommerce store. If you're searching for eCommerce business ideas, you don't have to sell physical products. Instead, it could be anything from digital marketing or personal shopping to expert consulting services - anything you could already be providing offline. If you have a skill or expertise that you think people or businesses would be willing to pay for, start offering your services online through your eCommerce business. You can promote your services through a website or social media and start making money. Not sure which business you should transfer online? Here are some eCommerce business ideas for services. Provide Online Classes or Tutoring Online You can make money online by providing services such as consulting, coaching, or tutoring. Online education is gaining popularity, and you should jump on the bandwagon if you have skills to share. This is a great way to monetize your skills and knowledge. Just be sure to set your prices competitively and market your services in a way that speaks to your target group. Depending on your expertise, you could consider various potentially profitable eCommerce businesses. You can provide one-on-one courses via Zoom, for example, or pre-record lessons and charge subscriptions. Make sure to find the right medium for transferring knowledge to your audience. Translate for Others If you know a second language, not only can you offer online courses as your eCommerce business, but you can also start a freelance translation business from home. You can start by creating a website or blog to promote your services. As with all good eCommerce ideas on our list, acquiring new clients will take some time. You can also use social media sites like Facebook and Twitter to spread the word. When you get your first project, be sure to ask for the client's requirements so you can give them an accurate quote. Once you complete the project, ask for feedback so you can improve your services and include testimonials as references. With a bit of digital marketing, you can build a successful translation eCommerce business. Become a Social Media Manager If you're good at leveraging social media, you don't have to look for additional ideas for an eCommerce business - you can make money online by managing social media accounts for businesses or influencers. Social media is a great opportunity for communicating with customers, finding new clients, and promoting your products and services. However, not everyone has the skill set needed to get the most out of their social media accounts. This is where you could come in and assist businesses to improve their relationship with customers on social media. If you have a knack for building followership, posting engaging content, and communicating with your audience, this might be the idea to pursue and build a profitable eCommerce business. It's advisable to choose businesses or influencers that are relevant to your niche. Promoting your portfolio website on social media could provide you with the metrics you need to impress potential customers. Start an Accounting/Bookkeeping Firm If numbers are your forte, you can turn it into a business by starting an accounting or bookkeeping firm. Many people struggle with paperwork come tax season or with day-to-day bookkeeping. If you can provide reliable service, your clients will come to depend on your assistance. You can also consider business accounting as one of the eCommerce business ideas for people comfortable with crunching numbers. While the niche boasts renowned bookkeeping companies and is saturated as a result, you can still claim a piece of the pie for yourself. Consider working locally or collaborating with smaller companies that don't need a large accounting team to manage their paperwork. These companies prefer working with someone who can provide their expertise and a bit of extra care and dedication. Become an Online Fitness Trainer If you're a fitness enthusiast, you can make money by providing online fitness coaching. This is a great eCommerce website idea to pursue if you're able to build up a large following. This holds true for yoga and other types of physical activity that can be done online. Similar to those video tapes with exercises that were all the rage in the 80s, you can also record and sell training programs or create fitness plans, diets, and so on. Depending on the online fitness coaching type you provide, one medium might work better than the other. Become a Freelance Writer, Designer, or Developer If you're a writer, designer, or developer, you can make money online by offering your services on your eCommerce website. The idea is that your site should serve as your portfolio and opportunity to promote yourself to new clients, but also as a store to accept payments for your work. While anyone can create a website in a manner of minutes with all the free website builders, these professions are still valued on the global market. Apart from creating your site, you can also join some of the popular freelance marketplaces or promote your services via social media. Become a Virtual Assistant On the same note, if you're good with computers and have some administrative skills, becoming a virtual assistant is among good eCommerce ideas to consider. Virtual assistants provide administrative, technical, or creative services to clients from their home offices. For this role, you'll need excellent organizational skills and a willingness to dedicate time and effort to finding the right clients. You will also have to compete with some established virtual assistant companies, but if you focus on smaller businesses and entrepreneurs, you'll be able to make more than a decent living with this option. Offer Event or Wedding Planning and Organization When it comes to profitable eCommerce business ideas, providing wedding and event organization is another service you can promote and book online. Not everyone has the time or creativity to organize everything for their big day, company outing, or kids' party. This is where your eCommerce site comes into play. You can offer services online and allow your customers to book through your eCommerce store. For this to be successful, you'll need to create a large network of vendors, caterers, and other third parties. However, if you already have such service providers standing by, this business could be the right idea. No Clients Needed If you are an introvert and prefer not to deal with clients or customers, you can still make money online. There are excellent online eCommerce business ideas you could pursue, so let's discuss those as well. Start With Affiliate Marketing Affiliate marketing is a type of online marketing where you promote other people's products and earn a commission on any sales that you generate. This can be a great way to make money online if you're able to drive traffic to your affiliate links. Just be sure to choose products that are relevant to your niche and audience. So, where do you start with affiliate marketing now that you've chosen it among other ideas for an eCommerce business on our list? You could create a blog, social media account, or YouTube channel where you review products from an array of brands. Having a niche market, you can tap into through your blog or account can be a great way to earn affiliate commissions, as well as build up your own brand and authority. You'll need to invest some time and effort into creating high-quality content, but if you can build up a large following, you'll be able to make a great living reviewing products online. Launch a Dropshipping Business Another excellent choice that belongs to the easy eCommerce business ideas category is launching a dropshipping business. When you dropship, you simply sell products sourced and fulfilled by a supplier. This can be a great way to get started in eCommerce with little or no investment. You just need to find a reputable supplier and set up your eCommerce store. Once you've got everything up and running, it's just a matter of driving traffic to your site and making sales. You'll also be responsible for customer service and ensuring that your shoppers are having the best experience. After all, 91% of customers will simply leave and never return if they have a bad experience with your store, which is something new businesses cannot afford. Bottom Line There are plenty of ideas for an eCommerce business that involve selling products or services. So, if you're looking to get started in eCommerce, be sure to choose the option that best suits your skills and interests. Moreover, take a closer look at the professional network that you've built up over the years and then decide which avenue to pursue. With commitment and effort, you can start making money online in no time!
By Vladana Donevski
·
June 23,2022
The documents for incorporation differ by state, and the nature and type of the business looking to incorporate. In the United States, Corporations and Limited Liability Companies (LLCs) are the two main types of business entities, and require different documents to achieve that. In this article, we will learn the differences between articles of incorporation and organization, their components, the filing process, and why they're necessary. Let's get right into it! Articles of Incorporation: Definition The articles of incorporation - also known as a corporate charter, articles of association, or a certificate of incorporation - are legal documents filed to establish a company of a specific type as a business entity. In other words, they give the corporation its legal identity. In practical terms, for a corporation to open a bank account, issue stock or shares, operate within a state, and engage investors, it must first file articles of incorporation. In the United States, this is usually done with the Secretary of State or company registrar, depending on the state of incorporation. Delaware and Nevada are the most popular states for registering your corporation, because of their friendly regulations and minimal tax requirements. Articles of Incorporation vs. Organization Most people tend to confuse articles of incorporation with articles of organization, but they are not the same; now that we've defined the former, we'll do the same for the latter. The articles of organization are filed at the point of creating an LLC. In terms of function and components, they are no different from articles of incorporation. However, the regulatory requirements are different and might be stricter, depending on the state and industry the business is in. These are the primary thing to research for prospective owners learning how to incorporate their business. The next step is filing your articles, so it's time to learn how it works. Filing Articles of Incorporation The Required Documents The components of documents to be provided upon filing articles of incorporation vary by state, but many of them are the same everywhere. Most of these components will be on the face of the certificate of incorporation, and they include: The corporation's name and address The name and address of the registered agent responsible for accepting legal documents on behalf of the corporation; some states may require a formal agreement of the agent's acceptance of this responsibility. The number and type of authorized shares; more details on this can be found in the articles of incorporation and their bylaws. The type of corporate structure (e.g., profit, nonprofit, etc.) The names and addresses of the founding board members The names, signatures, and addresses of the persons handling incorporation; a corporation can have multiple incorporators who do not need to be directors or stockholders. If applicable, the lifespan of the corporation, as some corporations are made to exist for a limited time and carry out a particular function. The number and type of stocks the corporation can issue. Other components which are not required, but can be included, are: The limitation of directors' liability Stockholder actions The assignment of authority to call stockholder meetings The purpose of incorporation, which may not need to be specific, depending on the state. The Filing Process The end goal of filing is to receive a certificate of incorporation. After preparing the documents, the incorporator should schedule an appointment with the designated filing agency of their state. Procedures differ between states, but generally begin with paying a filing fee after submitting the required paperwork. The process is completed upon acceptance of the paperwork and approval of the corporation's registration. In most states, corporations must have both articles of incorporation and bylaws, even though bylaws are not to be filed. Bylaws only serve as internal documents setting out the rights and responsibilities of a corporation's shareholders, directors, and other officials. Benefits of Incorporation Corporate Brand Identity Customers are more inclined to trust and do business with a brand when its corporate identity is established, as are investors. Banks are more likely to finance your venture if it's an official business, and you'll certainly look better in the strict due diligence checks on your business. Where no official or formal records are found, chances are that funding will disappear for lack of confidence in the safety of investing in you. Tax Advantages A corporation's tax liability can be reduced depending on the state of incorporation. This tax reduction is often justified through operational costs like insurance, green energy investments, employee retirement benefits, production costs, employee wages, etc. Separation of Liability Filing your articles of incorporation separates the corporation's liabilities from those of its owners, in events of criminal activity, injury, or loss. The owners' personal assets cannot be seized, auctioned, or sold if the business goes into debt. On the other hand, owners of unincorporated businesses are at risk of losing personal property in such situations. Protection of the Business Name Before an applicant is accepted, the state of incorporation will conduct a search to ensure that no other existing business or corporation has the same name. Applications for companies with an already taken business name won't go through, because those names are protected - but only if their owners incorporated in time. Business owners also have the right to seek legal consequences for infringement of this protection. Perpetual Existence For businesses with no preset lifespan, the articles of incorporation guarantee longevity and perpetuated existence. This means that, in the event of withdrawal or death of one or all owners, the business remains in existence. By extension, a transfer of ownership is an option for incorporated entities. Unincorporated entities suffer a different fate and cease to exist in such situations.
By Vladana Donevski
·
June 30,2022
---
Leave your comment
Your email address will not be published.