Affiliate & Editorial Disclosure
SEMRush Review: Is This the Best SEO Tool on the Market?
We form affiliate partnerships with some of the companies mentioned in our reviews, which means we may get a small monetary compensation every time you purchase a product using the links on our website. This does not influence the contents of our reviews. Learn more by reading our
Affiliate disclosure
.
Understanding SEO isn't easy. In most cases, those who try to optimize their site or content manually find themselves giving up sooner or later. On the bright side, software for optimizing your site and bringing it to the first page of search results is abundant nowadays.
Semrush is one of the best-known tools for this, and our Semrush review will cover all of its features, so you'll know exactly what role they play in helping your site.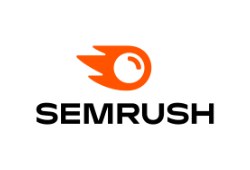 Score:
A
Free version available Pro plan starts at $99.95/month on annual plan.
Pros
Excellent keyword and backlink features
Free trial
Marketing features
Superb user support
20 billion keywords in the database
Cons
Expensive
Single-user license
Semrush
Price
Semrush is one of the most valuable tools for boosting traffic on your site, but its features come at a significant price. It currently offers three pricing tiers, and you can choose whether you would like to sign up for the monthly or yearly plans. The yearly Semrush pricing will net you a decent discount of up to 17%.
However, if you're stressing over whether to commit for that long, you should most certainly take advantage of the free trial each tier has. The free trial lasts for seven days, and you get to experience all the Pro features in action.
If you want to continue using Semrush for free, you can downgrade your account to a free version. With it, you can manage one Semrush Project, audit up to 100 pages of your site, perform daily competitor or keyword research with up to 10 queries, and track up to 10 keywords.
Now, the first of three paid Semrush plans is called "Pro" and will cost you $119.95 a month with a monthly plan, and $99.95 with an annual one. This tier is perfect for smaller teams and beginners looking to grow their businesses. It will allow you to create five Semrush Projects and track up to 500 keywords each day. With this basic plan, you also get keyword, domain, and backlink analytics, but you will be locked away from other valuable features.
The next paid plan is "Guru," for $229.95 per month. It triples the number of projects and keyword tracking opportunities offered in the Pro plan for double the price. It also significantly expands the number of features available to you.
The third, "Business," plan with Semrush will cost you $449.95 per month. It is an excellent solution for more prominent companies, as with this plan, you get up to 40 projects and up to 5,000 keyword tracking opportunities. With this tier, you get all of Semrush's features, which we will discuss in detail in a bit.
It is also worth mentioning that you can purchase add-ons that will further expand the possibilities of your Semrush account with each plan. You can buy an AI tool called ImpactHero for $200 per month, which will analyze your content based on your typical customer's journey. Automation options are also available as add-ons, and you can purchase these for an additional $100 per month.
Review of Semrush
Features
As mentioned before, Semrush has an impressive selection of more than 50 features. Carefully crafted to provide optimal results, each of these features tackles some of the critical struggles businesses face with understanding SEO and attracting visitors and customers to their website. After all, the SEO stats show that more than 50% of visitors land on websites through search engines.
To make it easier for companies to make sense of the features, Semrush divided them into five categories:
SEO
Features
As expected, Semrush's selection of SEO features is the most comprehensive one. The first features you'll likely fire up are the ones that will give you an overview of your current situation. The Semrush SEO tool can perform your site audit, an on-page SEO check, and track your ranking.
Once you have the relevant data, it is time to improve the current figures. Semrush offers a set of keyword-related features, including keyword research, gap, overview, and keyword magic tool. The latter will search through the database of more than 20 billion keywords to find you the next best thing to rank for.
Another vital part of SEO is backlinks, and Semrush offers backlink analytics, audit tools, and backlink gap. You can also rely on its link-building tool to help you manage the links on your site in a more effective manner.
Content
Related
Features
Optimizing your content with the help of a Semrush tool is the easiest way to improve your Google ranking. The excellent selection of features will help you put out optimized content Google will love to endorse.
With Semrush, you won't struggle to find the next topic to write about - it has a "Topic Research" feature that will discover popular and relevant topics for you to write about. You also get an SEO content template to help you produce new pieces.
As you write, its SEO writing assistant will ensure that you are putting your best foot forward, and it doubles as a plagiarism checker. If you were to pair Semrush SEO assistant with some grammar-checker solutions available, you'd end up with top-shelf content. You can then add the piece to your marketing calendar for publication, too.
Of course, Semrush can help you optimize old content, too. Its content audit feature will show you the current stats and set up brand monitoring to deliver insight into real-time content performance.
Market
Research
Features
If you are trying to outdo your competition and earn the first spot on Google's search engine results page, you need to be aware of your competition at all times. Copying what's good and learning from others' mistakes are the key elements of a successful SEO strategy. With Semrush, your competitors will be an open book: Its market research features will help you see how crowded the space you're looking to enter is. It can keep an eye on competitors' PR campaigns and suggest some of their winning strategies for you to implement.
Advertising
Features
Not only can Semrush help you grow your visitor base, it also helps with monetizing your website. For example, PPC stats show that building a perfect paid search campaign will most certainly be a profitable route to take, and Semrush is here to help. You can also use it to research social media campaigns and export what you've uncovered into your preferred social media management tool to gain even more customers through these channels.
Semrush Customer Service
Semrush could be the perfect solution for beginners because of its extensive support system. It has a vast knowledge base for you to check out and find a DIY solution to your issue. What's more, Semrush Academy is packed with free online courses on all things SEO, as well as traditional marketing, and getting the most out of your Semrush account.
Lastly, you can contact Semrush customer representatives by email, live chat, and phone. The chat option is available through the live chat button prominent on the website, Monday to Friday, from 8 a.m. to 10 p.m. GMT (3 a.m. to 6 p.m. EDT), and weekends from 4 a.m. to 10 a.m. (EDT). The polite and knowledgeable agents will reply to your inquiry in a manner of minutes.
Semrush Alternatives
If you haven't found the features you were looking for with Semrush, you can check out some of its competitors. The biggest names among the competition are Ahrefs and Moz. Still, make sure to take advantage of Semrush's free trial and test all of its features - one of them will undoubtedly win you over.
FAQ
Semrush has already established its reputation as a reliable and helpful tool for improving SEO processes. Many satisfied customers can attest to its reliability and practical insights that helped them turn an unoptimized website into an SEO success.
What is better than Semrush?
Semrush is an excellent tool, but its purpose is to provide simplistic yet comprehensive SEO-related features. It is the right choice if you need help with the overall SEO situation on your platform. However, if you want more detailed keyword research, Ahrefs is a better tool than Semrush's keyword research. If pricing is an issue, you will be able to find multiple free tools that, when combined, do as good a job as Semrush, without the expensive price tag. For example, Social Mention can perform decent competitor research for free, while the Keyword Tool can properly select keywords for you, free of charge.
​​Why do people use Semrush?
Semrush has an excellent selection of features, covering almost all aspects of a successful SEO campaign. It includes keyword research, competitor analysis, and backlink management tools, all in the service of helping you secure a top position with Google's SERP. As our Semrush review can confirm, this is a comprehensive solution that boils down the complicated world of SEO to actionable tasks.