Affiliate & Editorial Disclosure
Line2|Reviews by SmallBizGenius
We form affiliate partnerships with some of the companies mentioned in our reviews, which means we may get a small monetary compensation every time you purchase a product using the links on our website. This does not influence the contents of our reviews. Learn more by reading our
Affiliate disclosure
.
If you're in the market for a VoIP service, you've probably heard of Line2. It's one of the most popular providers around, and for good reason - it offers many great features at a very reasonable price.
According to many Line2 reviews written by satisfied users, this virtual phone service provides everything a small business needs to run smoothly. So, in this article, we decided to take a closer look and see how its offer stacks up against the competition.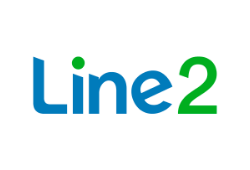 Score:
A-
Billed monthly $15.99 Billed annually$13.75
Pros
Voice-to-text
Simple pricing
Toll-free and vanity numbers
International calls and texts
30-day money-back guarantee
Cons
No third-party integrations
Video conference calls are not available
About the Company
Line2 is a cloud-based phone service that offers business owners multiple phone lines across their devices. The company has been in operation since 2006 and is located in San Francisco, California.
The service is mainly geared toward small businesses. Its product allows you to have multiple phone lines without any additional hardware, which can be quite cost-efficient. The service also comes with a 30-day guarantee, so you can test it first to see if it has all the features your business requires.
Features
We've tested many interesting Line2 features, including voicemail-to-text, call forwarding, and many more that might be perfect tools to help your business operate more efficiently. Here's a more detailed overview.
Number Porting
Line2 allows you to pick any number that suits your needs. Clients who already have an existing phone line and would like to keep their number simply need to contact the Line2 support team.
App Compatibility
The app is supported on both Windows and macOS, so you can use it on any laptop or desktop computer that runs on either of those operating systems.
Naturally, the service is also available for mobile devices, so you can install the Line2 app on your Android or iPhone, too.
Connectivity
The service works flawlessly on any type of network that you wish to use, including 4G and LTE. It also works via Wi-Fi, so you don't have to worry about getting an expensive phone plan to use the app.
Integrations
One of the main drawbacks of Line2 in comparison to other VoIP services is that it doesn't offer integrations with any third-party apps. Users can import contacts from other apps, such as Google or the Microsoft Outlook client, but that's about as far as integration with other apps goes.
Call Recording
With the call recording feature, Line2 apps can keep your calls on record so you can listen to them at your convenience. If a client has a problem that your staff is finding difficult to address, you or your managers can review the call later and try to resolve the issue.
Voicemail Transcriptions
This is a really helpful feature, especially if you find yourself working on the go quite often. If you don't have enough privacy to go through your voicemails during the day, the transcription feature lets you view those messages at your own discretion via email.
These features come with no extra charge, and that puts Line2's system ahead of some of its competitors.
Unlimited Calls and Texts
You don't have to worry about how much you use the phone or text because the account comes with unlimited MMS and SMS messaging. This is perfect for startups and other small enterprises since there are no hidden fees that can rack up.
International Calls and Texts
International calls and text messages are not covered by the Line2 subscription, and they cost extra. The rate for international texts is $0.10 per outgoing message. The good news is that you won't be charged for international texts that can't be delivered or for any international texts you receive.
The rates for international calls vary from country to country. You can set a limit on your monthly spending through the Line2 app's dashboard by setting the dollar amount you don't want to exceed. If you need extra funds for a certain month, simply use the dashboard and change the setting to "unlimited."
Personalized Numbers
You want your clients to remember your company number with ease, and a vanity number is a great way to make your business more memorable. Getting a number that is easy to remember can help your business get ahead, but make sure that you know the exact price you'll be paying for it, as you might get a better deal with some of the competitors.
Call Settings
We can all get tired of unwanted telemarketing calls. If you're using the number to operate a business, such calls might become overwhelming or even cost you money. Therefore, you'd expect that your VoIP provider would have a solution for these types of issues.
We discovered a few time-saving benefits that you'll appreciate, particularly if you're utilizing Line2's VoIP service for several of your employees.
The call blocking feature will save you the trouble of talking to telemarketers and taking robocalls and texts. With this feature, you can choose to block certain numbers.
On top of that, the caller ID will assist you in prioritizing your calls. If you're not sure who the caller is, you can answer with a prerecorded message, so you don't have to decline and lose a potential customer.
Auto Attendant Feature
The auto attendant does the work of a virtual secretary. You can set up this feature so the customer can choose among the services your company offers using a regular phone's dial pad.
Customers are greeted with a prerecorded message, and you can customize the menu and assign functions for different keys, e.g., "1" can be customer support, "2" can be sales, "3" accounting, etc.
Line2 Pricing
Pricing is always an important consideration when choosing a VoIP phone system. Line2 currently offers a single plan that covers all of its features, which makes it easy to compare to other providers.
We found it to be reasonably priced, considering the benefits it offers. The package is available for $15.99 per month. If you wish to save an additional 14% on the price, you can sign up for the annual plan that will reduce the price to $13.75 per month.
Line2 Alternatives
While searching for a Line2 alternative, we looked for services that we thought offered similar value. We took a look at how this company fared against some of the most popular virtual phone services, such as Sideline and Google Voice.
Line2 vs. Google Voice
The Google Voice virtual phone service is in the price range of $10-$30. Its basic plan is $10, which is less than what you need to pay with Line2, but it works for a maximum of 10 users.
This might suit some small businesses, but we think that by looking at the Standard plan, which is $20 per month, we'll have a better idea of how these two providers compare.
First, Google Voice integrates well with all Google Workspace apps. In comparison with Line2, which doesn't have third-party integration, Google is a clear winner in this department. Moreover, we found Google's 24/7 customer support much more responsive.
However, if you're running a business, more important than anything else is the fact that Line2's VoIP phone service comes with a toll-free number, and Google's does not.
In conclusion, although Google Voice provides a reliable and well-rounded service, it still lacks some of the basic features that Line2 has that could be essential for your business.
Line2 vs. iPlum
iPlum is another VoIP service based in California. It provides a similar service as Line2. Price-wise, its basic plan is more affordable, but a toll-free number is only available with the $14.99 monthly plan, which is slightly more expensive than the $13.75 you can get with Line2.
Moreover, voicemail transcription and call recording are both treated as add-on features that are charged separately, and given that these features are included for free with Line2's offer, it's clear that it has the upper hand when cost-efficiency is concerned.
On the other hand, iPlum offers some interesting integration options, and positive customer feedback in user reviews indicates that it's a very reliable company. For a more detailed look at iPlum, you can read our full review.
Line2 vs. Sideline
Sideline comes at a very affordable monthly subscription price of $9.99, but you can get it even lower than that. If you sign up for the six-month or the 12-month plan, the price comes down to only $8.33 per month.
There is a slight difference in terms of price, but the features you need from your VoIP are going to be of greater importance, and the price alone might not warrant the switch from one provider to the other.
With Sideline, you can get team phone numbers, something that Line2 doesn't have. On the other hand, if you need to make international calls, you're better off with Line2 because Sideline doesn't offer that feature unless you pay an additional $14.99 per line on its Enterprise plan.
All in all, Sideline has a solid feature set but should only be your primary pick if you're looking for the cheapest VoIP service possible.
Company Reputation
The company currently holds a solid 3.8 rating on the Trustpilot platform, although the Line2 reviews left by users mentioned login issues, even among those who gave the company a five-star review. There were also some complaints from customers who found it difficult to cancel their subscriptions or reach customer support.
Customer Service
Customer support is an important aspect of any service where prolonged downtime stands to cause potential financial losses. As such, we tested Line2's customer service to see if it's up to par.
The chat box on the company's website didn't prove to be of much help. We couldn't get a custom quote for the phone number we were interested in, and the email service wasn't much better.
Thankfully, things started moving forward once we got an agent on the line. They provided us with the information we needed and handled the situation in a very professional manner.
All in all, we found the customer service to be quite average, and if you want the best that Line2's customer service has to offer, you'll have to get a hold of an agent via phone. They are available from Monday to Friday, 8 a.m. to 8 p.m. EST.
Bottom Line
A VoIP service can be a great way to save money on your phone bill, but it's important to do your research before signing up for one. There are a few things you should keep in mind, such as the quality of the service, the fees, and the features offered.
Line2 has been on the market for some time now, and it is one of the best currently available VoIP services for small businesses.
In the end, we liked that the pricing was simple and that all the major features were covered by a single plan. The main thing we'd wish for in this Line2 review are better integration options, but we can honestly say that the pricing is fair for all the features that you get with this service.
FAQ
Line2 is a cloud-based virtual phone system that offers business owners a reliable way to communicate with clients and customers. You can install the Line2 app on an iPhone, an Android phone, as well as on any desktop or laptop running Windows or macOS.
How do I make a call on Line2?
To make a call on Line2, simply open the app and enter the number you wish to call in the dialer. You can also add contacts to your Line2 address book for quick and easy calling. To do this, simply tap the "Contacts" tab and then click "Add Contact."
Yes, Line2 is a legitimate company. It has been in business since 2006, and based on Line2 reviews left by its users, it offers a reliable service backed by a 30-day money-back guarantee.
Related Products & Services